Fujifilm X-E4 BLACK
Sale price

$1,349.00
Regular price
(/)
Tech Specs
Model name
FUJIFILM X-E4
Number of effective pixels
26.1 millions pixels
Image sensor
23.5mm x 15.6mm (APS-C) X-Trans CMOS 4 with primary color filter
Sensor Cleaning System
Ultra Sonic Vibration
Storage media
SD Card (~2GB) / SDHC Card (~32GB) / SDXC Card (~2TB)
UHS-I *1
File format of still image
Compliant with Design rule for Camera File system (DCF2.0)
JPEG: Exif Ver.2.32 *2
RAW: 14bit RAW (RAF original format)
Number of recorded pixels
[L]<3:2> 6240 × 4160 <16:9> 6240 × 3512 <1:1> 4160 × 4160
[M]<3:2> 4416 × 2944 <16:9> 4416 × 2488 <1:1> 2944 × 2944
[S]<3:2> 3120 × 2080 <16:9> 3120 × 1760 <1:1> 2080 × 2080
Panorama
[L]9600 x 2160 [L]9600 x 1440
[L]6400 x 2160 [M]6400 x 1440
Lens Mount
FUJIFILM X mount
Image Processing Engine
X-Processor 4
Sensitivity
Still Image
[Standard Output]AUTO1 / AUTO2 / AUTO3 / ISO160~12800 (1/3 step)
[Extended Output]ISO80 / 100 / 125 / 25600 / 51200
Movie
[Standard Output]AUTO / ISO160~12800 (1/3 step)
[Extended Output]ISO25600
Exposure control
TTL 256-zone metering, Multi / Spot / Average / Center Weighted
Exposure mode
P (Program AE) / A (Aperture Priority AE) / S (Shutter Speed Priority AE) / M (Manual Exposure)
Exposure compensation
-5.0EV - +5.0EV 1/3EV step (Movie: -2.0EV - +2.0EV)
Shutter type
Focal Plane Shutter
Shutter speed
Mechanical shutter
P mode: 4sec. to 1/4000sec. A mode: 30sec. to 1/4000sec. S/M mode: 15min. to 1/4000sec. Bulb mode: up to 60min.
Electronic shutter*3
P mode: 4sec. to 1/32000sec. A mode: 30sec. to 1/32000sec. S/M mode: 15min. to 1/32000sec. Bulb mode: 1sec. Fixed
Mechanical + Electronic shutter*3
P mode: 4sec. to 1/32000sec. A mode: 30sec. to 1/32000sec. S/M mode: 15min. to 1/32000sec. Bulb mode: up to 60min.
Movie
DCI4K/4K: 1/4000sec. to 1/24 sec. FHD: 1/4000sec. to 1/24 sec.
*Cannot choose slower shutter speed than framerate.
Synchronized shutter speed for flash
1/180sec. or slower
Continuous shooting
Approx. 30fps [Only electronic shutter, 1.25 x Crop ](JPEG: 29 frames Lossless compressed RAW: 17 frames Compressed RAW: 17 frames Uncompressed RAW: 17 frames)
Approx. 20fps [Only electronic shutter, 1.25 x Crop ](JPEG: 79 frames Lossless compressed RAW: 17 frames Compressed RAW: 20 frames Uncompressed RAW: 17 frames)
Approx. 10fps [Only electronic shutter, 1.25 x Crop ](JPEG: 153 frames Lossless compressed RAW: 18 frames Compressed RAW: 26 frames Uncompressed RAW: 18 frames)
Approx. 20fps [Only electronic shutter ](JPEG: 32 frames Lossless compressed RAW: 17 frames Compressed RAW: 17 frames Uncompressed RAW: 17 frames)
Approx. 10fps [Only electronic shutter ](JPEG: 81 frames Lossless compressed RAW: 18 frames Compressed RAW: 21 frames Uncompressed RAW: 18 frames)
Approx. 8.0fps (JPEG: 105 frames Lossless compressed RAW: 18 frames Compressed RAW: 23 frames Uncompressed RAW: 18 frames)
Approx. 5.0fps (JPEG: 458 frames Lossless compressed RAW: 24 frames Compressed RAW: 46 frames Uncompressed RAW: 19 frames)
Approx. 4.0fps (JPEG: endless frames Lossless compressed RAW: 28 frames Compressed RAW: 107 frames Uncompressed RAW: 20 frames)
Approx. 3.0fps (JPEG: endless frames Lossless compressed RAW: 34 frames Compressed RAW: 480 frames Uncompressed RAW: 21 frames)
Pre-shot: Approx. 30fps [Only electronic shutter, 1.25 x Crop ] (max. 10 frames while half press, max. 15 frames after full press, total max. 25 frames)
Pre-shot: Approx. 20fps [Only electronic shutter, 1.25 x Crop ] (max. 10 frames while half press, max. 48 frames after full press, total max. 58 frames)
Pre-shot: Approx. 10fps [Only electronic shutter, 1.25 x Crop ] (max. 10 frames while half press, max. 110 frames after full press, total max. 120 frames)
*Recordable frames depends on recording media
*Speed of continuous shooting depends on shooting environment and shooting frames
Auto bracketing
AE Bracketing (Frames: 2, 3, 5, 7, 9 Step: by 1/3EV step, up to ±3EV steps)
Filmsimulation bracketing (Any 3 types of film simulation selectable)
Dynamic Range Bracketing (100%, 200%, 400%)
ISO sensitivity Bracketing (±1/3EV, ±2/3EV, ±1EV)
White Balance Bracketing (±1, ±2, ±3)
Focus Bracketing (AUTO, MANUAL)
Multiple Exposure
Yes (Max. 9 frames) Additive, Average, Bright, Dark
Focus
Mode
Single AF / Continuous AF / MF
Type
Intelligent Hybrid AF (TTL contrast AF / TTL phase detection AF)
Low-light Performance
Contrast: -4.0EV Phase Detection: -7.0EV (XF50mmF1.0 attached)
AF frame selection
Single point AF: EVF / LCD: 13×9 / 25×17 (Changeable size of AF frame)
Zone AF: 3×3 / 5×5 / 7×7 from 117 areas on 13×9 grid
Wide/Tracking AF: (up to 18 area)*AF-S: Wide / AF-C: Tracking
All
Face/eye detection
Yes
White balance
Auto (WHITE PRIORITY, AUTO, AMBIENCE PRIORITY), / Custom1 - 3 / Color temperature selection (2500K - 10000K) /
Preset: Fine, Shade, Fluorescent light (Daylight), Fluorescent light (Warm White), Fluorescent light (Cool White), Incandescent light, Underwater
Self-timer
10sec. / 2sec.
Interval timer shooting
Yes (Setting : Interval, Number of shots, Starting time, Interval timer shooting exposure smoothing)
Flash
SYNC. MODE
1ST CURTAIN / 2ND CURTAIN / AUTO FP(HSS) (excl. EF-X8)
FLASH MODE
TTL (TTL AUTO (P mode) / STANDARD / SLOW SYNC. ) / MANUAL / COMMANDER / OFF (When EF-X8 is set)
TTL (TTL AUTO (P mode) / STANDARD / SLOW SYNC. ) / MANUAL / MULTI / OFF (When SHOE MOUNT FLASH is set)
Hot shoe
Yes (Dedicated TTL Flash compatible)
Viewfinder
0.39 inch approx. 2.36 millions dots OLED Color Viewfinder
Coverage of viewing area vs. capturing area: approx. 100%
Eyepoint: approx. 17.5mm (from the eyepiece lens) Diopter adjustment: -4 - +2m-1 (lockable)
Magnification: 0.62x with 50mm lens (35mm equivalent) at infinity and diopter set to -1m-1
Diagonal angle of view: approx. 31° (Horizontal angle of view: approx. 26° ) Built-in eye sensor
Touch Screen Mode
Shooting Mode
Shooting
AF
Focus Area
OFF
Double Tap Setting
Touch Function Setting
EVF Touch Screen Area Setting
Playback Mode
Swipe
Pinch-in / Pinch-out
Double-tap
Drag
LCD monitor
3.0 inch, aspect ratio 3:2, approx. 1.62 millions dots touch screen color LCD monitor(approx. 100% coverage)
Movie recording
File format
MOV (MPEG-4 AVC/H.264, Audio: Linear PCM / Stereo sound 24bit / 48KHz sampling)
MP4 (MPEG-4 AVC/H.264, Audio: AAC)
Movie compression
Long-GOP
File size
Frame rate
Recording time
[DCI 4K(4096 x 2160)] 29.97p/25p/24p/23.98p 200Mbps/100Mbps up to approx. 30min.
[4K(3840 x 2160)] 29.97p/25p/24p/23.98p 200Mbps/100Mbps up to approx. 30min.
[Full HD(2048 x 1080)] 59.94p/50p/29.97p/25p/24p/23.98p 200Mbps/100Mbps/50Mbps up to approx. 30min.
[Full HD(1920 x 1080)] 59.94p/50p/29.97p/25p/24p/23.98p 200Mbps/100Mbps/50Mbps up to approx. 30min.
[Full HD(1920 x 1080) High speed rec.]
240p / 200p 200Mbps(recording) up to approx. 3min.
120p / 100p 200Mbps(recording) up to approx. 6min.
*For recording movies, use a SD memory card with UHS Speed Class 3 or higher.
*Recording time can become short depending on the temperature and/or shooting conditions
Film simulation mode
18 modes (PROVIA/Standard, Velvia/Vivid, ASTIA/Soft, Classic Chrome, PRO Neg.Hi, PRO Neg.Std,
Black & White, Black & White+Ye Filter, Black & White+R Filter, Black & White+G Filter, Sepia, ACROS,
ACROS+Ye Filter, ACROS+R Filter, ACROS+G Filter, ETERNA/Cinema, Classic Neg, Classic Neg., ETERNA BLEACH BYPASS)Monochromatic Color
Clarity setting
±5 steps
HDR mode
AUTO, 200%, 400%, 800%, 800% +
Grain Effect
Roughness: STRONG, WEAK, OFF Size: LARGE, SMALL
Color chrome effect
STRONG, WEAK, OFF
Color chrome Blue
STRONG, WEAK, OFF
Dynamic range setting
Still
AUTO / 100% / 200% / 400% 
DR100%: No limit、DR200%: ISO320 or more、DR400%: ISO640 or more
Movie
100% / 200% / 400% 
DR100%: No limit、DR200%: ISO320 or more、DR400%: ISO640 or more
Advanced filter
Toy camera, Miniature, Pop color, High-key, Low-key, Dynamic tone, Soft focus,
Partial color (Red / Orange / Yellow / Green / Blue / Purple)
Wireless transmitter
Standard
IEEE802.11b/g/n (standard wireless protocol)
Encryption
WEP/ WPA/WPA2 mixed mode
Access mode
Infrastructure
Bluetooth®
Standartd
Bluetooth Ver. 4.2 (Bluetooth low energy)
Operating frequency (Center frequency)
2402〜2480MHz
Terminal
Digital interface
USB Type-C (USB3.2 Gen1x1)
HDMI output
HDMI Micro connector (Type D)
Others
ø3.5mm, stereo mini connector (for Microphone and Remote Release), Hot shoe
Power supply
NP-W126S Li-ion battery (included)
Battery life for still images*4
Approx. 460 frames (Normal Mode) When XF35mmF1.4 R is set.
Actual battery life of movie capture*4
*Face detection is set to OFF
[4K] approx. 45min. (29.97p)
[Full HD] approx. 75min. (59.94p)
Continuance battery life of movie capture*4
*Face detection is set to OFF
[4K] approx. 60min. (29.97p)
[Full HD] approx. 75min. (59.94p)
Dimensions
(W) 121.3mm × (H) 72.9mm × (D) 32.7mm (minimum depth 32.9mm)
(W) 121.3mm × (H) 72.9mm × (D) 32.7mm (minimum depth)
Weight
Approx. 364g (including battery and SD memory card)
Approx. 315g (excluding battery and SD memory card)
Operation Environment
Operating Temperature
0℃~+40℃
Operating Humidity
10% - 80% (no condensation)
Starting up period
Approx. 0.4sec.
Accessories included
Li-ion battery NP-W126S
USB cable
Headphone adapter
Shoulder strap
Body cap
Reviews
No other device performs as well as a dedicated camera to capture these memories in the highest quality possible. However, we realise that it's not practical to carry a large, heavy dedicated camera wherever you go, but at the same time you don't want to sacrifice the quality of your captured images, therefore we created the X-E4.
4:2:0 8-BIT
INTERNAL RECORDING
The X-E4 is the fourth generation X-E camera and we have refined the form, design and usability to make it a camera you want to take with you. The camera is less than 33mm thick and the flat design makes it easy to fit into a small bag or jacket pocket. The top cover of the camera is made of magnesium alloy which helps its durability and robustness while keeping its weight down. Styling is sharp and functional with dials to make changing settings seamless.
The sensor and processor in the X-E4 are the same as those used in our flagship X Series. In many ways, the only difference is the design of the camera. You can experience the beauty of the "X-Trans CMOS 4" image sensor and power of the "X-Processor 4" processing engine in the most compact body.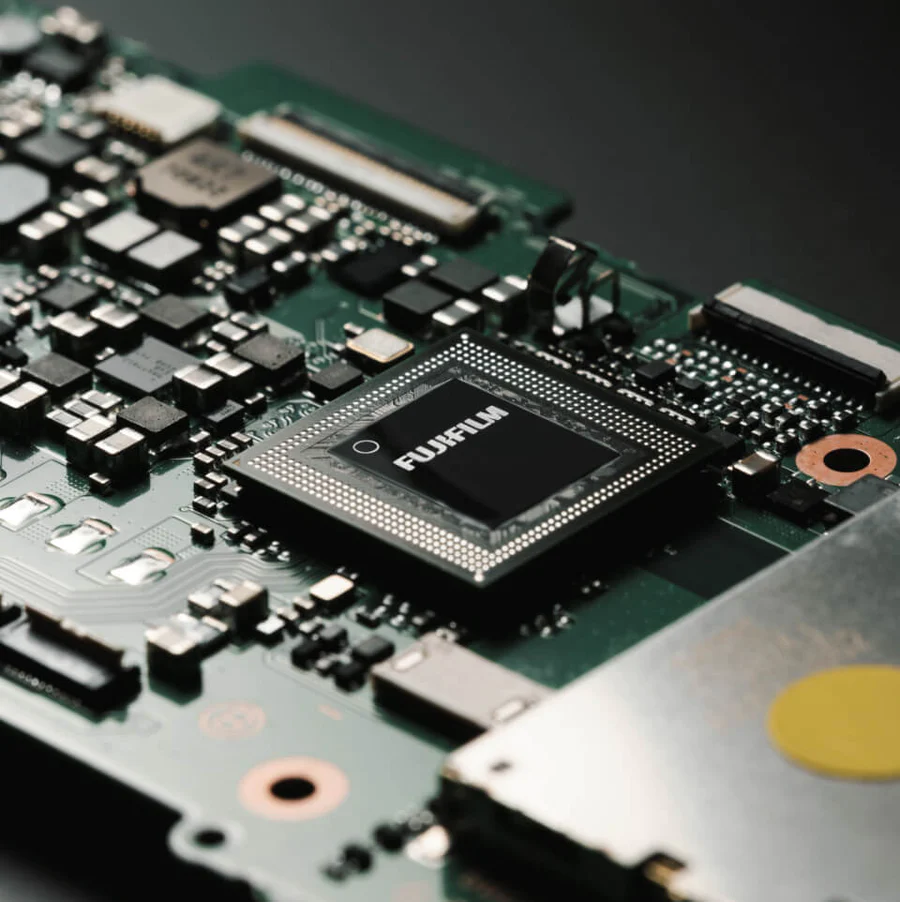 Boasting a resolution of 26.1MP, the sensor uses a unique colour filter array, synonymous to X-Trans CMOS sensors, to control moiré and false colour without the use of an optical low-pass filter. Its back-illuminated structure enhances image quality while maintaining a high S/N ratio.

Furthermore, the sensor is equipped with 2.16M phase detection AF pixels covering approx. 100% of the frame which supports high autofocus performance regardless of where the subject is located within the frame.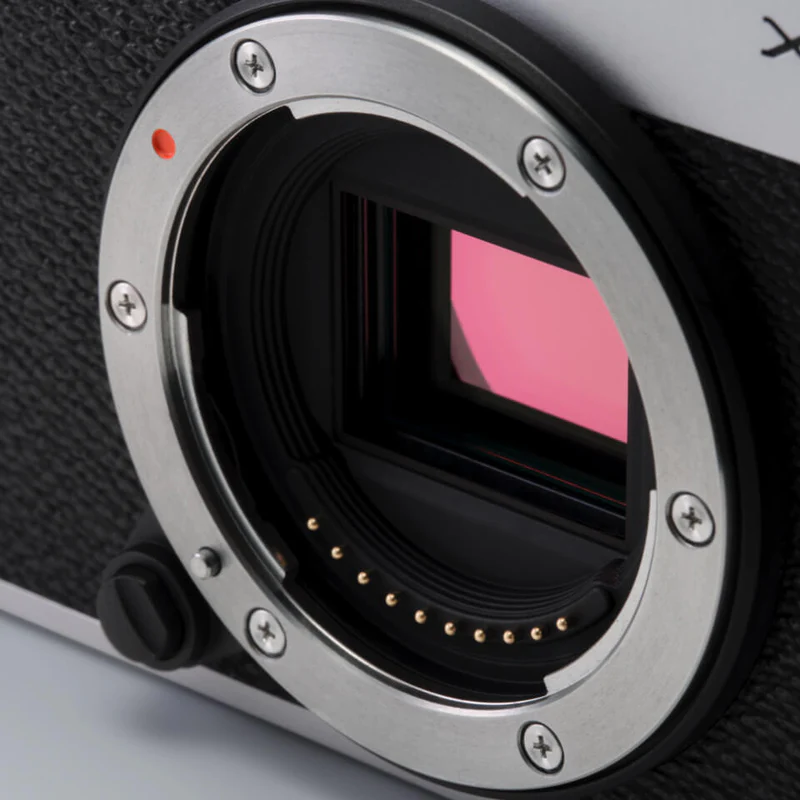 X-Processor 4, enhances the Film Simulation modes, substantially improving the camera's ability to track moving subjects, boosts AF's speed and accuracy, and allows for a more diverse range of video functions.
It maximises the full potential of X-Trans CMOS 4 sensor to deliver the highest performance in all aspects in the history of X Series.
A new "Program (P)" position has been added to an X-E camera for the first time, which allows you to switch to programmed auto shooting for those quick capture, photo opportunities, temporarily freeing you from the need to worry about any of the settings. The joy of using dials has been preserved and the convenience has been enhanced.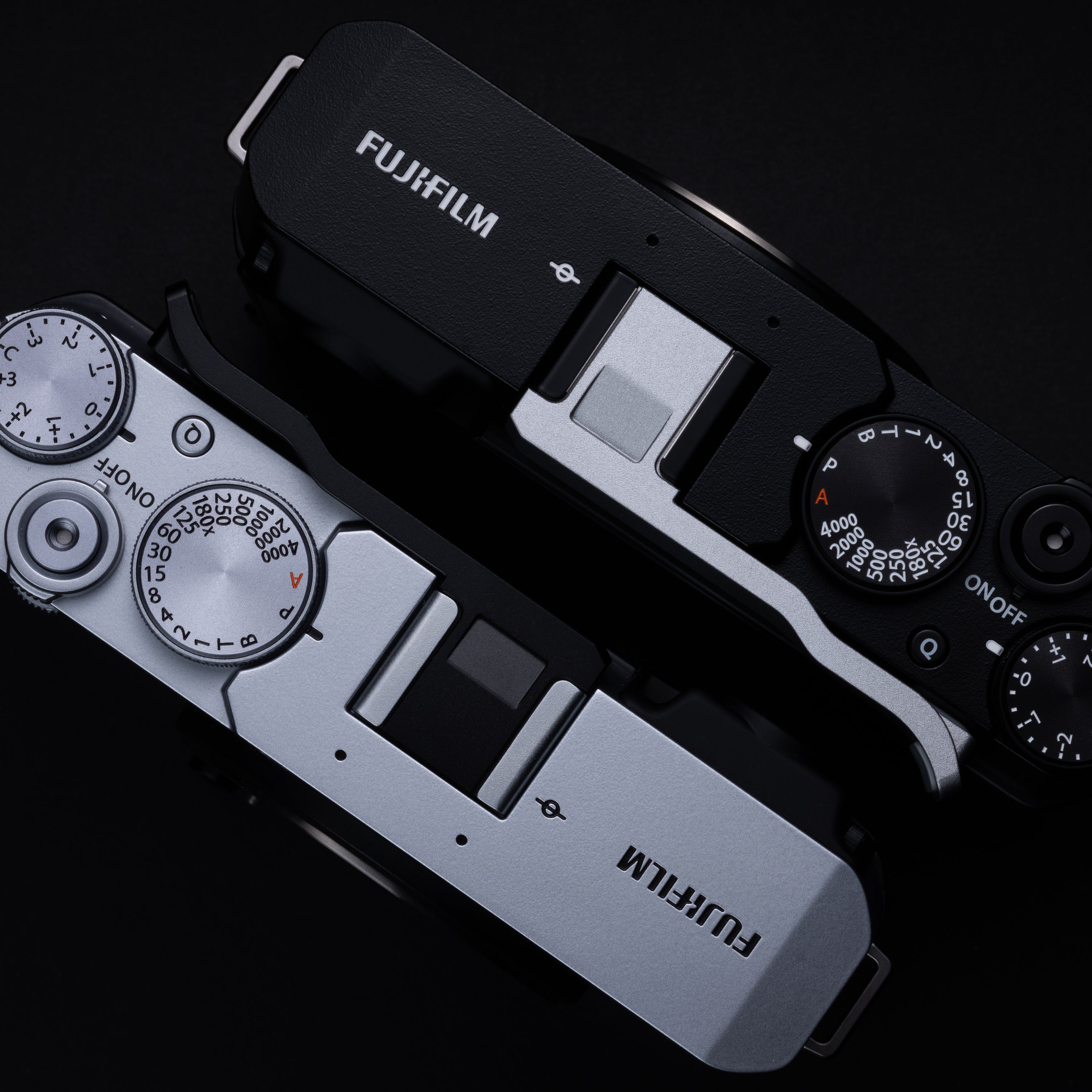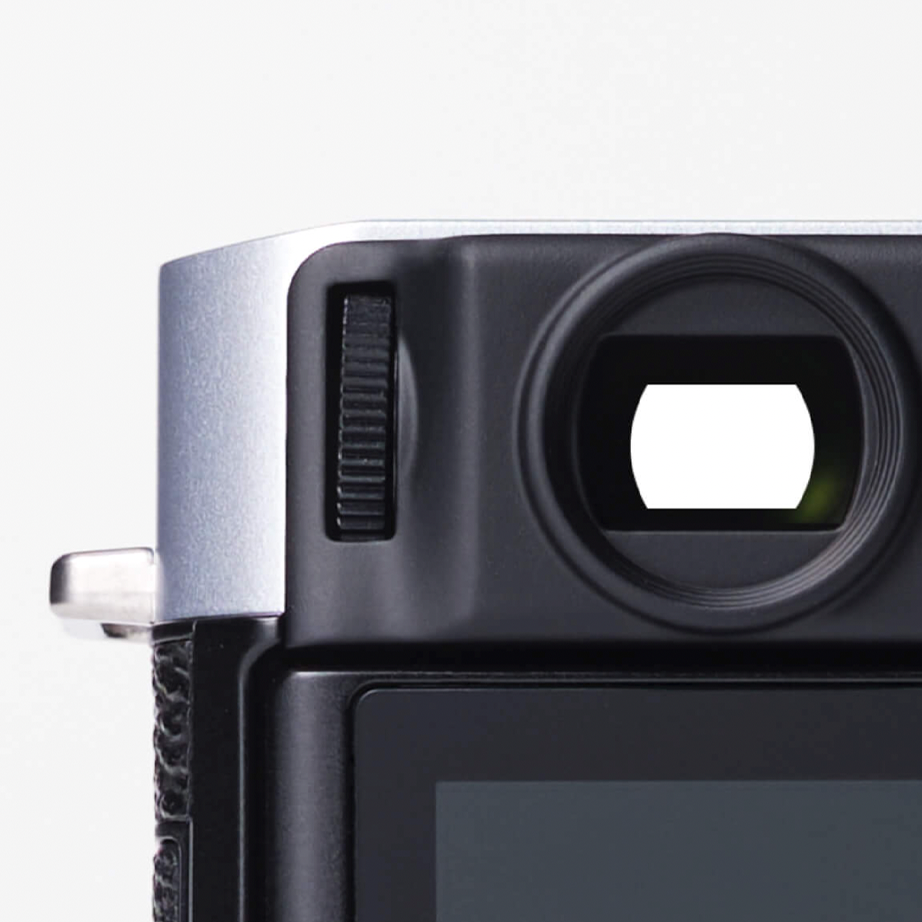 The rangefinder style viewfinder, located at the left side of the camera, allows you to track the movements occurring outside the frame with your left eye, and make prediction of what might happen within the frame. Your right eye would then look through the 2.36 million dot, high-definition electronic viewfinder. The colour tone and exposure can be checked live, allowing you to see exactly what the camera will capture and fine-tune the output closer to what you have envisioned.
X-E4 features a tilting LCD screen, allowing you to check the composition more conveniently from any angle, low or high. It can even be flipped a full 180° for selfie shooting.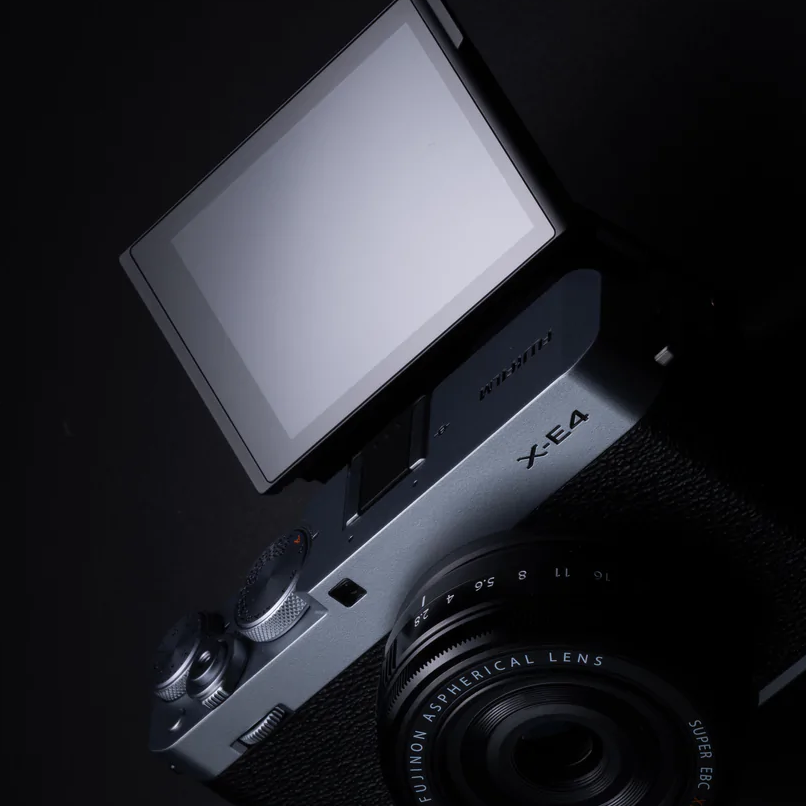 White Smoke Studio | X-E4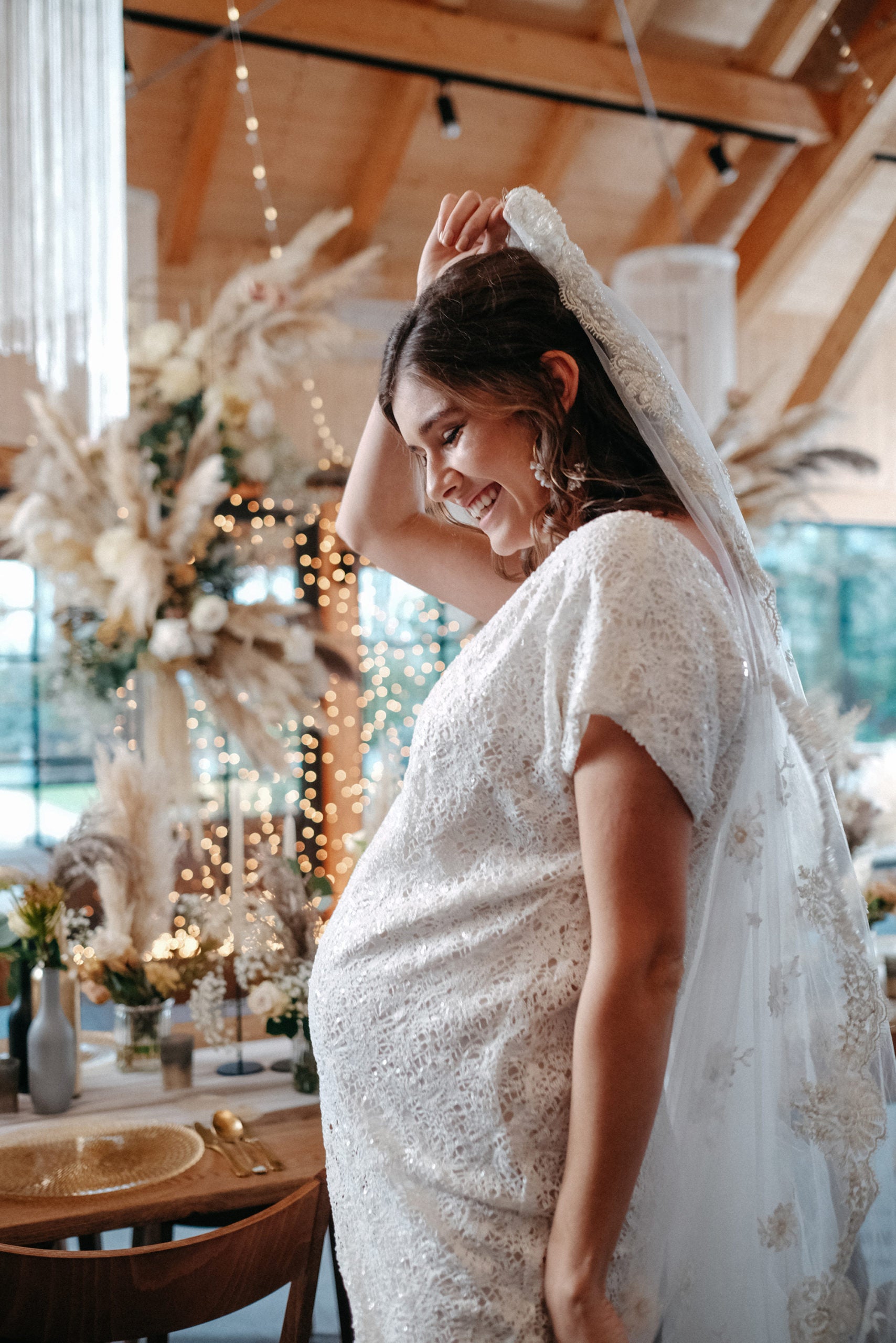 Operability
Custom setting to suit your style
Offering full customisation and adapting flawlessly to your style of photography, X-E4 lets you work faster, smarter, and more instinctively. Store your favourite settings and recall them instantly by using the seven custom settings.
A legacy in colour science is at the root of any image you set out to create. Developed from knowledge and technologies accumulated over 85 years, Fujifilm's Film Simulations produce superb depth, saturation, and tonality that need little-to-no enhancement.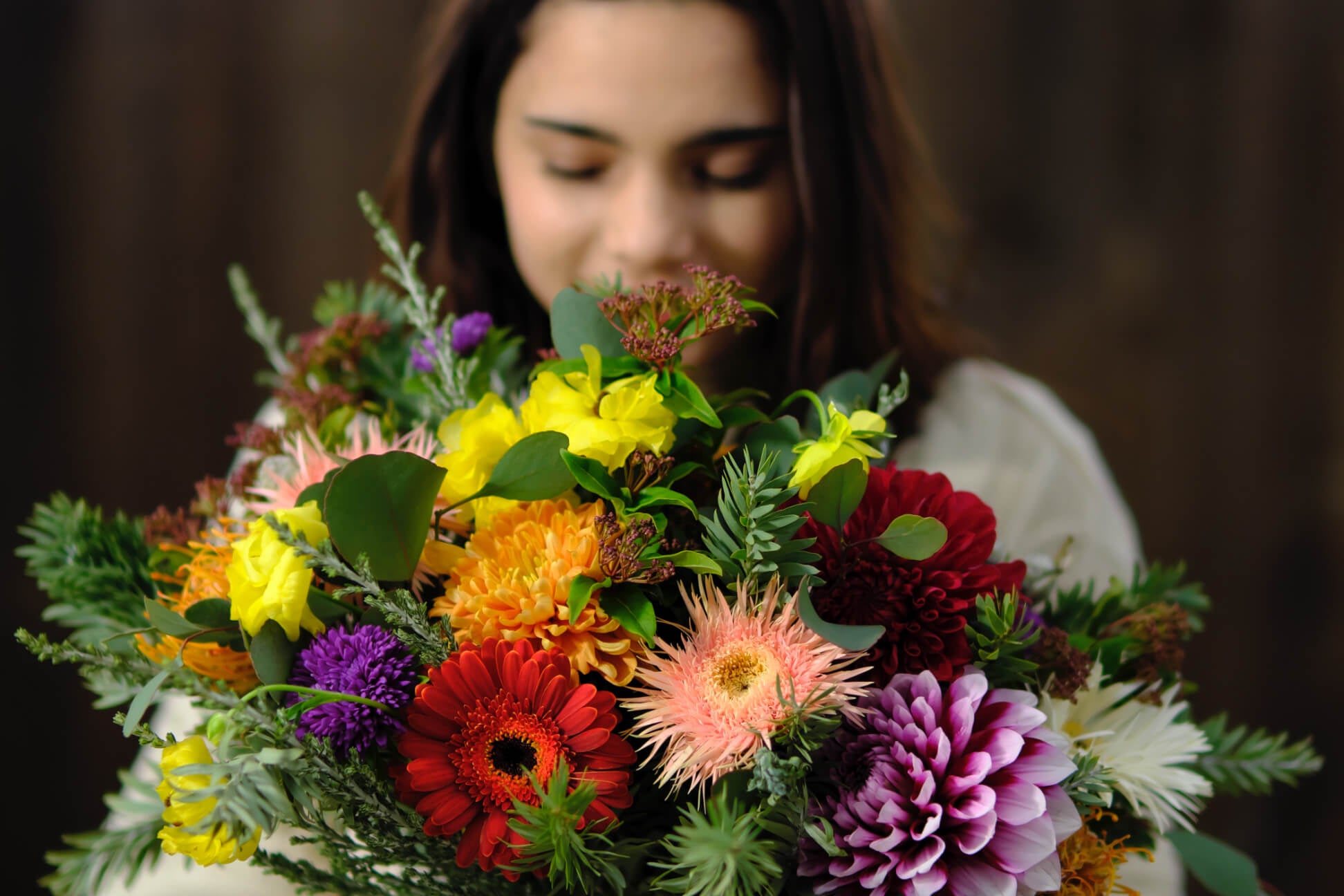 Based on FUJICHROME Velvia, an ultra vivid reversal film designed for professional use, this Film Simulation mode provides richer and high-contrast colours than the standard "PROVIA/STANDARD," normally used by landscape photographers.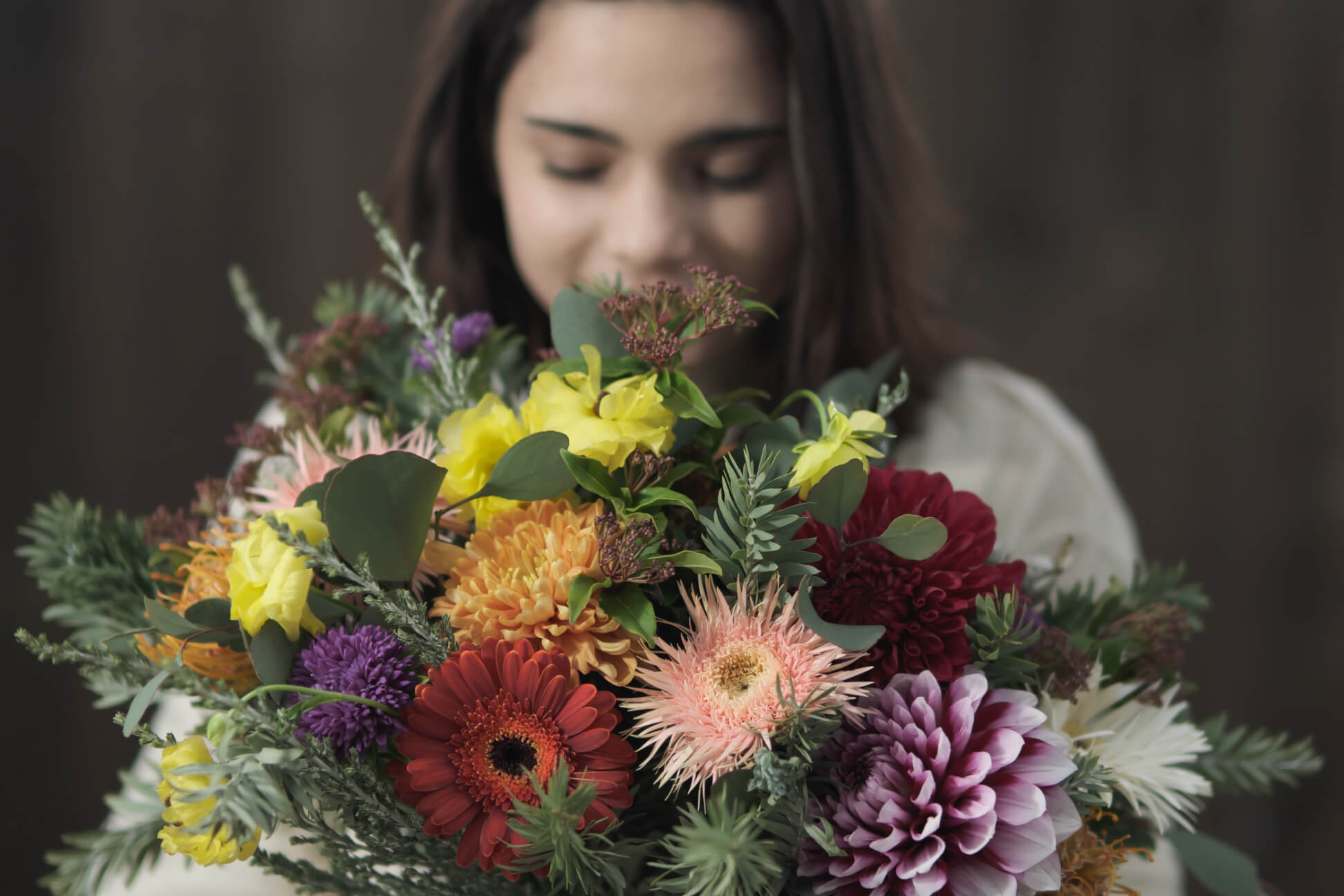 Based on ETERNA, a film designed for motion pictures, this Film Simulation mode minimises saturation to ensure that none of the colours stand out. It provides an extremely soft tonal gradation in highlights and deep shadows to prevent clipping, to reproduce a cinematic look.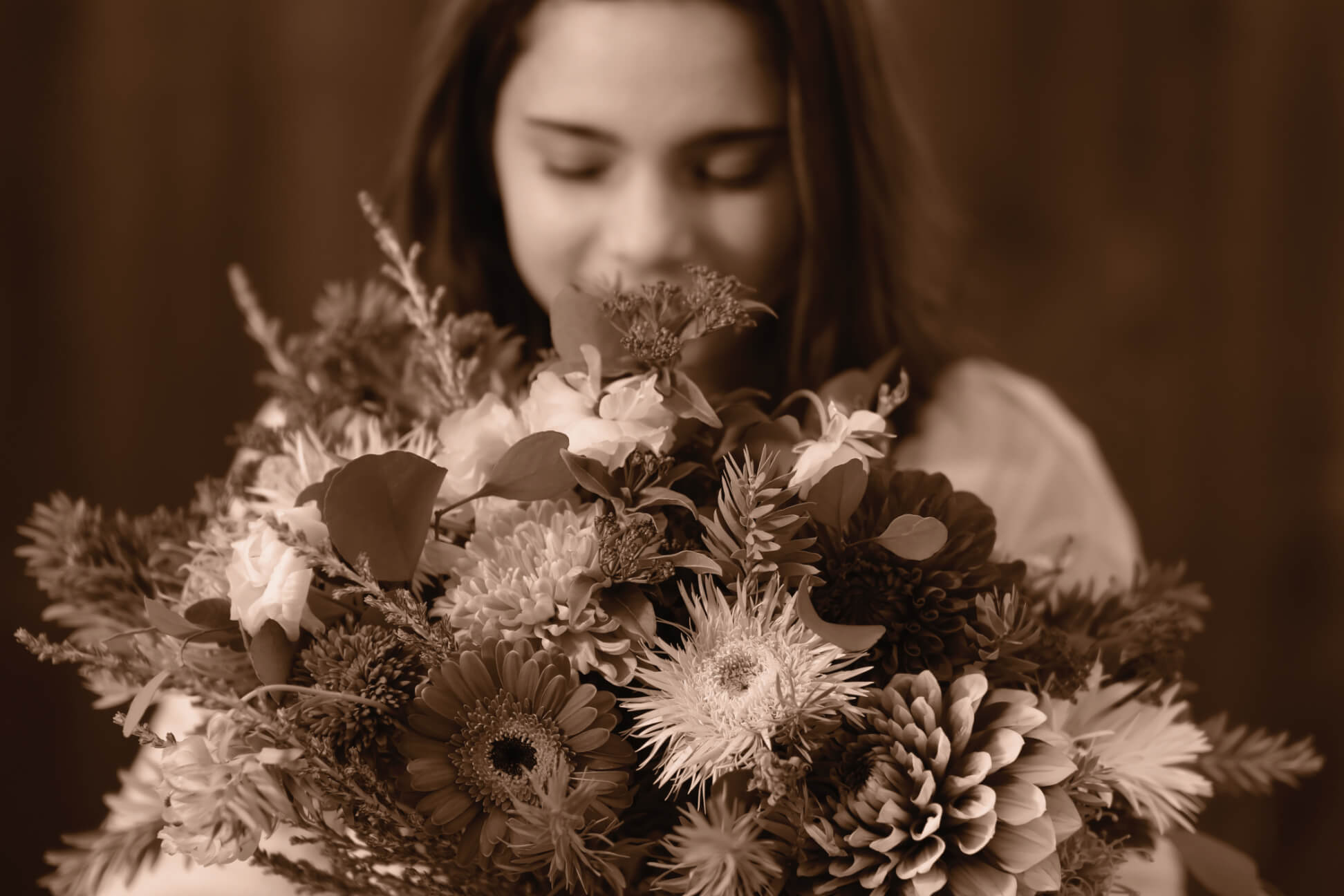 Adds a warm tone across the frame for a sepia look. When applied to a retro subject, it creates a nostalgic look.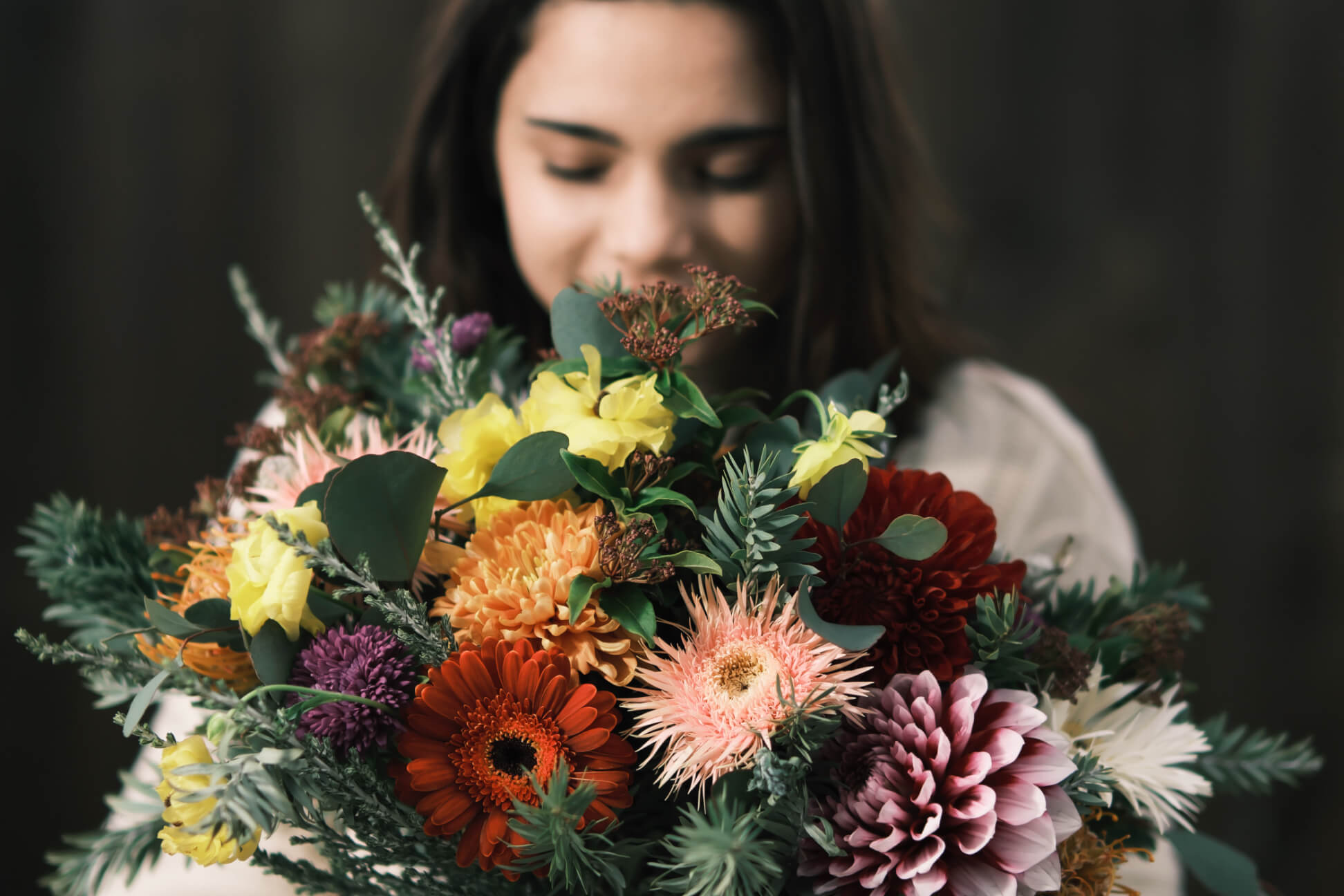 Based on SUPERIA, a colour negative film loved by generations, this Film Simulation mode provides high-contrast tonal gradation and adds depth and definition to colours by adjusting their shades in highlights and shadows while reducing saturation.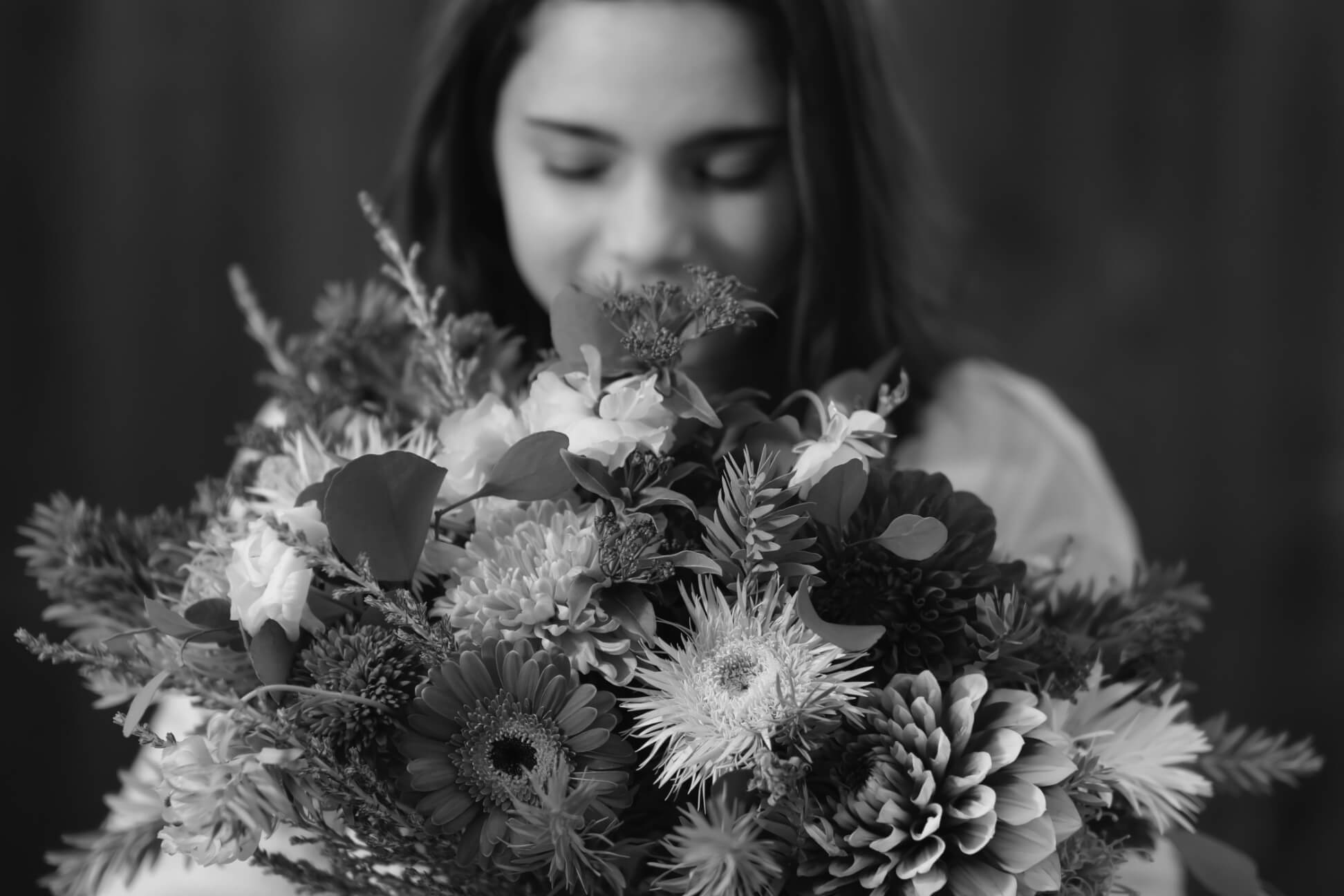 Shoots in black and white. Available with yellow, red, and green filters, which deepen shades of grey corresponding to hues complementary to the selected colour.
This adds more depth and naturally enhances the vividness of the colour.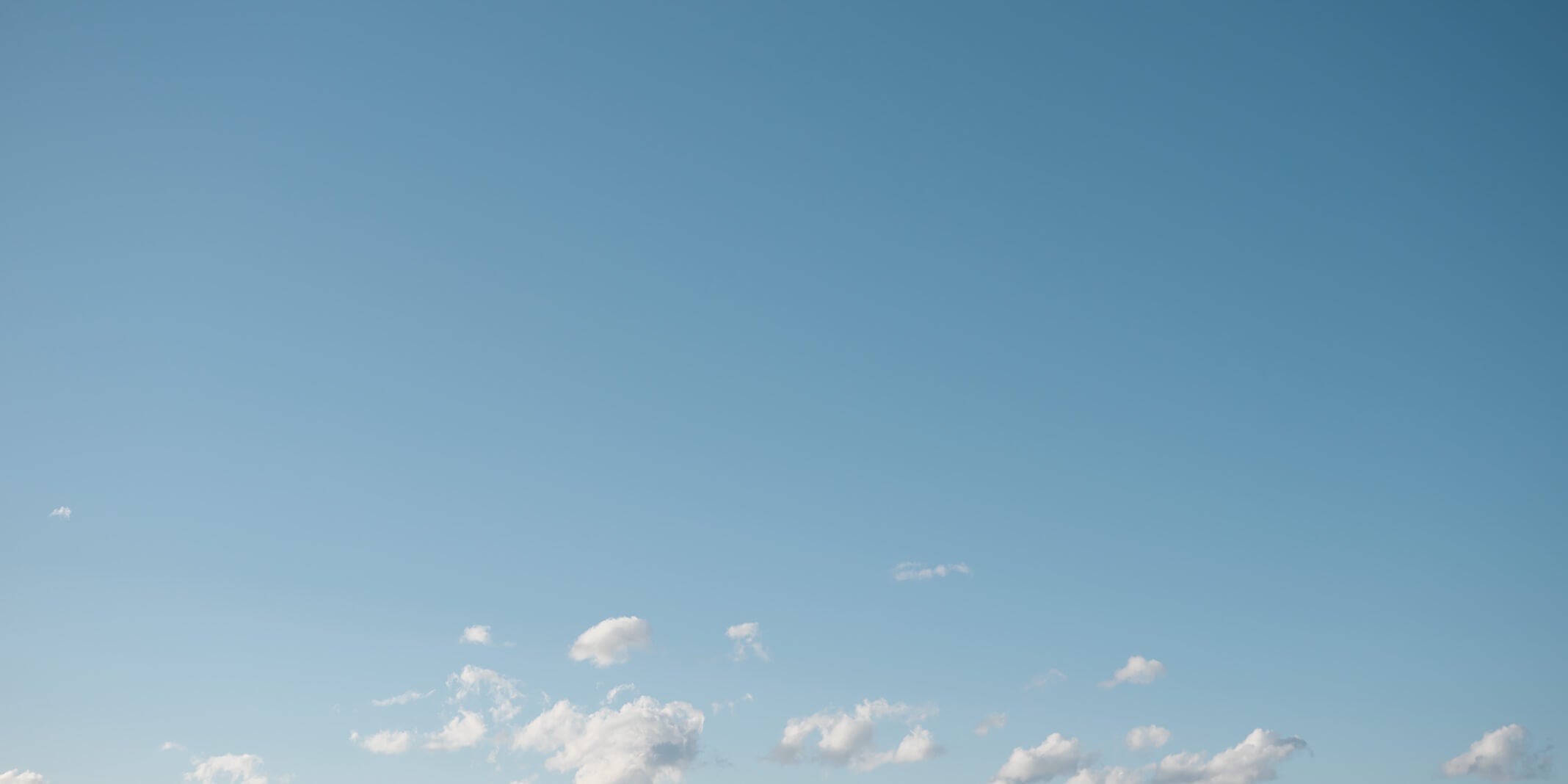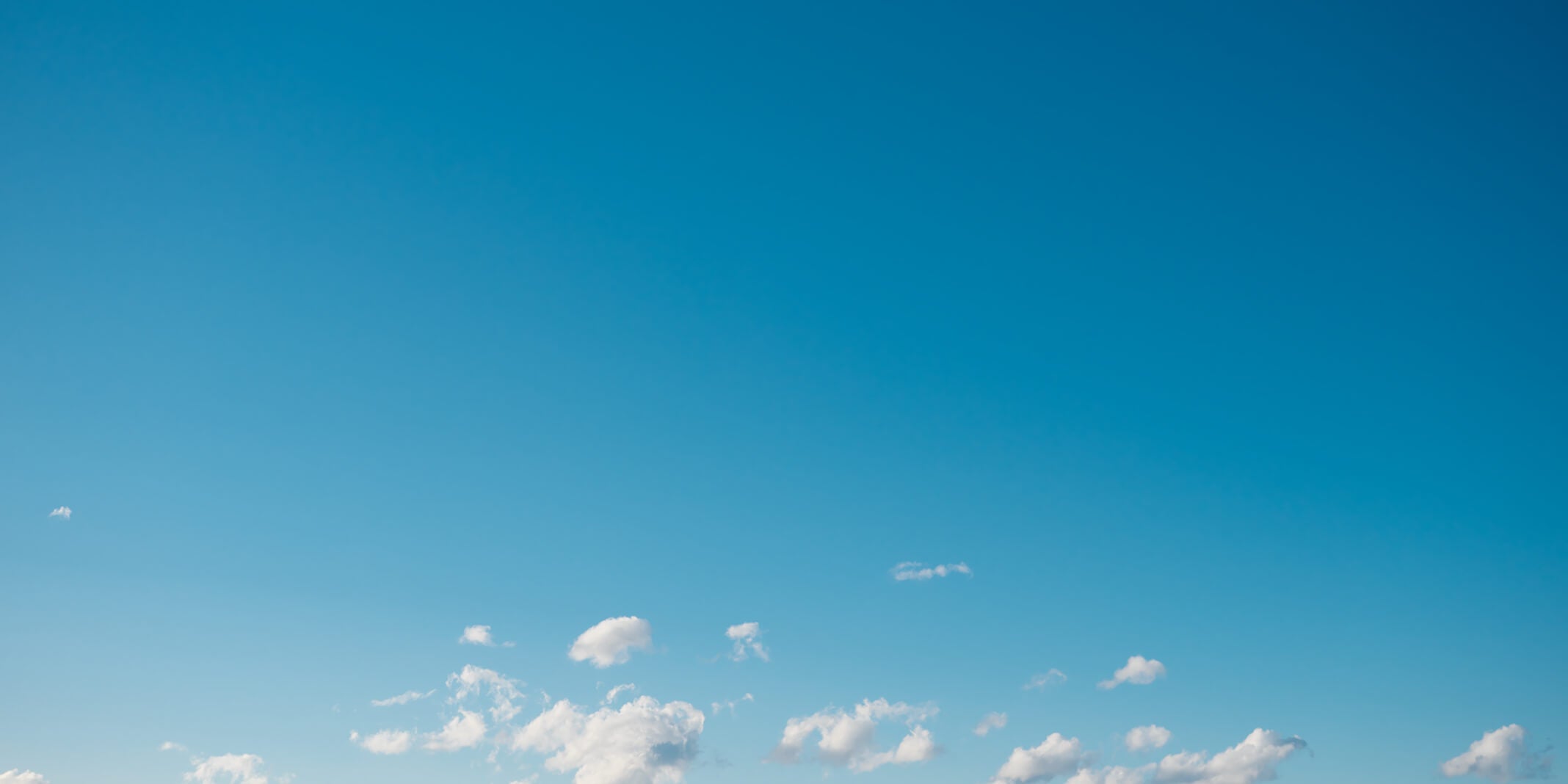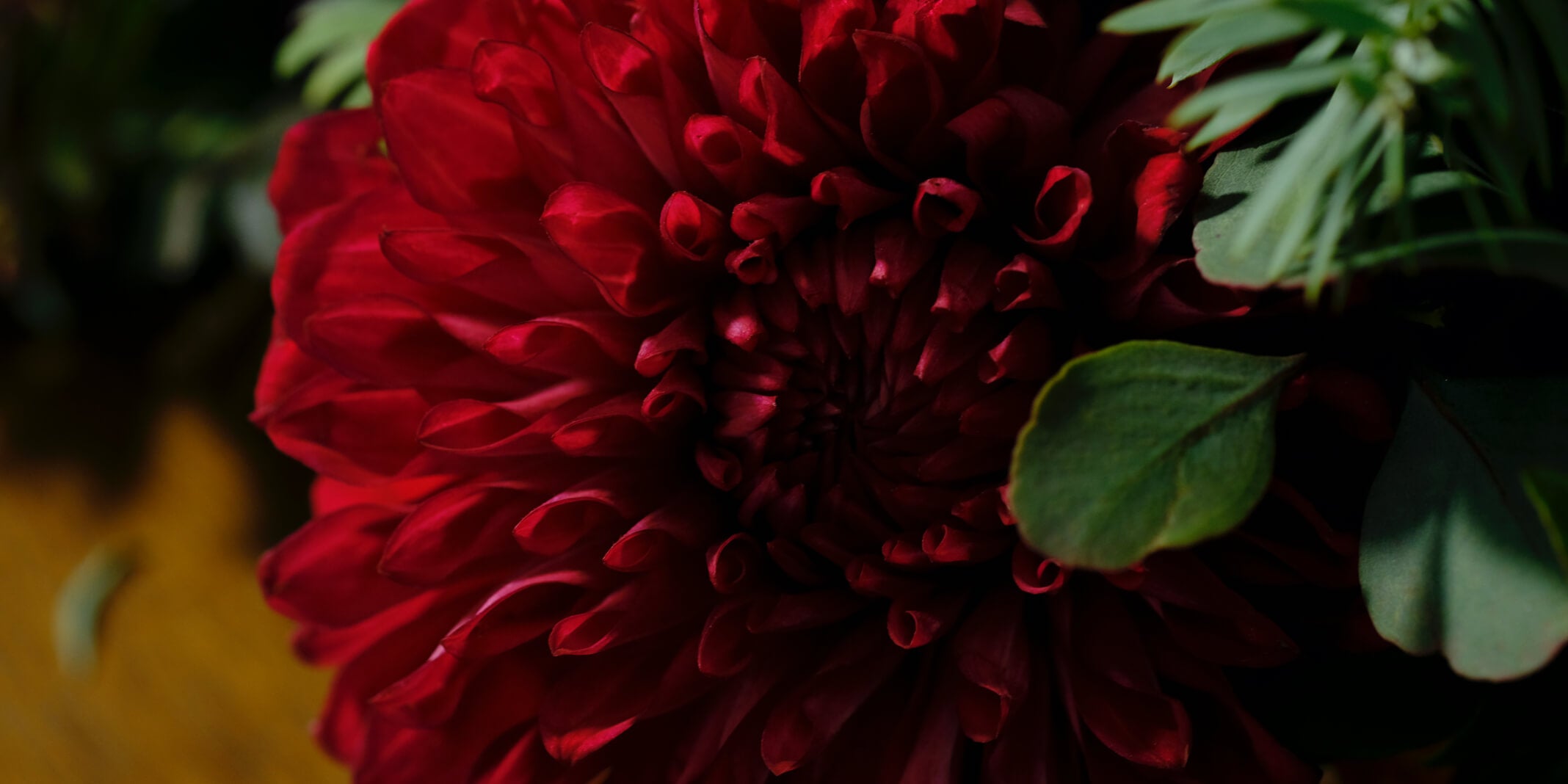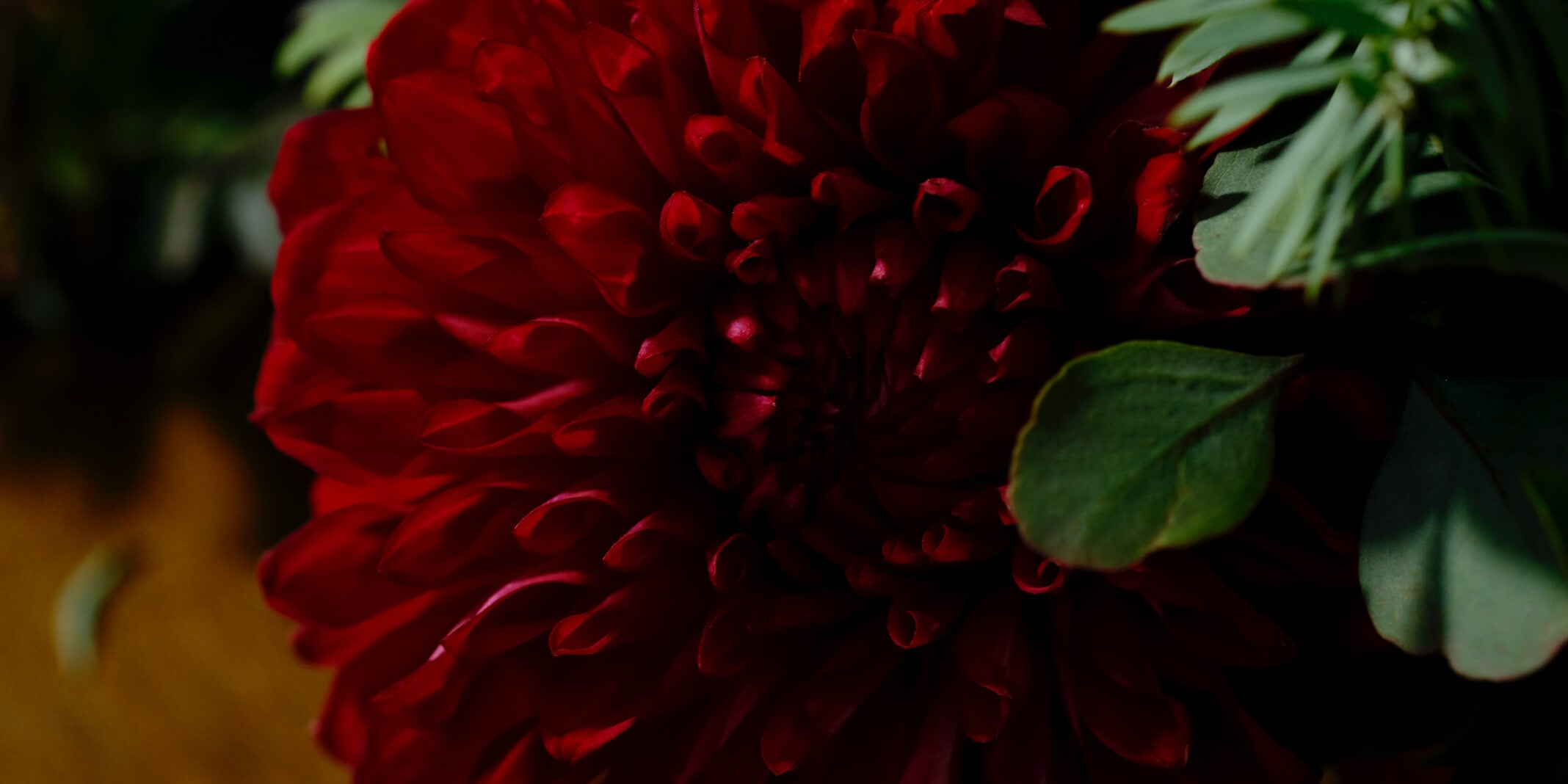 Use Colour Chrome effects to add depth, detail, and natural vividness to red, green, or yellow tones in your image where saturation is too high to achieve true gradation; or use Colour Chrome FX Blue to adjust values in just the blue tones of an image. Adjust them separately in three levels to perfectly match your subject.
The Clarity control lets you decide whether to depict a scene with a crisp sharpness or give it a softer feel. With 11 levels of control, it's easy to fine-tune it to your own personal taste and style.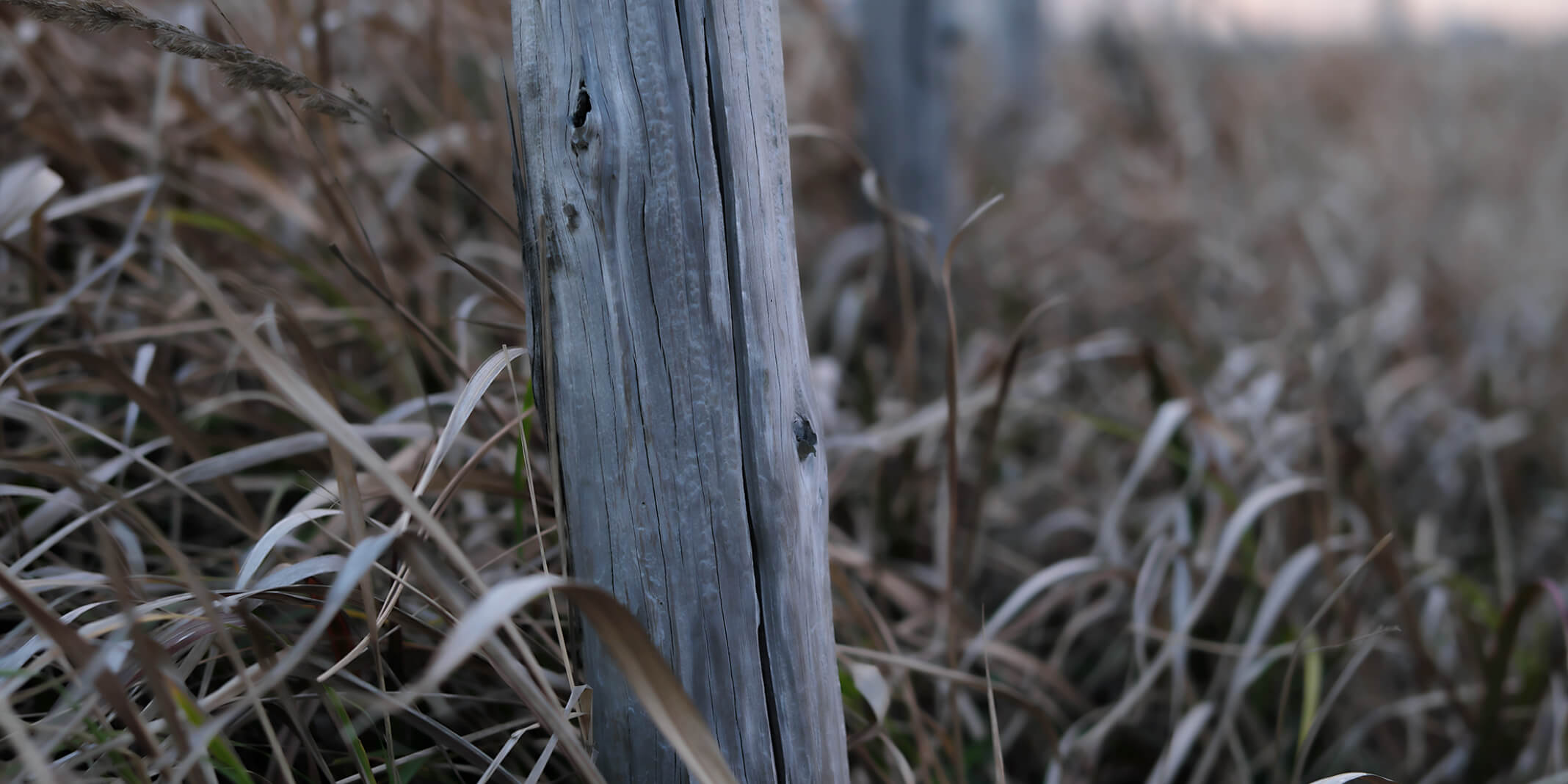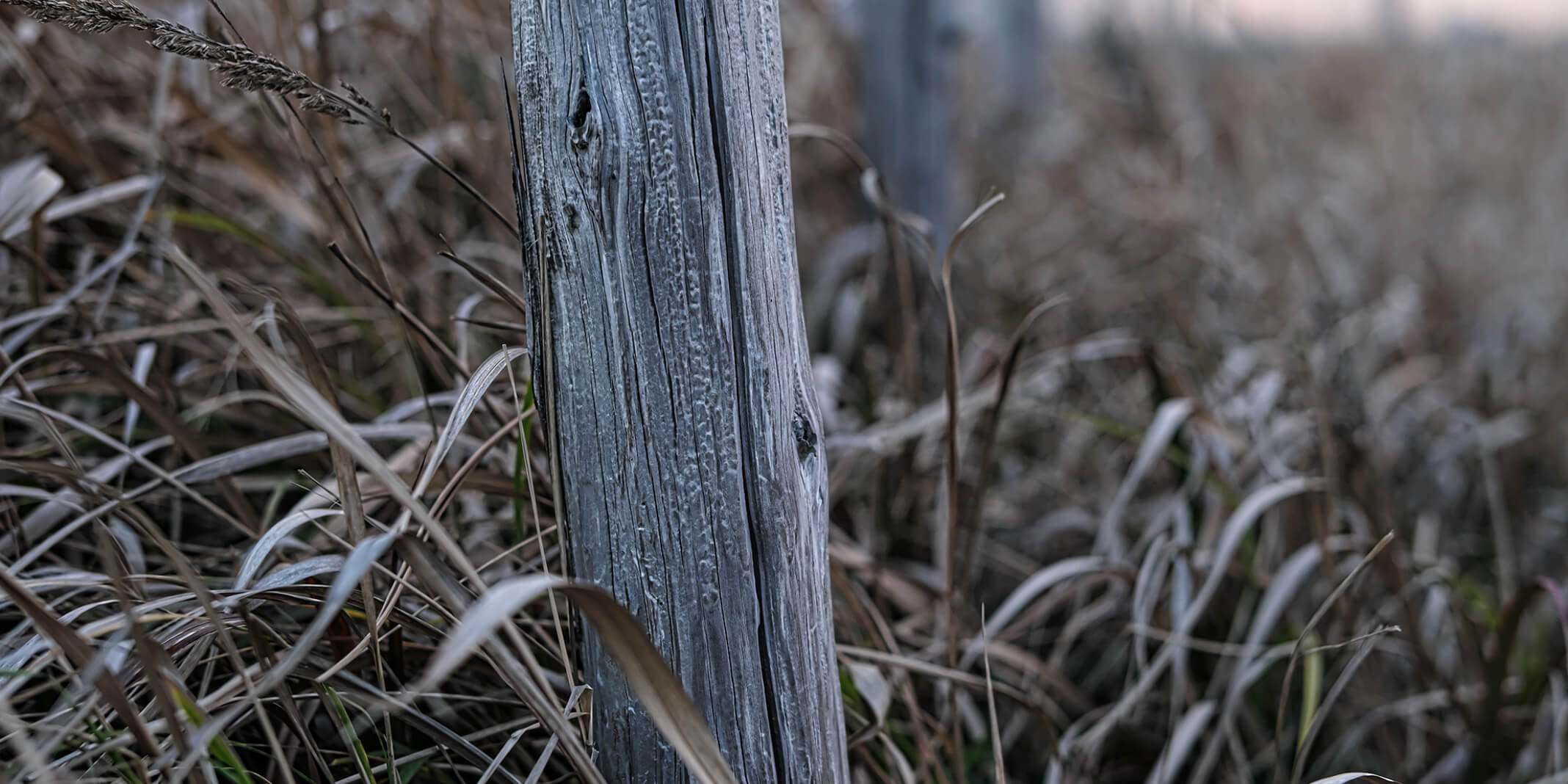 With its high-resolution 4K output that is oversampled from pure 6K data, easy to use recording modes, and intuitive controls, FUJIFILM X-E4 lets you record beautifully detailed and natural-looking footage to create high-quality, professional movies. You can even switch to Full HD mode and record at 240fps, to achieve a 10x slow-motion effect for those times where every part of the action needs to be seen.
Kazunori Kawada | X-E4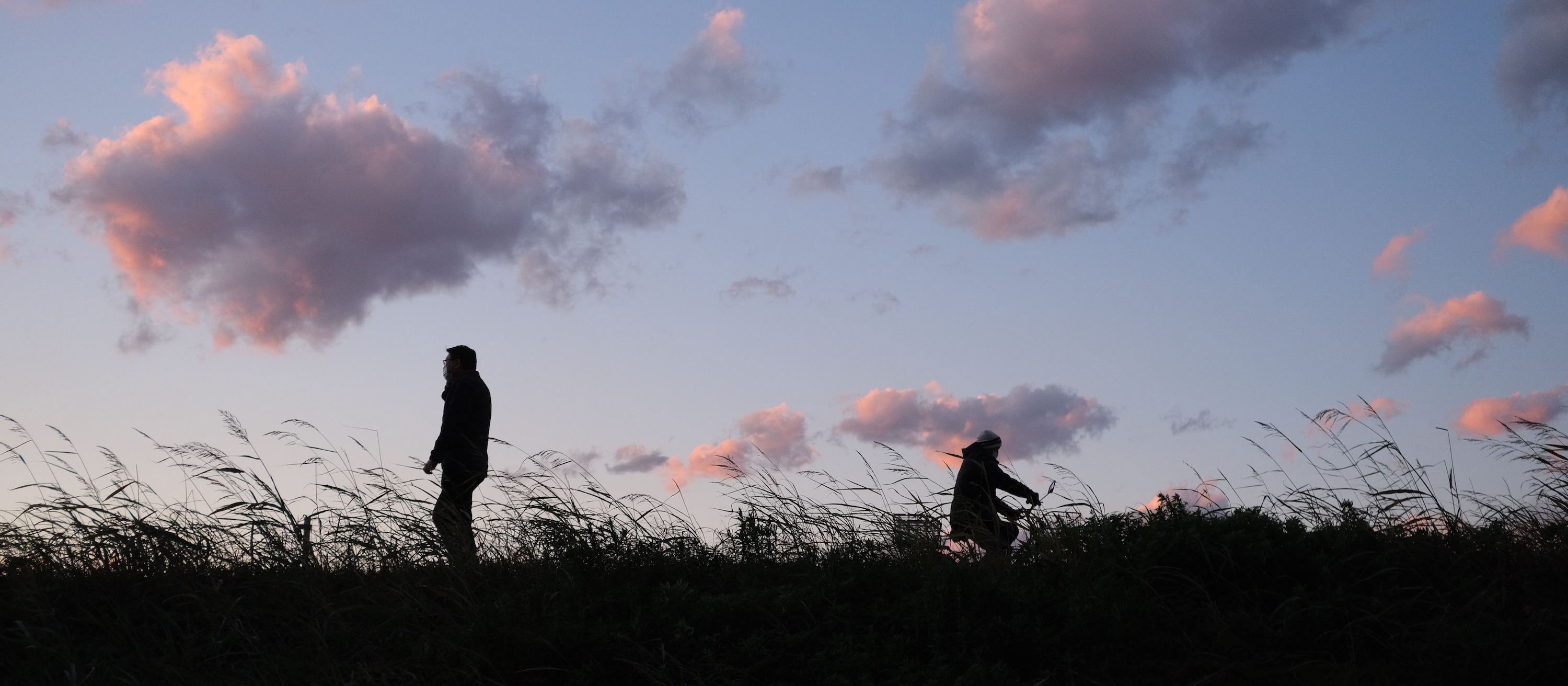 AF speed and performance don't let up when it comes to other subjects. The AF algorithm detects shapes and colours to identify subjects and keep them in focus with high-speed tracking performance. Simply activate focus with a half-press of the shutter button and X-E4 will smoothly and accurately track them as they move around the frame.
York Place Studios| X-E4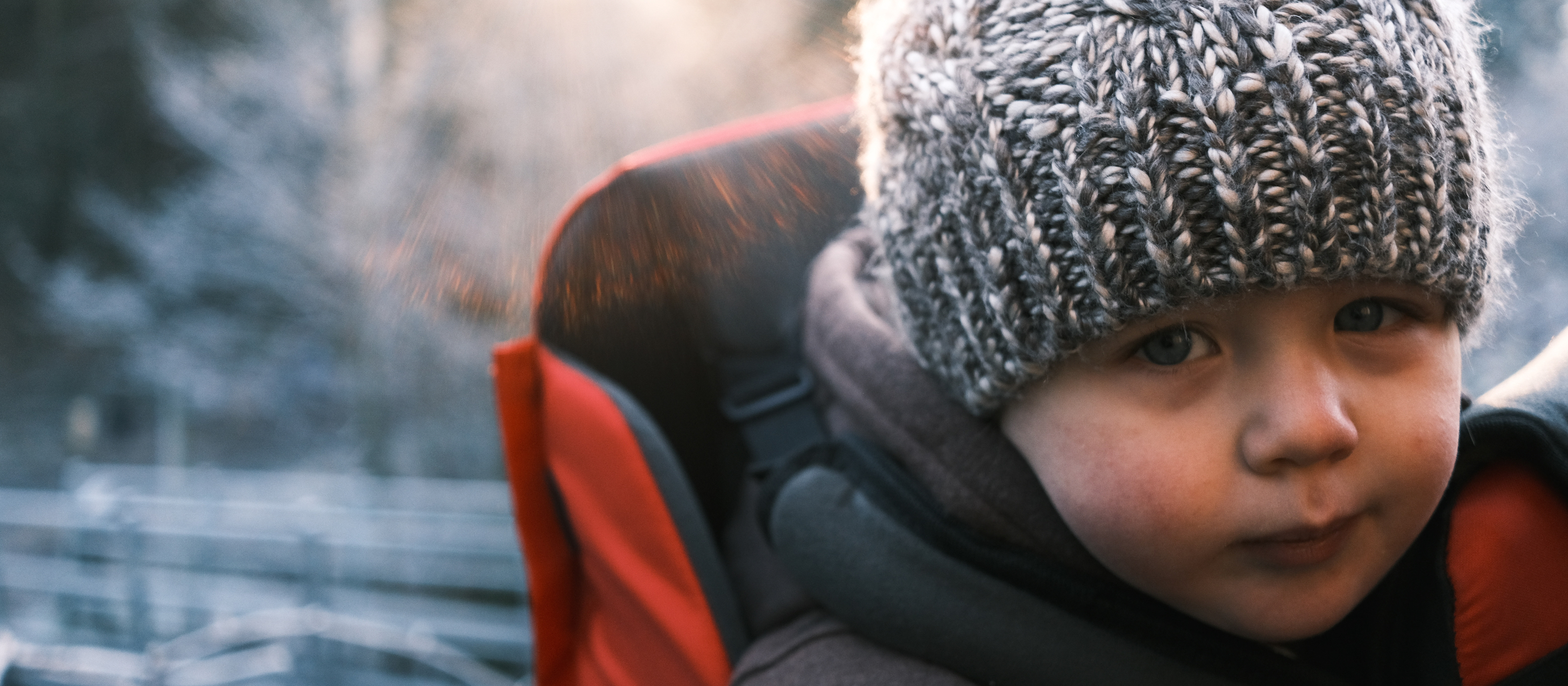 Utilising the phase detection pixels across the entire sensor and the latest autofocus algorithm, the X-E4 has blazing fast and accurate face and eye detection AF which can track a subject across the frame. Meaning you don't need to stress about capturing that crucial moment and just focus on your picture.
Kazunori Kawada | X-E4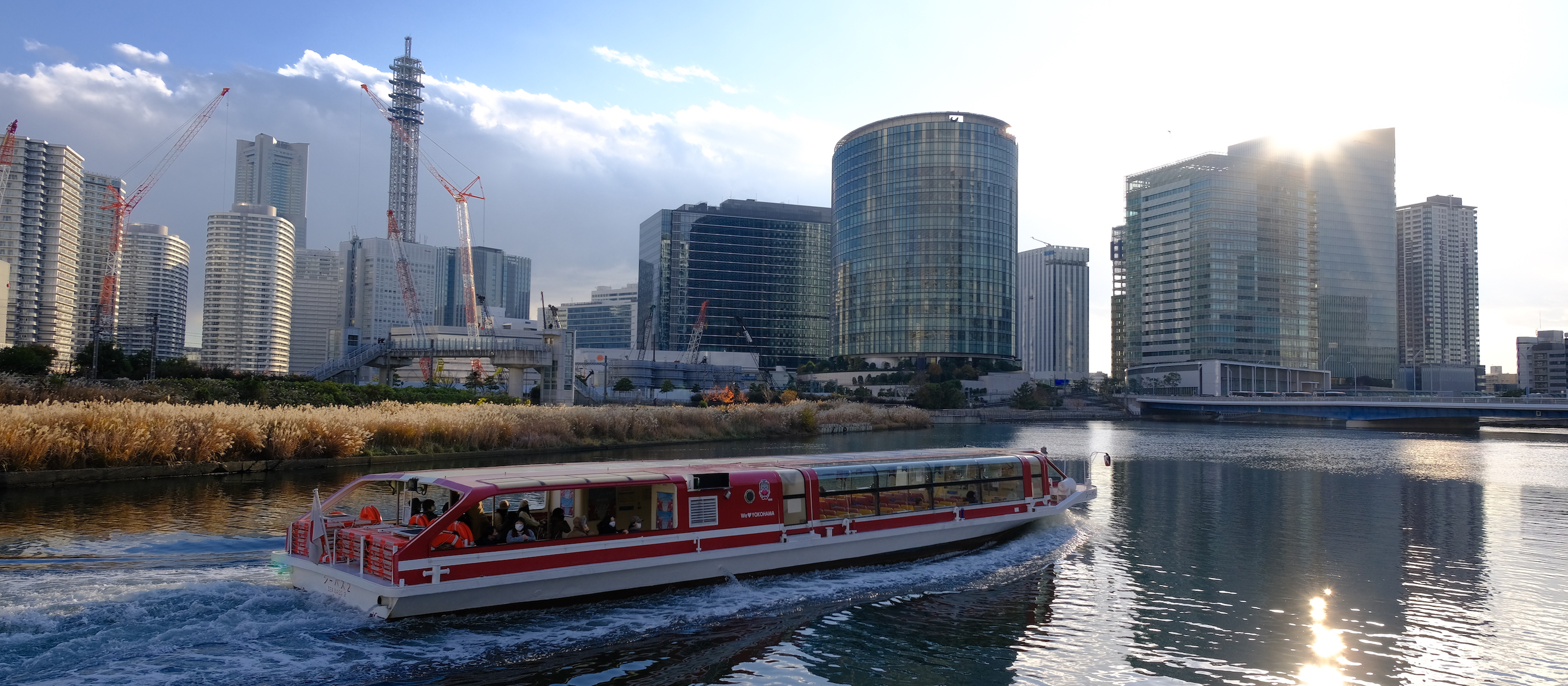 With its X-Trans CMOS 4 sensor and X-Processor 4 image processing engine combining to produce best-in-class autofocus performance, the X-E4 offers AF speed equivalent to that of other high-performance X Series Mirrorless Cameras (2), reaching an incredible 0.02 secs.
No matter the situation, X-E4's AF can track and hold the most difficult of moving subjects with tenacious speed, or lock onto an individual's face with wonderfully intelligent anticipation.
MVC Thinh | X-E4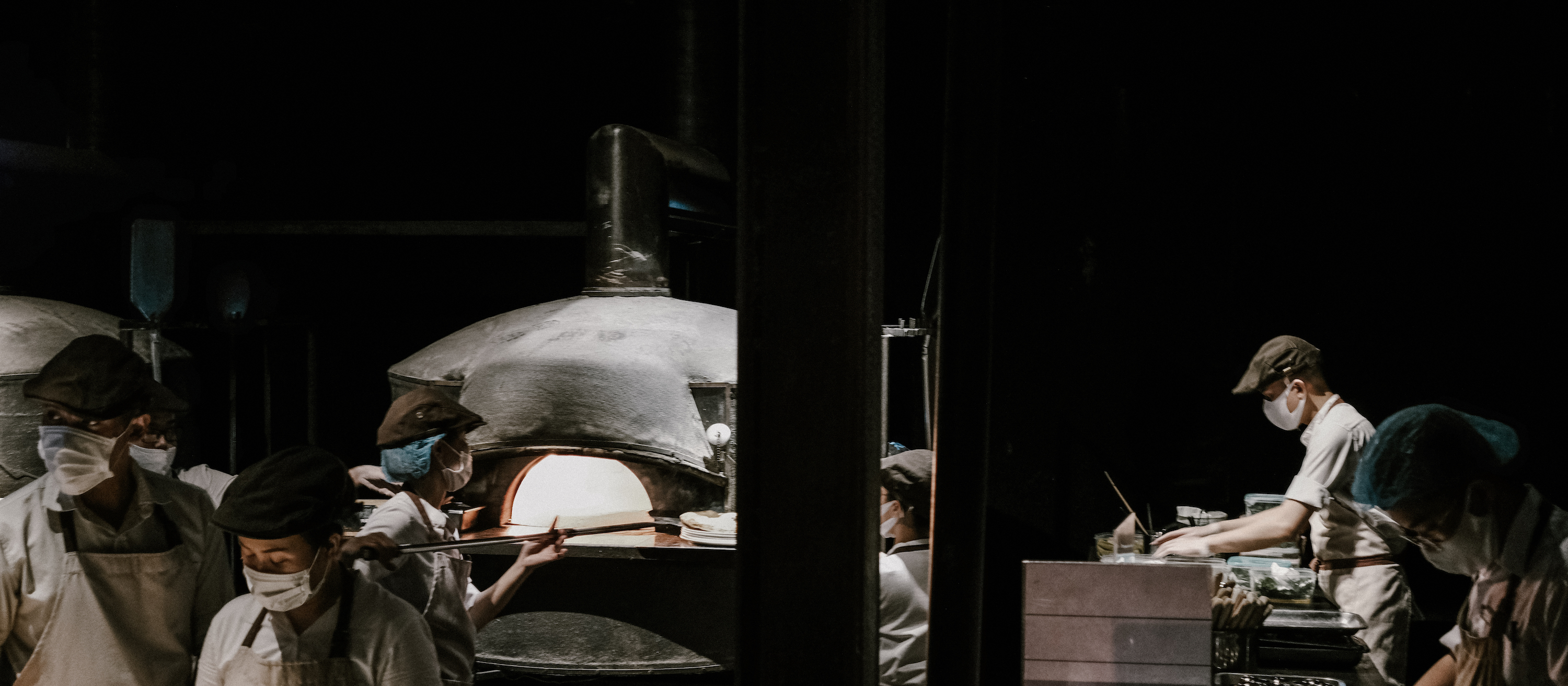 X-E4's Intelligent Hybrid Phase Detection autofocus system delivers sharp and clear results. With a sensitivity of up to -7EV (3), autofocus can be used even in nighttime conditions where other cameras might struggle.
1.. Based on CIPA standard
2. X-T4, X-Pro3
3. When XF50mmF1.0 R WR lens is attached