Sale price

$12,599.00
Regular price
(/)
Tech Specs
Model name
FUJIFILM GFX100 II
Lens Mount
FUJIFILM G mount
Image sensor
43.8mm×32.9mm GFX 102MP CMOS II HS with primary color filter
Number of effective pixels
102 million pixels
Sensor Cleaning System
Ultra Sonic Vibration
Image Processing Engine
X-Processor 5
Storage media
SD Card (-2GB) / SDHC Card (-32GB) / SDXC Card (-2TB) / UHS-I / UHS-II / Video Speed Class V90 / CFexpress Type B Card (-2TB) / SSD (-2TB)
*Please see the Fujifilm website (https://fujifilm-x.com/support/compatibility/cameras/) to check memory card compatibility.
File format of still image
DCF
Compliant with Design rule for Camera File system (DCF2.0)
JPEG
Exif Ver.2.32*1
HEIF
4:2:2 10bit
RAW
14bit / 16bit RAW (RAF original format)
TIFF
8bit / 16bit RGB (In-camera Raw Conversion Only)
Number of recorded pixels
[L]
〈4:3〉 11648 x 8736 〈3:2〉 11648 x 7768 〈16:9〉 11648 x 6552 〈1:1〉 8736 x 8736 〈65:24〉 11648 x 4304 〈5:4〉 10928 x 8736 〈7:6〉 10192 x 8736
[M]
〈4:3〉 8256 x 6192 〈3:2〉 8256 x 5504 〈16:9〉 8256 x 4640 〈1:1〉 6192 x 6192 〈65:24〉 8256 x 3048 〈5:4〉 7744 x 6192 〈7:6〉 7232 x 6192
[S]
〈4:3〉 4000 x 3000 〈3:2〉 4000 x 2664 〈16:9〉 4000 x 2248 〈1:1〉 2992 x 2992 〈65:24〉 4000 x 1480 〈5:4〉 3744 x 3000 〈7:6〉 3504 x 3000
Sensitivity
Still Image
Standard Output: AUTO1 / AUTO2 / AUTO3 / ISO80~12800 (1/3 step)
Extended Output: ISO40 / ISO25600 / ISO51200 / ISO102400
Movie
Standard Output: AUTO / ISO100~12800 (1/3 step)
Extended Output: ISO25600
Exposure control
TTL 256-zone metering / Multi / Spot / Average / Center Weighted
Exposure mode
P (Program AE) / A (Aperture Priority AE) / S (Shutter Speed Priority AE) / M (Manual Exposure)
Exposure compensation
Still
-5.0EV~+5.0EV 1/3EV step
Movie
-2.0EV~+2.0EV 1/3EV step
Image stabilizer
Mechanism
Image sensor shift mechanism with 5-axis compensation
Compensation Effect
8.0 stops
*based on CIPA standard
*Pitch/yaw shake only
*With GF63mmF2.8 R WR lens mounted
Digital Image Stabilization
Yes (movie mode only)
IS MODE BOOST
Yes (movie mode only)
Shutter type
Focal Plane Shutter
Shutter speed
Mechanical shutter
P mode: 30sec. to 1/4000sec. A mode: 30sec. to 1/4000sec. S/M mode: 60min. to 1/4000sec. Bulb: up to 60min.
Electronic shutter
P mode: 30sec. to 1/32000sec. A mode: 30sec. to 1/32000sec. S/M mode: 60min. to 1/32000sec. Bulb: up to 60min.
*The Electronic Shutter may not be suitable for fast-moving objects or handheld shooting. Flash can not be used.
Mechanical + Electronic shutter
P mode: 30sec. to 1/32000sec. A mode: 30sec. to 1/32000sec. S/M mode: 60min. to 1/32000sec. Bulb: up to 60min.
*Mechanical shutter works until 1/4000sec.
*The Electronic Shutter may not be suitable for fast-moving objects or handheld shooting. Flash can not be used.
E-front + Mechanical shutter
(GFX: Electronic Front Curtain Shutter)
P mode: 30sec. to 1/4000sec. A mode: 30sec. to 1/4000sec. S/M mode: 60min. to 1/4000sec. Bulb: up to 60min.
*Electronic front curtain shutter works until 1/1250sec.
*When using the electronic front curtain shutter, the continuous shooting supports CL only
E-front + Mechanical + Electronic shutter
(GFX: E-Front + Electronic Shutter)
P mode: 30sec. to 1/32000sec. A mode: 30sec. to 1/32000sec. S/M mode: 60min. to 1/32000sec. Bulb: up to 60min.
*Electronic front curtain shutter works until 1/1250sec, Mechanical shutter works until 1/4000sec.
*The Electronic Shutter may not be suitable for fast-moving objects or handheld shooting. Flash can not be used.
*When using the electronic front curtain shutter, the continuous shooting supports CL only
Movie
8K/DCI8K: 1/4000sec. to 1/24 sec. 5.8K: 1/4000sec. to 1/24 sec. 5.4K: 1/4000sec. to 1/24 sec. 4.8K: 1/4000sec. to 1/24 sec. 4.6K(ANAMOR): 1/4000sec. to 1/24 sec. 4K/DCI4K: 1/4000sec. to 1/8 sec. FHD: 1/4000sec. to 1/8 sec.
*Cannot choose slower shutter speed than framerate for some settings.
Synchronized shutter speed for flash
Mechanical shutter: 1/125sec. or slower
Continuous shooting
CH Electronic shutter Approx. 8.7fps (35mm Format Mode ON) (No. of recordable frames: JPEG 1000+ frames, Compressed RAW 1000+ frames, Lossless compressed RAW 1000+ frames, Uncompressed RAW 260 frames, Compressed RAW + JPEG 156 frames, Lossless compressed RAW + JPEG 148 frames, Uncompressed RAW + JPEG 71 frames)
CH Electronic shutter Approx. 5.8fps (35mm Format Mode ON) (No. of recordable frames: JPEG 1000+ frames, Compressed RAW 1000+ frames, Lossless compressed RAW 1000+ frames, Uncompressed RAW 1000+ frames, Compressed RAW + JPEG 1000+ frames, Lossless compressed RAW + JPEG 1000+ frames, Uncompressed RAW + JPEG 1000+ frames)
CH Electronic shutter Approx. 5.3fps (No. of recordable frames: JPEG 1000+ frames, Compressed RAW 1000+ frames, Lossless compressed RAW 1000+ frames, Uncompressed RAW 390 frames, Compressed RAW+JPEG 119 frames, Lossless compressed RAW+JPEG 119 frames, Uncompressed RAW+JPEG 98 frames)
CH Mechanical shutter Approx. 8.0fps (No. of recordable frames: JPEG 1000+ frames, Compressed RAW 325 frames, Lossless compressed RAW 302 frames, Uncompressed RAW 76 frames, Compressed RAW+JPEG 75 frames, Lossless compressed RAW+JPEG 75 frames, Uncompressed RAW+JPEG 55 frames)
CH Mechanical shutter Approx. 5.0fps (No. of recordable frames: JPEG 1000+ frames, Compressed RAW 1000+ frames, Lossless compressed RAW 1000+ frames, Uncompressed RAW 497 frames, Compressed RAW+JPEG 153 frames, Lossless compressed RAW+JPEG 152 frames, Uncompressed RAW+JPEG 116 frames)
CL Mechanical shutter Approx. 2.0fps (No. of recordable frames: JPEG 1000+ frames, Compressed RAW 1000+ frames, Lossless compressed RAW 1000+ frames, Uncompressed RAW 1000+ frames, Compressed RAW+JPEG 1000+ frames, Lossless compressed RAW+JPEG 1000+ frames, Uncompressed RAW+JPEG 1000+ frames)
*Electronic Front Curtain Shutter support CL only.
*No. of recordable frames are calculated based on CFexpress Type B card in a cold start
*Recordable frames depends on recording media
*Speed of continuous shooting depends on shooting environment and shooting frames
Drive Mode
AE Bracketing
2 frames / 3 frames / 5 frames / 7 frames / 9 frames
*by 1/3EV step, up to ±3EV steps
Filmsimulation bracketing
Any 3 types of film simulation selectable
Dynamic Range Bracketing
100% / 200% / 400%
ISO sensitivity Bracketing
±1/3EV / ±2/3EV / ±1EV
White Balance Bracketing
±1 / ±2 / ±3
Focus Bracketing
AUTO / MANUAL
Multiple Exposure
Yes (Max. 9 frames) / Additive / Average / Bright / Dark
Pixel Shift Multi Shot
HIGH RESOLUTION + ACCURATE COLOR: Yes
ACCURATE COLOR: Yes
Focus
Mode
Single AF / Continuous AF / MF
Type
Intelligent Hybrid AF (TTL contrast AF / TTL phase detection AF)
Low-light Performance
Contrast: -2.5EV GF80mmF1.7 attached
Phase Detection: -5.5EV GF80mmF1.7 attached
AF frame selection
Single point AF: 13x9 / 25x17 (Changeable size of AF frame)
Zone AF: 3x3 / 5x5 / 7x7 / Custom1-3 from 117 areas on 13×9 grid
Wide/Tracking AF: Yes (AF-S: Wide / AF-C: Tracking)
All: Yes
Face/eye detection
Yes
Subject detection
Yes (Animal/Bird/Automobile/Motorcycle&Bike/Airplane/Train)
Flash
Shoe mount flash
Sync. Mode: 1st Curtain / 2nd Curtain / AUTO FP (HSS)
Flash Mode: TTL (TTL AUTO / STANDARD / SLOW SYNC. ) / MANUAL / MULTI *When EF-X500 is set / OFF
Synchronized terminal
Sync. Mode: 1st Curtain / 2nd Curtain
Flash Mode: MANUAL
Hot shoe
Yes (Dedicated TTL Flash compatible)
Viewfinder
EVF: 0.64 inch OLED Color Viewfinder, Approx. 9.44 million dots
Coverage of Viewing Area vs. Capturing Area: Approx. 100%
Eyepoint: Approx. 21mm (from the Rear End of the Camera's Eyepiece)
Diopter Adjustment: -5~+2m-1
Magnification: 1.00x with 50mm Lens (35mm Equivalent) at infinity and Diopter set to -1.0m-1
Diagonal Angle of View: approx. 47° (Horizontal angle of view: approx. 38° )
Built-In Eye Sensor
LCD monitor
3.2 inch Tilt-Type(Three Direction) Touch Screen Color LCD Monitor
Aspect Ratio: 4:3
Dots: Approx. 2.36 million dots
Touch Screen Mode
Shooting Mode
AF, Focus Area, OFF, Double Tap Setting (ON/OFF), Touch Function Setting (ON/OFF), EVF Touch Screen Area Setting
Playback Mode
Swipe, Pinch-in / Pinch-out, Double-tap, Drag
Sub LCD monitor
2.09 inch Monochrome LCD Monitor
Aspect Ratio: 4:3
Dots: 320x219-dot
Movie recording
File format
MOV:
Apple ProRes 422 HQ, Linear PCM (Stereo sound 24bit / 48KHz sampling)
Apple ProRes 422, Linear PCM (Stereo sound 24bit / 48KHz sampling)
Apple ProRes 422 LT, Linear PCM (Stereo sound 24bit / 48KHz sampling)
HEVC/H.265, Linear PCM (Stereo sound 24bit / 48KHz sampling)
MPEG-4 AVC/H.264, Linear PCM (Stereo sound 24bit / 48KHz sampling)
MP4:
MPEG-4 AVC/H.264, AAC
Movie compression
All Intra / Long GOP
File size
Frame rate
Bitrate
[8K(17:9)] 8192 x 4320 24p/23.98p 720Mbps/360Mbps/200Mbps/100Mbps/50Mbps
[8K(16:9)] 7680 x 4320 29.97p/25p/24p/23.98p 720Mbps/360Mbps/200Mbps/100Mbps/50Mbps
[8K(2.76:1)] 8192 x 2968 24p/23.98p 720Mbps/360Mbps/200Mbps/100Mbps/50Mbps
[5.8K(2.35:1)] 5824 x 2476 29.97p/25p/24p/23.98p 720Mbps/360Mbps/200Mbps/100Mbps/50Mbps
[5.4K(17:9)] 5440 x 2868 29.97p/25p/24p/23.98p 720Mbps/360Mbps/200Mbps/100Mbps/50Mbps
[4.8K(3:2)] 4776 x 3184 24p/23.98p 720Mbps/360Mbps/200Mbps/100Mbps/50Mbps
[4.8K(16:9)] 4776 x 2688 29.97p/25p/24p/23.98p 720Mbps/360Mbps/200Mbps/100Mbps/50Mbps
[4.6K(1.38:1)] 4664 x 3380 24p/23.98p 720Mbps/360Mbps/200Mbps/100Mbps/50Mbps
[DCI4K(17:9)] 4096 x 2160 59.94p/50p/29.97p/25p/24p/23.98p 720Mbps/360Mbps/200Mbps/100Mbps/50Mbps
[4K(16:9)] 3840 x 2160 59.94p/50p/29.97p/25p/24p/23.98p 720Mbps/360Mbps/200Mbps/100Mbps/50Mbps
[Full HD(17:9)] 2048 x 1080 59.94p/50p/29.97p/25p/24p/23.98p 720Mbps/360Mbps/200Mbps/100Mbps/50Mbps
[Full HD(16:9)] 1920 x 1080 59.94p/50p/29.97p/25p/24p/23.98p 720Mbps/360Mbps/200Mbps/100Mbps/50Mbps
[Full HD(17:9) High speed rec.] 2048 x 1080 120p/100p 720Mbps (recording)/360Mbps (recording)/200Mbps (recording)
[Full HD(16:9) High speed rec.] 1920 x 1080 120p/100p 720Mbps (recording)/360Mbps (recording)/200Mbps (recording)
*Selectable mode will be changed depending on the "Image Format" setting.
*For recording movies, use a CFexpress Type B card or SD memory card with UHS Speed Class 3 or higher.
*For recording movies in 360Mbps, use a CFexpress Type B card or SD memory card with Video Speed Class 60 or higher.
*For recording movies in 720Mbps, use a CFexpress Type B card or SD memory card with Video Speed Class 90 or higher.
*Selectable bitrate will be changed depends on the setting.
*Apple ProRes codec can be only recorded to CFexpress Type B card
*Bitrate for Apple ProRes codec is not selectable.
*Recording time can become short depending on the temperature and/or shooting conditions
Film simulation mode
20 modes (PROVIA/Standard, Velvia/Vivid, ASTIA/Soft, Classic Chrome, REALA ACE, PRO Neg.Hi, PRO Neg.Std, Classic Neg., Nostalgic Neg., ETERNA/Cinema, ETERNA BLEACH BYPASS, ACROS, ACROS + Ye Filter, ACROS + R Filter, ACROS + G Filter, Black & White, Black & White + Ye Filter, Black & White + R Filter, Black & White + G Filter, Sepia)
Monochromatic Color
Yes
Grain Effect
Roughness
STRONG, WEAK, OFF
Size
LARGE, SMALL
Color Chrome Effect
STRONG, WEAK, OFF
Color chrome Blue
STRONG, WEAK, OFF
Smooth Skin Effect
STRONG, WEAK, OFF
Dynamic range setting
Still
AUTO / 100% / 200% / 400%
ISO restriction: DR100%: No limit、DR200%: ISO160 or more、DR400%: ISO320 or more
Movie
100% / 200% / 400%
ISO restriction: DR100%: No limit、DR200%: ISO200 or more、DR400%: ISO400 or more
White balance
Auto
White Priority / Auto / Ambience Priority
Custom
Custom1 - 3
Color temperature selection
2500K~10000K
Preset
Daylight / Shade / Fluorescent Light-1 / Fluorescent Light-2 / Fluorescent Light-3 / Incandescent Light / Underwater
Clarity setting
±5 steps
Self-timer
Still
10sec. / 2sec.
Movie
10sec. / 5sec. / 3sec.
Interval timer shooting
Yes (Setting : Interval, Number of shots, Starting time, Interval timer shooting exposure smoothing, Interval priority mode)
Wireless transmitter
Standard
IEEE802.11a/b/g/n/ac (standard wireless protocol)
Encryption
WPA/WPA2 mixed mode, WPA3
Access mode
Infrastructure
Bluetooth®
Standartd
Bluetooth Ver. 4.2 (Bluetooth low energy)
Operating frequency (Center frequency)
2402~2480MHz
Terminal
Digital interface
USB Type-C (USB3.2 Gen2x1)
HDMI output
HDMI connector (Type A)
LAN Terminal
1000BASE-T、100BASE-TX、10BASE-T
Others
ø3.5mm, stereo mini connector (Microphone and Remote Release)
ø3.5mm, stereo mini connector (Headphone)
Hot shoe
Synchronized terninal
Power supply
NP-W235 Li-ion battery (included)
Battery life for still images*2
Normal Mode: Approx. 540 frames
*Auto power save ON
*When GF63mmF2.8 R WR is set
Actual battery life of movie capture*2
8K: Approx. 60min. (29.97p)
4K: Approx. 60min. (59.94p)
Full HD: Approx. 80min. (59.94p)
*Face detection is set to OFF
Continuance battery life of movie capture*2
8K: Approx. 80min. (29.97p)
4K: Approx. 90min. (59.94p)
Full HD: Approx. 140min. (59.94p)
*Face detection is set to OFF
Dimensions
Width: 152.4mm
Height: 117.4mm
Depth: 98.6mm
(Minimum Depth: 46.5mm)
Excluding EVF
Width: 152.4mm
Height: 103.5mm
Depth: 73.5mm
(Minimum Depth: 46.5mm)
Weight
including battery and memory card: Approx. 948g (including EVF: 1,030g)
excluding battery and memory card: Approx. 867g (including EVF: 949g)
Operation Environment
Operating Temperature
-10℃~+40℃
Operating Humidity
10% - 80% (no condensation)
Accessories included
Interchangeable electronic viewfinder EVF-GFX3
Li-ion battery NP-W235
AC power adapter AC-5VJ
Plug adapter
USB cable
Shoulder strap
Body cap
Hot shoe cover
Vertical battery grip connector cover
Memory card slot cover
Sync terminal cover
Cooling fan connector cover
Cable protector
Reviews
See the difference
Feel the difference
New beginnings don't start with taking new steps, they start with moving in new directions. And every new GFX System camera has taken a direction that has redefined what it means to be More Than Full Frame.
From its unparalleled image quality, to its overall mobility, the boundaries of large format imaging have continually been reimagined with every new iteration. GFX100 II continues this tradition by bringing unprecedented high-speed performance, expanded video capabilities, and lightning fast autofocus to a growing list of accolades that professionals everywhere have come to rely on from GFX System cameras.
4:2:2 10-BIT
INTERNAL RECORDING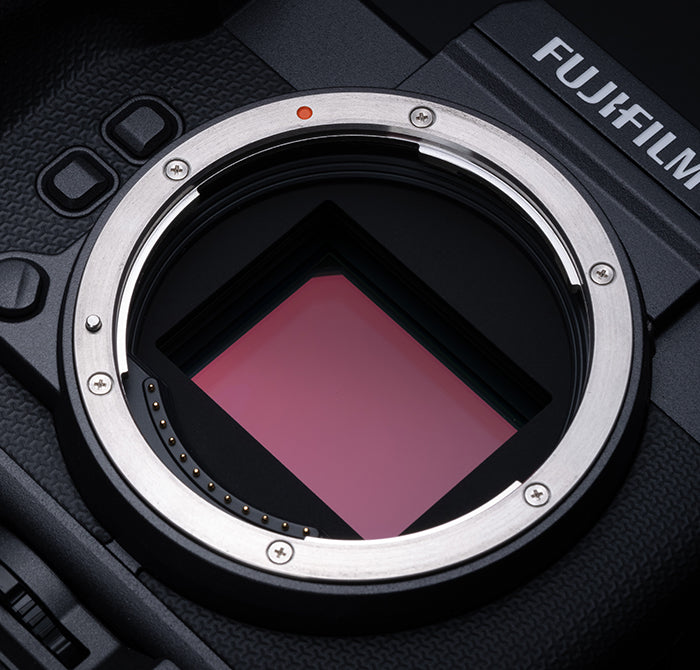 GFX100 II brings a new 102-megapixel sensor 「GFX 102MP CMOS II HS」with a readout speed that is about two times faster than GFX100S.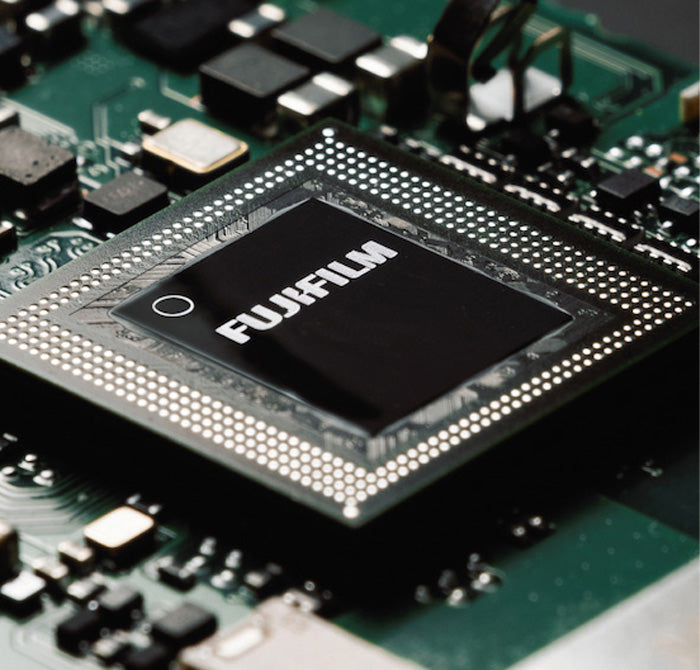 Powerful Processing Engine
Combined with X-Processor 5, GFX100 II is able to achieve a high continuous frame rate of up to 8fps, surgically accurate AF, and advanced video features that have never before existed in any previous GFX System or X Series camera.
X-Processor 5 features subject detection AF, which delivers an autofocus performance previously unseen on a large format camera. Built using deep-learning AI technology, its advanced AF tracking and detection not only works on human faces and eyes, but also animals, birds, cars, motorcycles, bicycles, airplanes, and trains(1) . With such power on tap, photographers can concentrate on creativity, confident GFX100 II will produce an autofocus performance to match.
Hendrik Osula | GFX100ii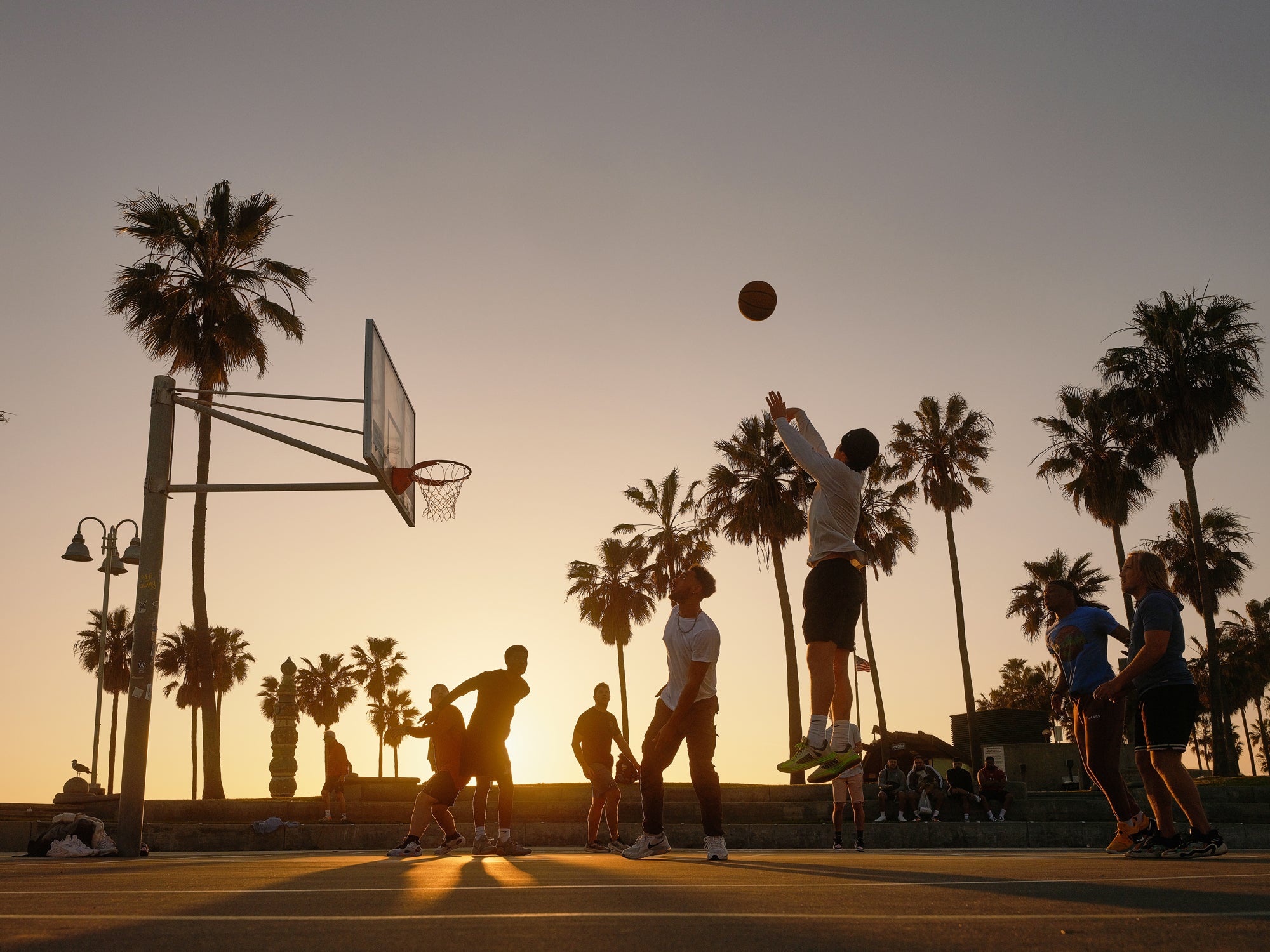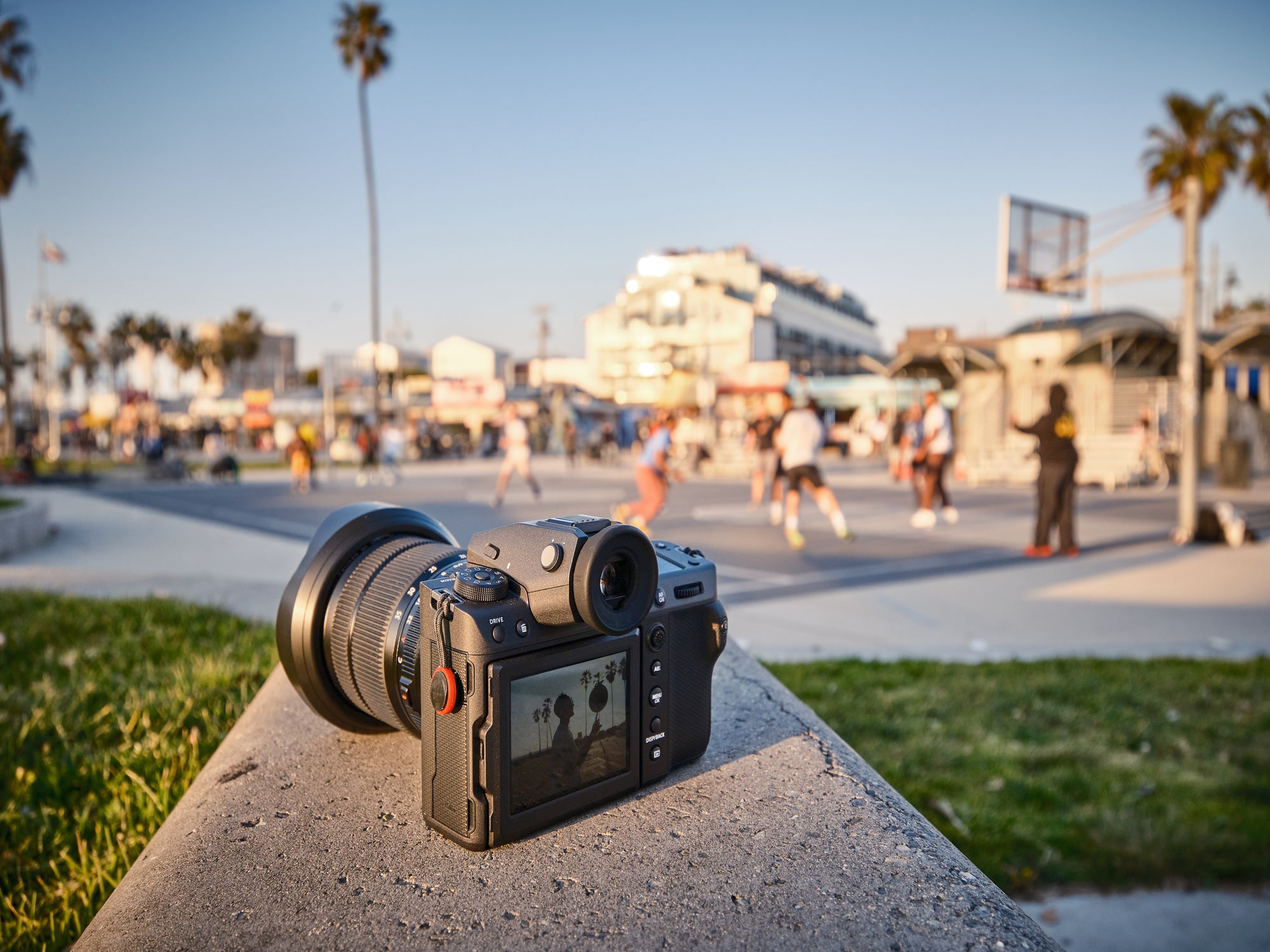 GFX100 II uses an updated AF prediction algorithm to deliver reliable performance in sports and other situations where accurate, high-speed motion tracking is needed.
YUHAN MA | GFX100II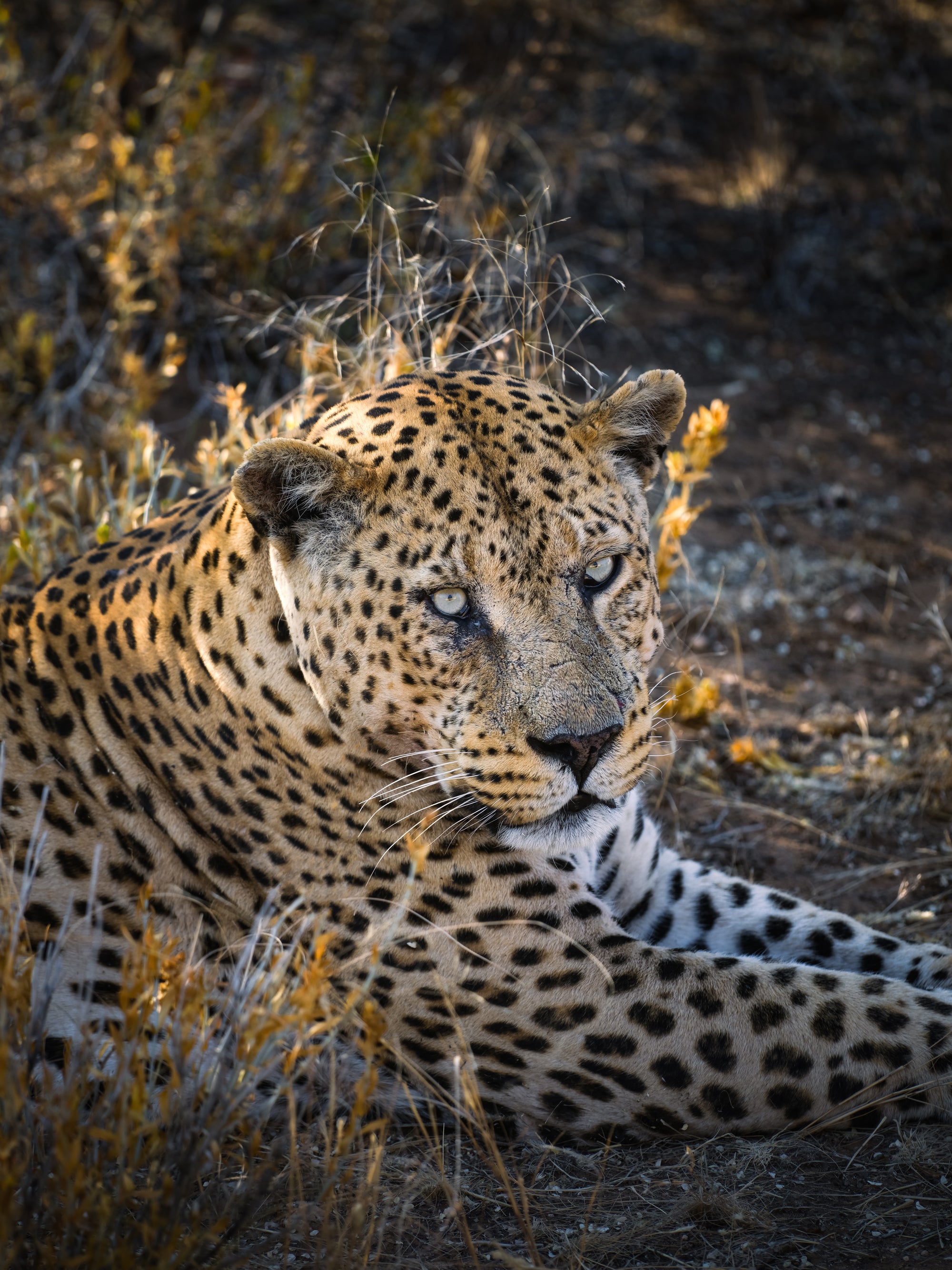 High Performance at High Speed
GFX100 II makes large format photography possible in previously inaccessible areas. A continuous frame rate of up to 8fps with the mechanical shutter freezes the peak of any sporting action.
*When mechanical shutter is selected
High Performance at High Speed
Shortened Intervals and Decreased Viewfinder Blackout
Increased buffer memory minimises any delay between frames and decreases viewfinder blackout times for seamless high-speed operation.
Oskar Bakke | GFX100ii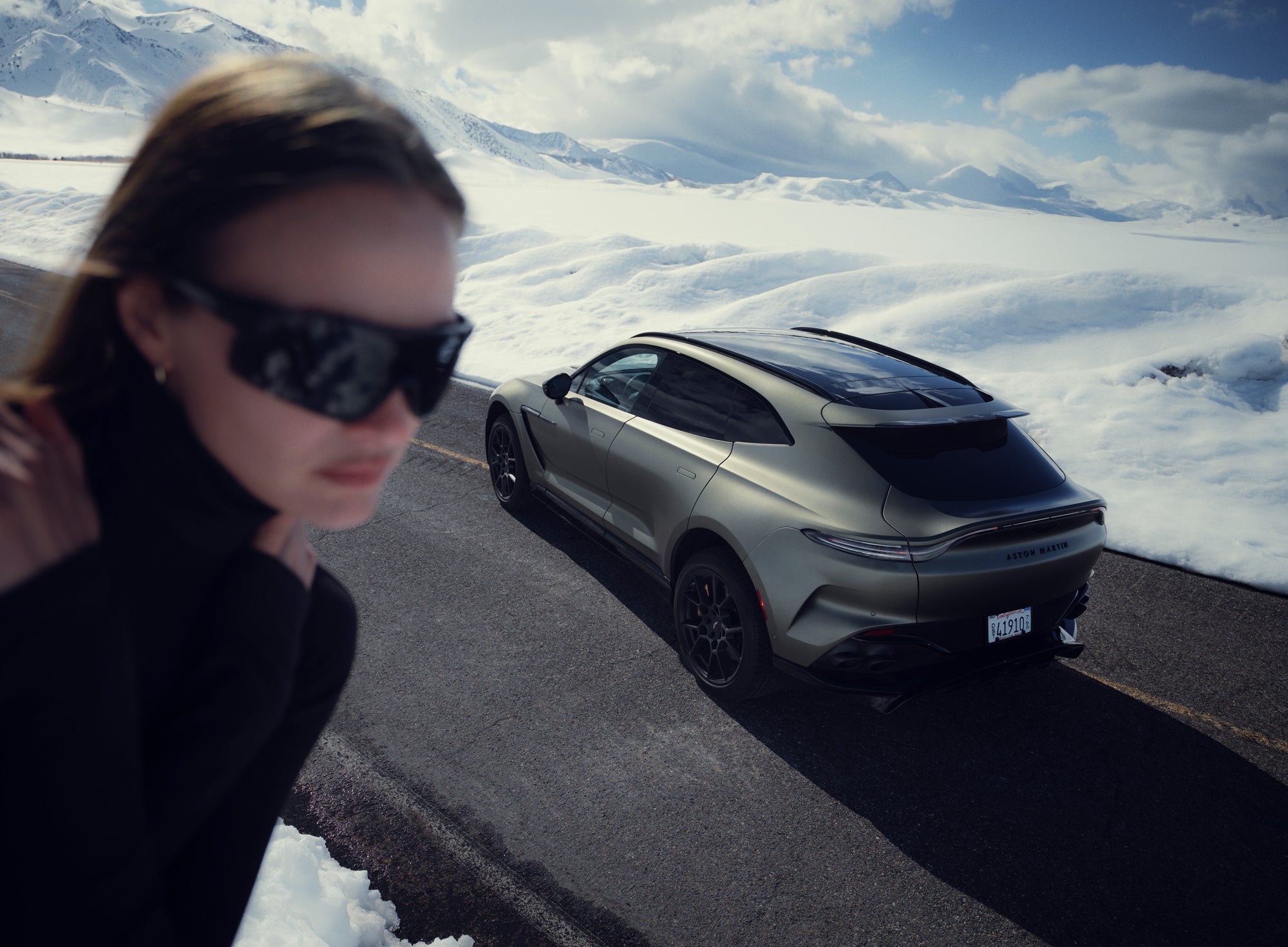 Oskar Bakke | GFX100ii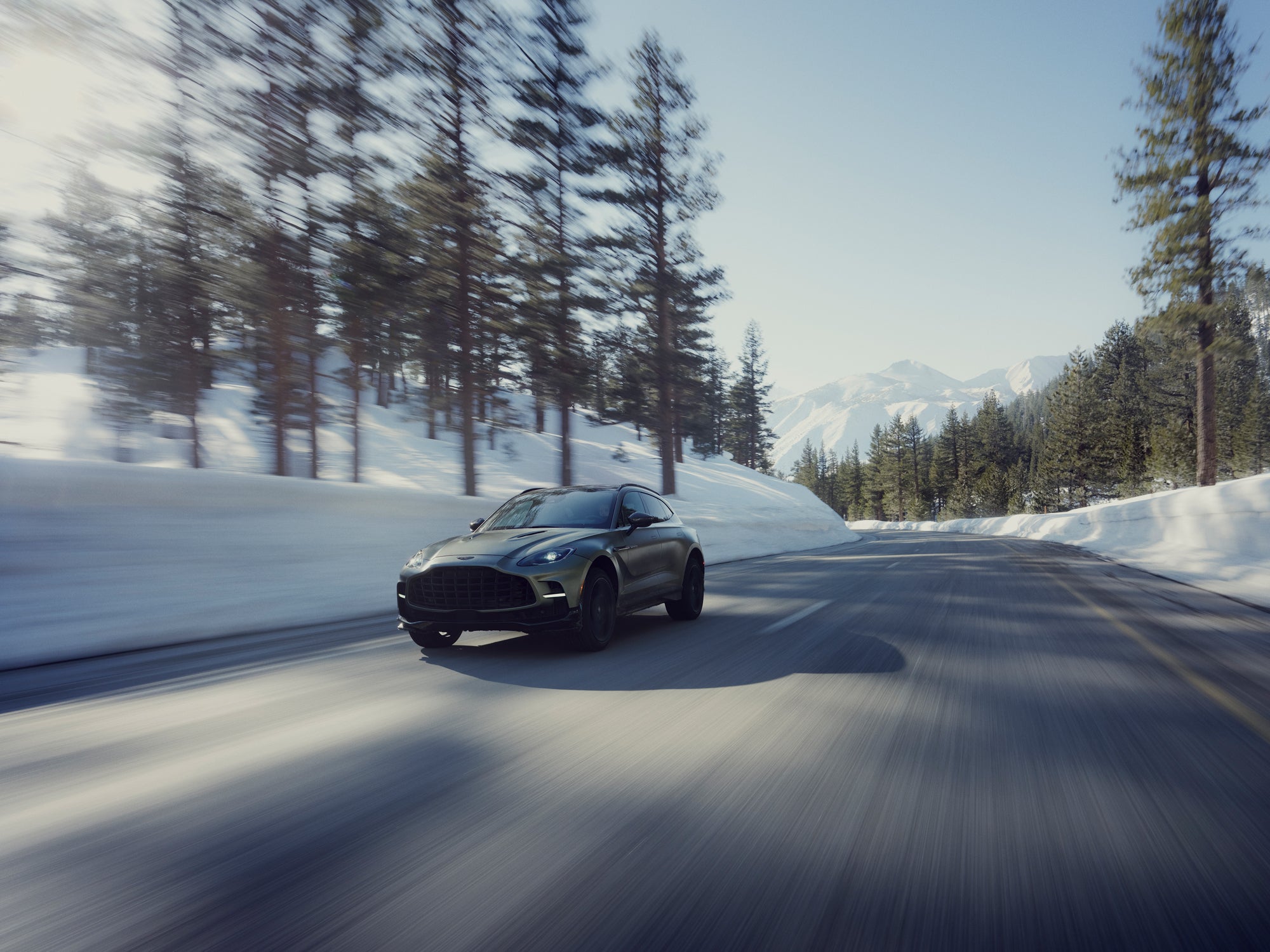 High Performance at High Speed
120fps Display Frame Rate in Boost Mode
Activating Boost mode on GFX100 II supercharges the display frame rate to approximately 120 frames-per-second - more than enough to keep up with fast-moving subjects.
High Performance at High Speed
5.3fps Blackout-Free Burst Operation
GFX100 II offers a blackout-free 5.3fps burst with for an uninterrupted view of ultra-fast subjects.* In 35mm format mode, GFX100 II offers blackout-free 8.7fps and 5.8fps burst as well.
Oskar Bakke | GFX100ii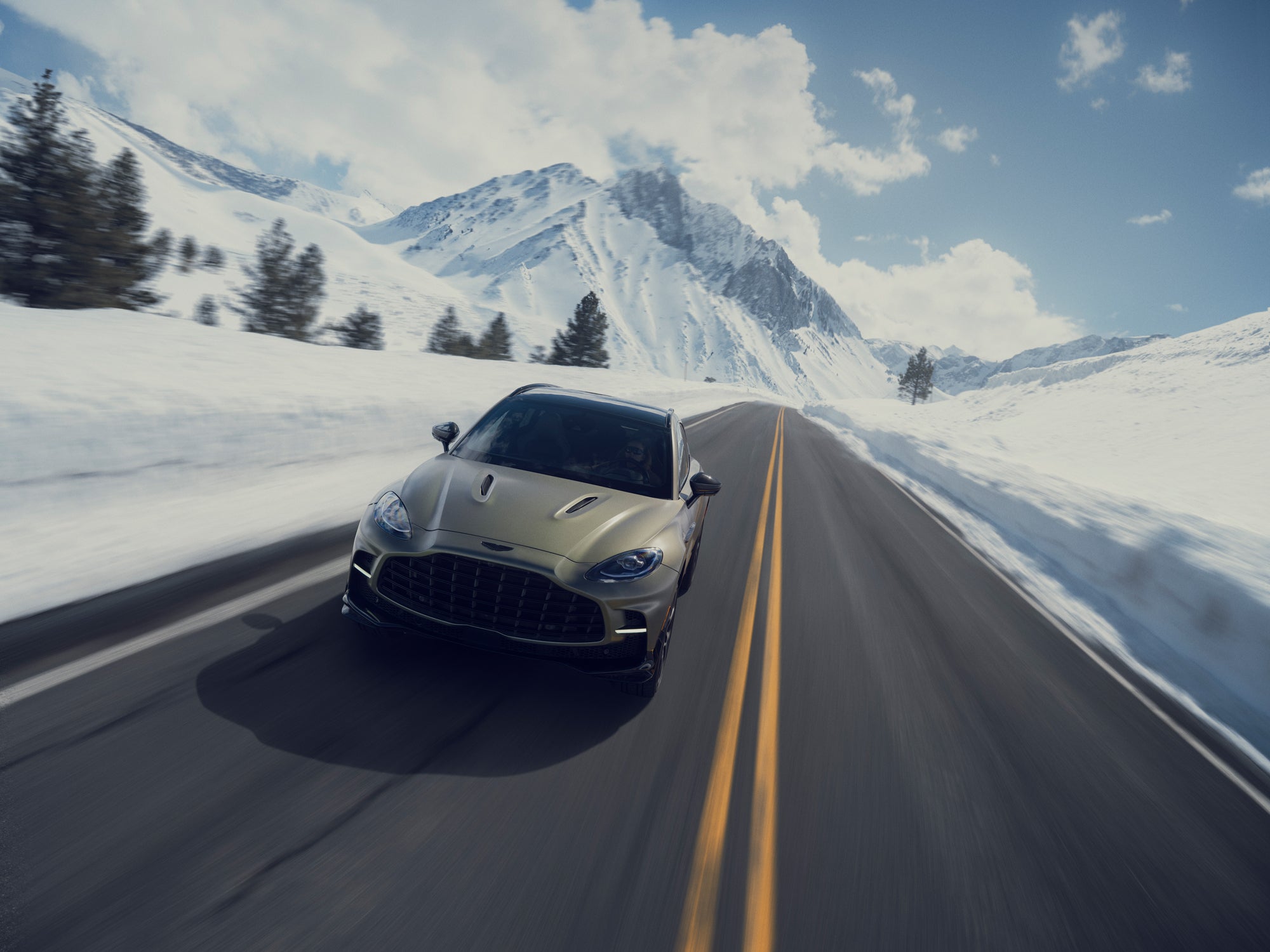 Power and Precision for Video
Power and Precision for Video
4K/60p, 8K/30p, FHD/120p 4:2:2 10-bit Internal Recording
Proving itself as a hybrid powerhouse, GFX100 II offers 4K/60p and 8K/30p 4:2:2 10-bit in-camera recording. ISO 100 can also now be used as the standard movie sensitivity for the highest quality footage.
*Based on CIPA standards, when coupled with the FUJINON GF63mmF2.8 R WR
Power and Precision for Video
Support for Multiple Cine Recording Formats
In addition to GFX large format, GFX100 II supports various cine recording formats, including Premista, 35mm, and anamorphic (35mm). With a basic GF to PL adapter, cinematographers anywhere can use GFX100 II's massive imaging sensor with some of the world's most legendary cinema optics, including Fujinon's collection of Premista and Cabrio Zoom Lenses. For storytellers with wider aspirations, there are also two different high resolution 35mm FF Anamorphic recording modes that provide various de-squeeze monitoring options in-camera.
Power and Precision for Video
Improved Subject Tracking
Tracking subjects just got easier. Select AF-C mode with Wide/Tracking AF, then simply touch the subject on the rear LCD. GFX100 II will then track the object, even in situations with multiple subjects.
Power and Precision for Video
High speed rolling shutter
Follow high speed subjects with confidence – GFX100 II's increased readout rate suppresses rolling shutter for true-to-life results.
Yukio Uchida | GFX100 II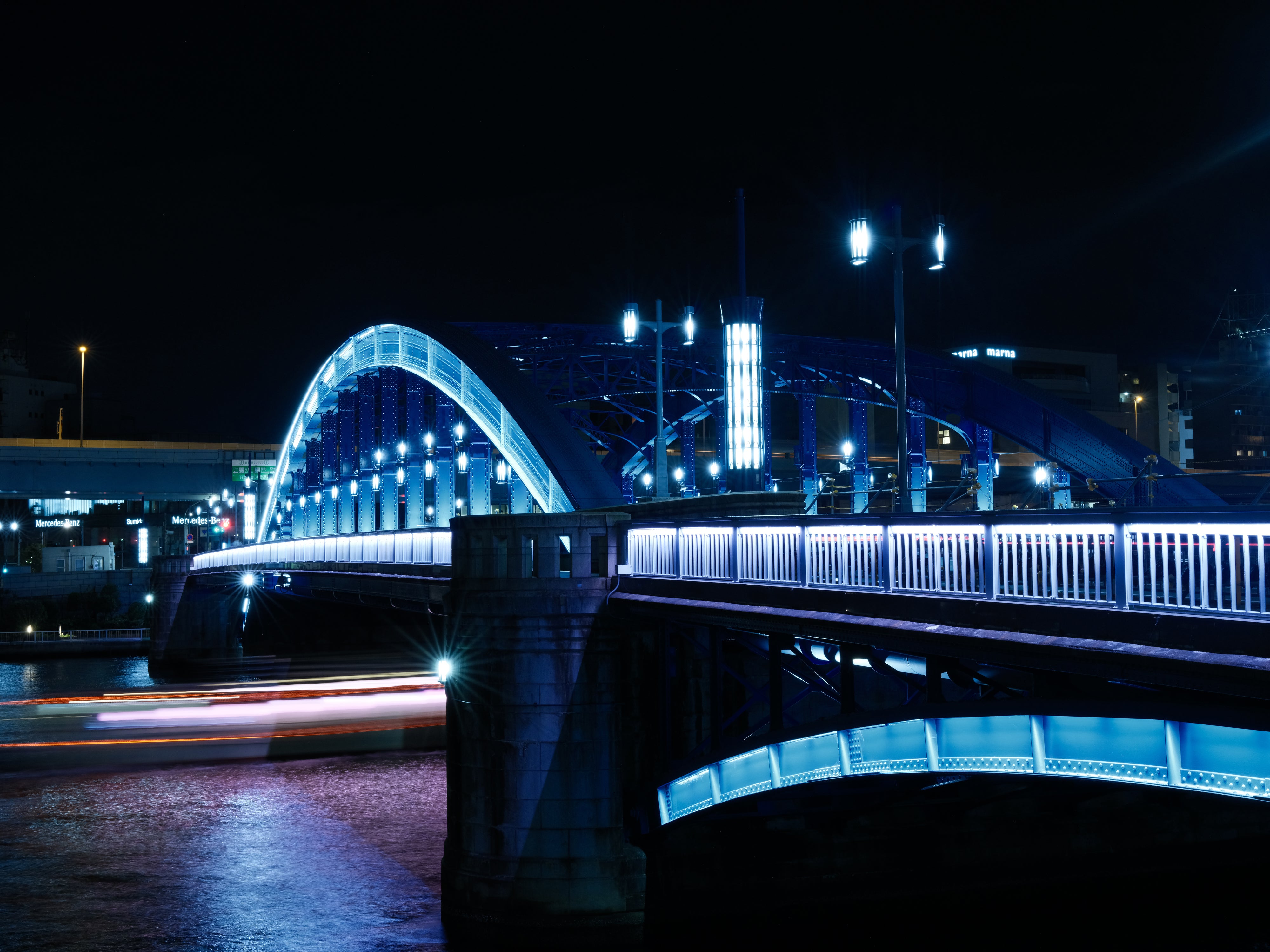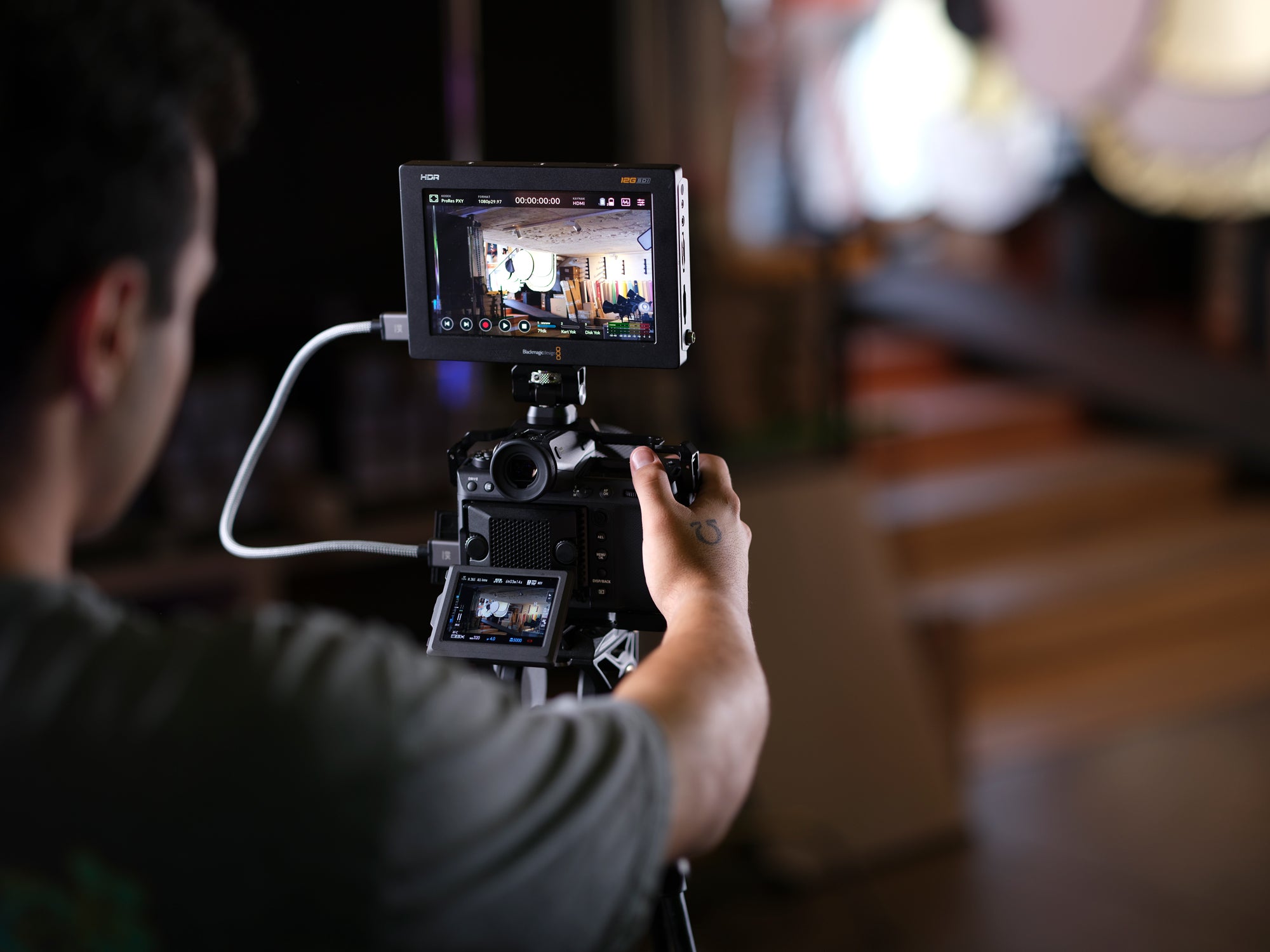 Power and Precision for Video
Combined with a compatible ATOMOS HDMI device, RAW video output from GFX100 II can be recorded as 12-bit Apple ProRes RAW at resolutions up to 8K and frame rates up to 29.97fps. With Blackmagic Design Video Assist 12G HDRs, RAW video output from the camera can be recorded as Blackmagic RAW at resolutions up to 8K and frame rates up to 29.97fps.
Power and Precision for Video
Extends continuous video recording times with this optional accessory. The fan does not require any additional cables for power and allows GFX100 II to keep recording, even in high-temperature environments.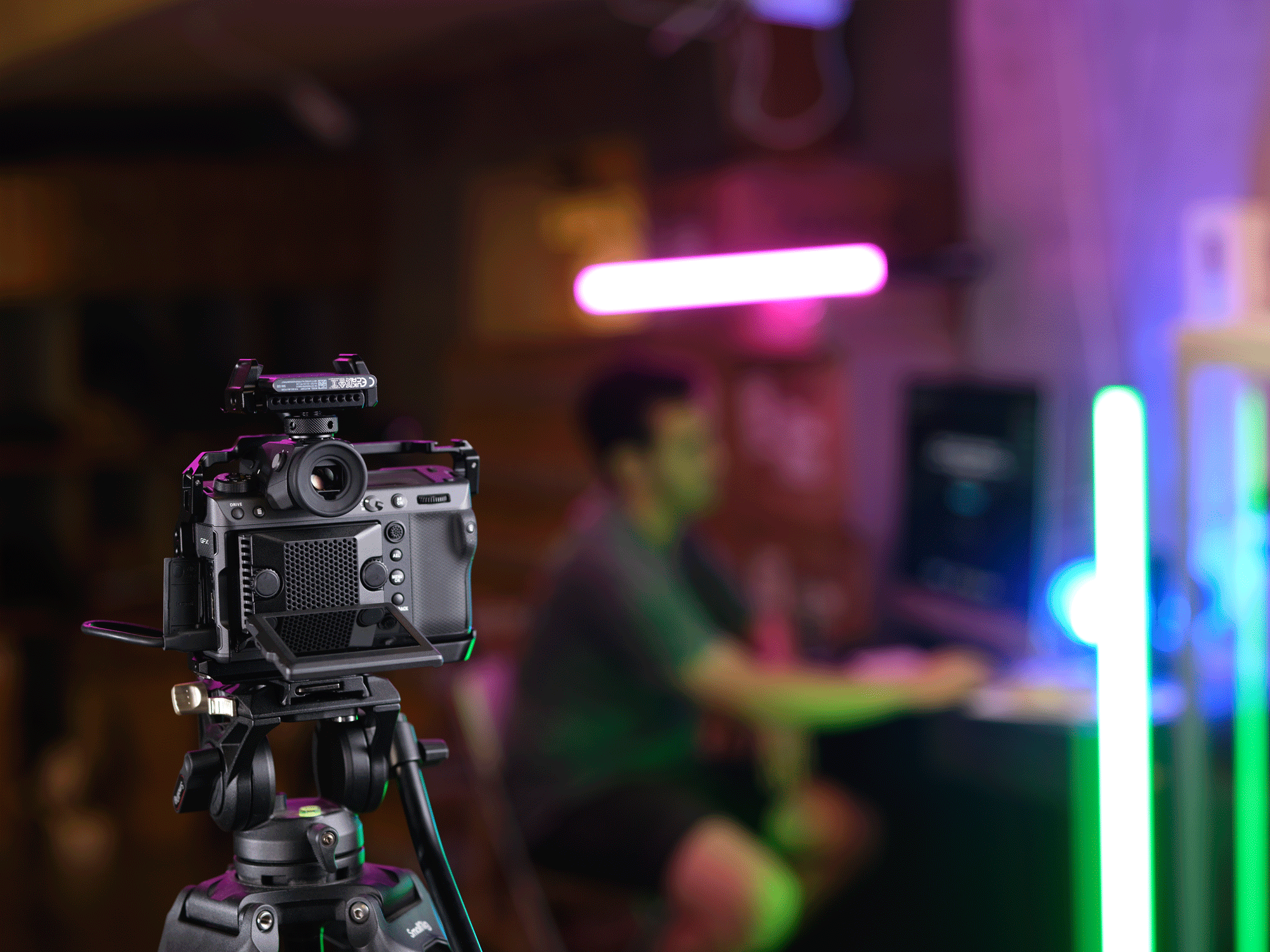 Up to 8.0 Stops of In-Body Image Stabilization
Low light? No worries! GFX100 II is equipped with a new IBIS system that uses image information to detect blur, and provides up to eight stops of image stabilization* – more than any other Fujifilm camera. Confidently work hand-held in almost any lighting conditions, unlocking new levels of creativity for stills and video.
*Based on CIPA standards, when coupled with the FUJINON GF63mmF2.8 R WR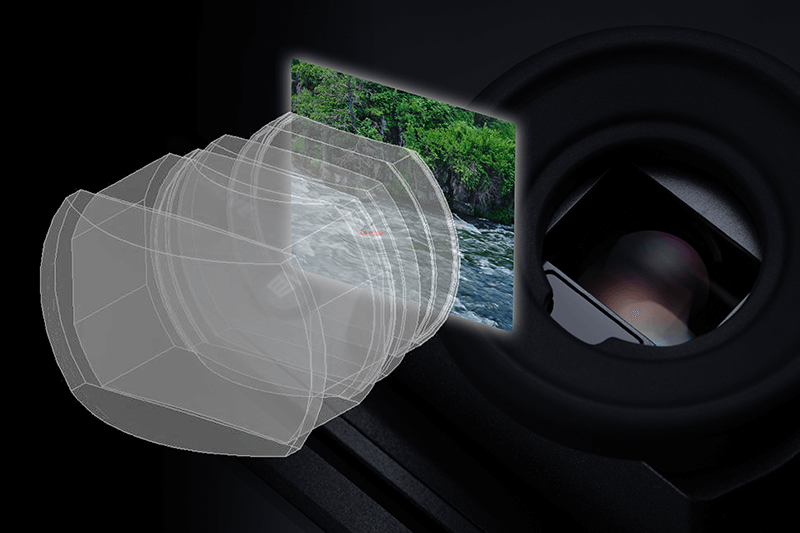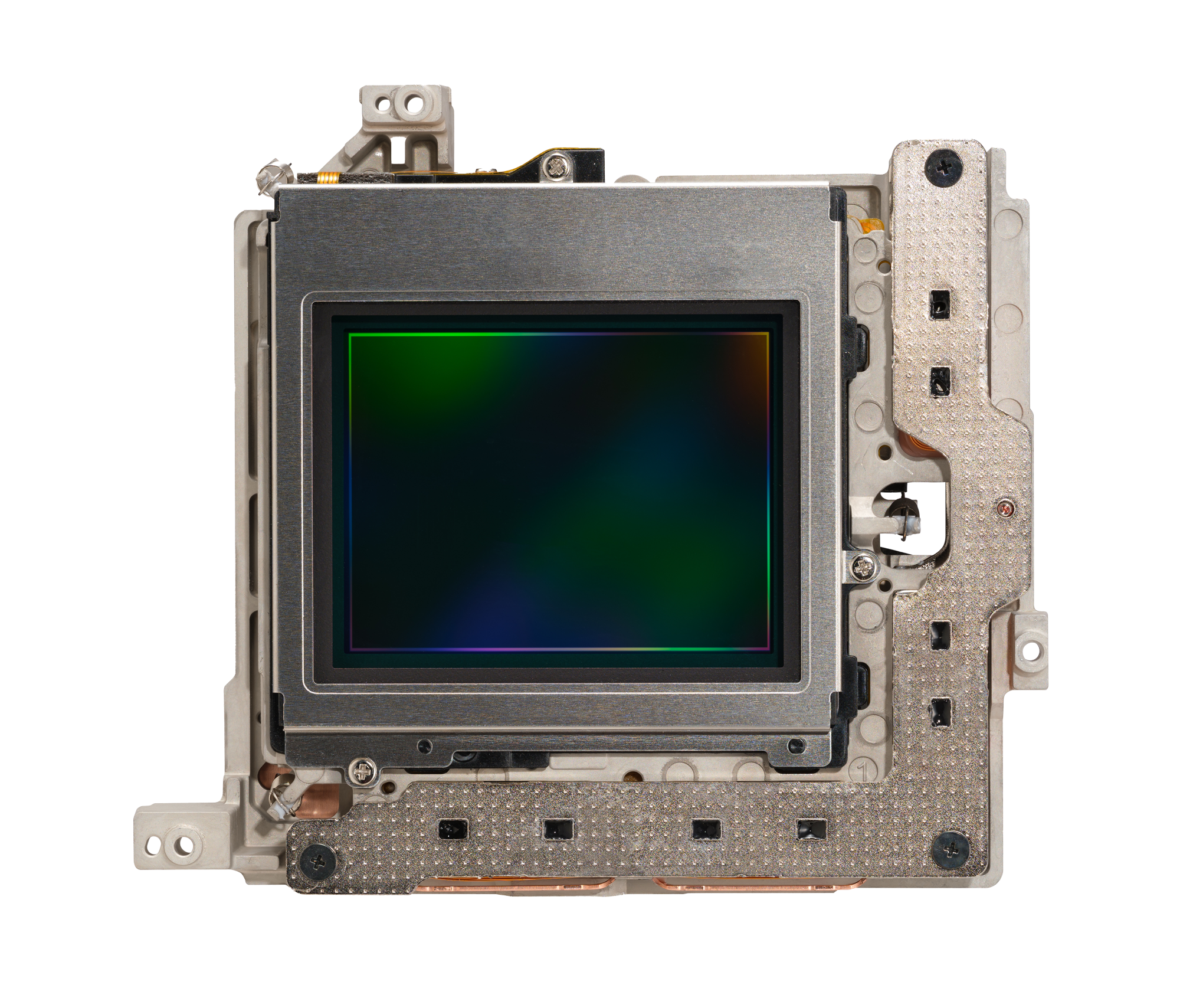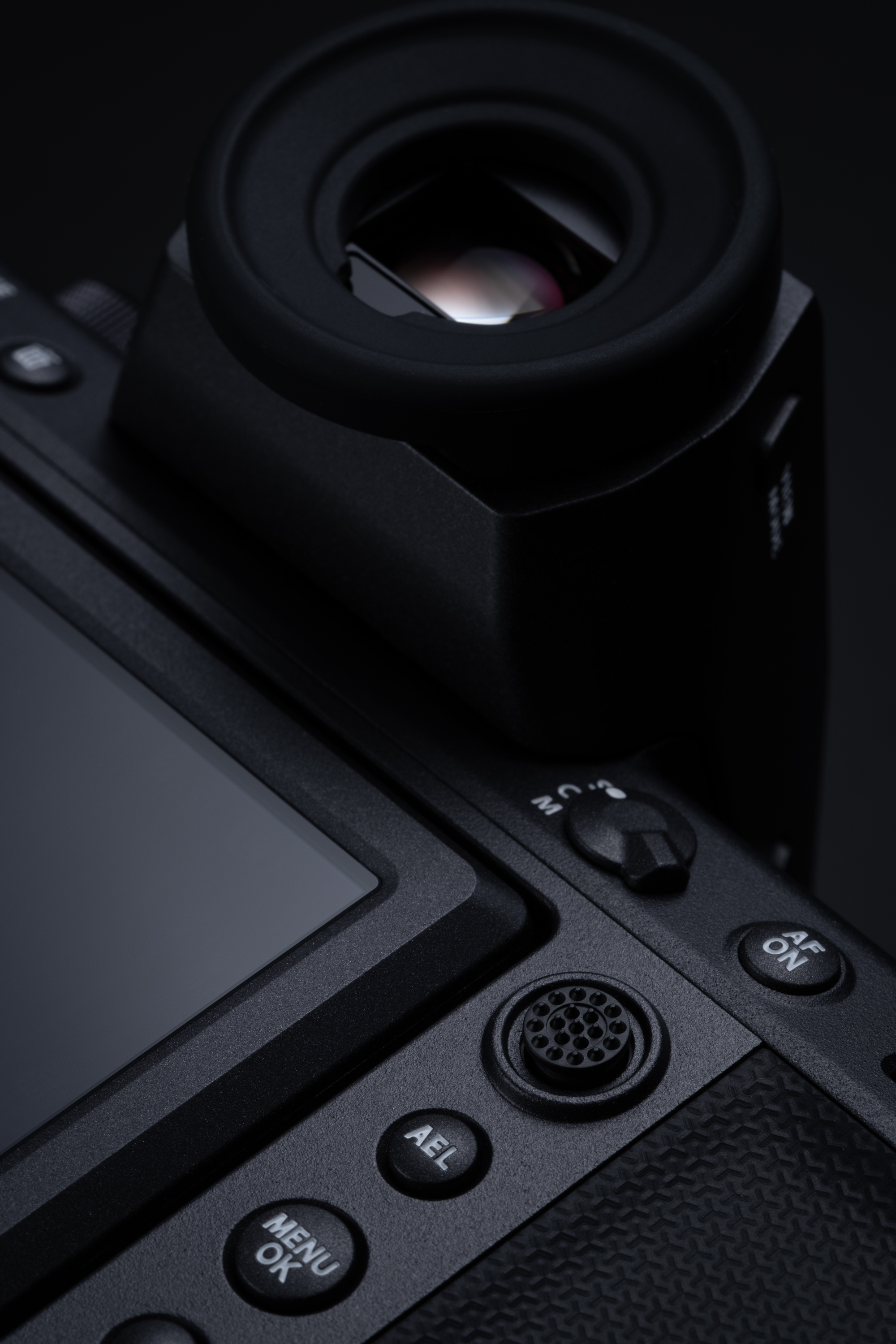 9.44 Million Dot 1.0x EVF
GFX100 II's EVF offers 9.44 million dots and a 1.0x magnification for an optimal viewing experience. Furthermore, it suppresses image drift and distortion caused by misalignment of the pupil, for the clearest possible view. 
The Ultimate in Image Quality
GFX100 II continues to set new standards for image quality, alongside its oustanding speed and video credentials. Prepare to experience higher-quality stills, the likes of which you've never witnessed before.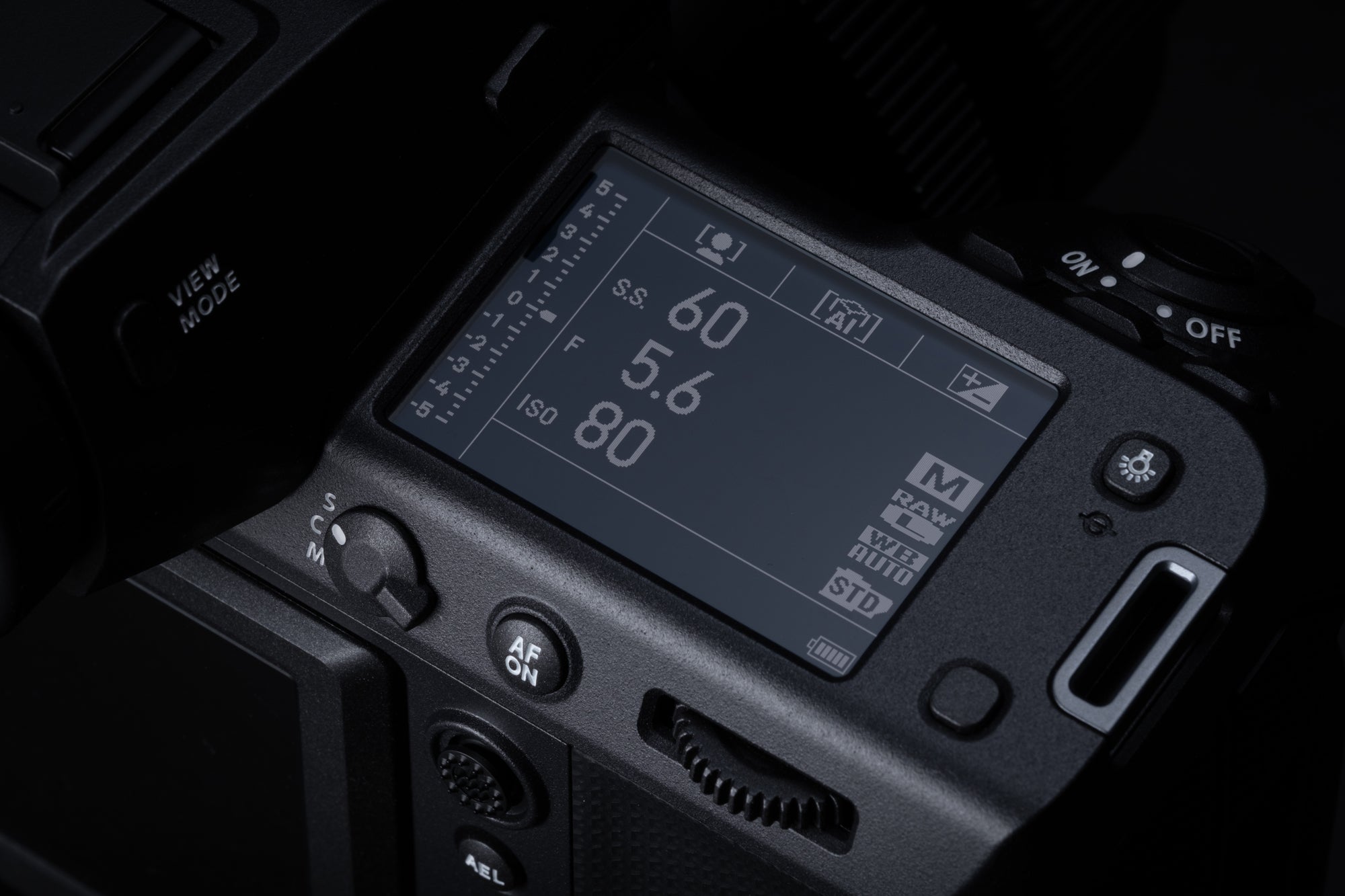 GFX100S features a universally familiar PASM control dial, which also features six custom positions, which can be assigned to frequently used settings, ready to be switched between in an instant.
Switching from still to movie mode is also made incredibly simple by way of a lever that is located next to the mode dial. This makes it easy to switch functions effortlessly and keep creating.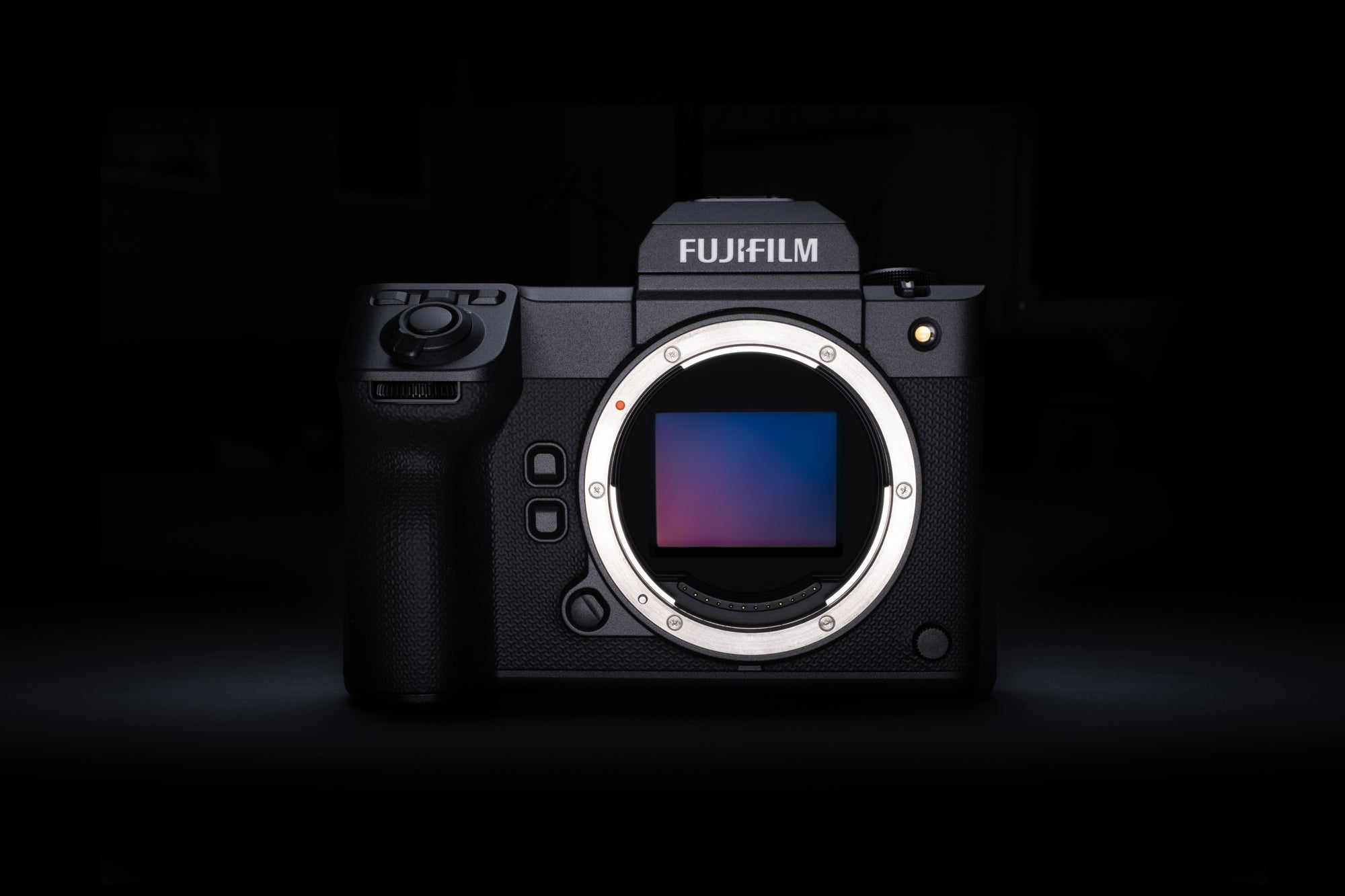 Redesigned microlenses improve light coverage at the corners of the sensor, delivering better image quality and increased AF accuracy at the periphery of the lens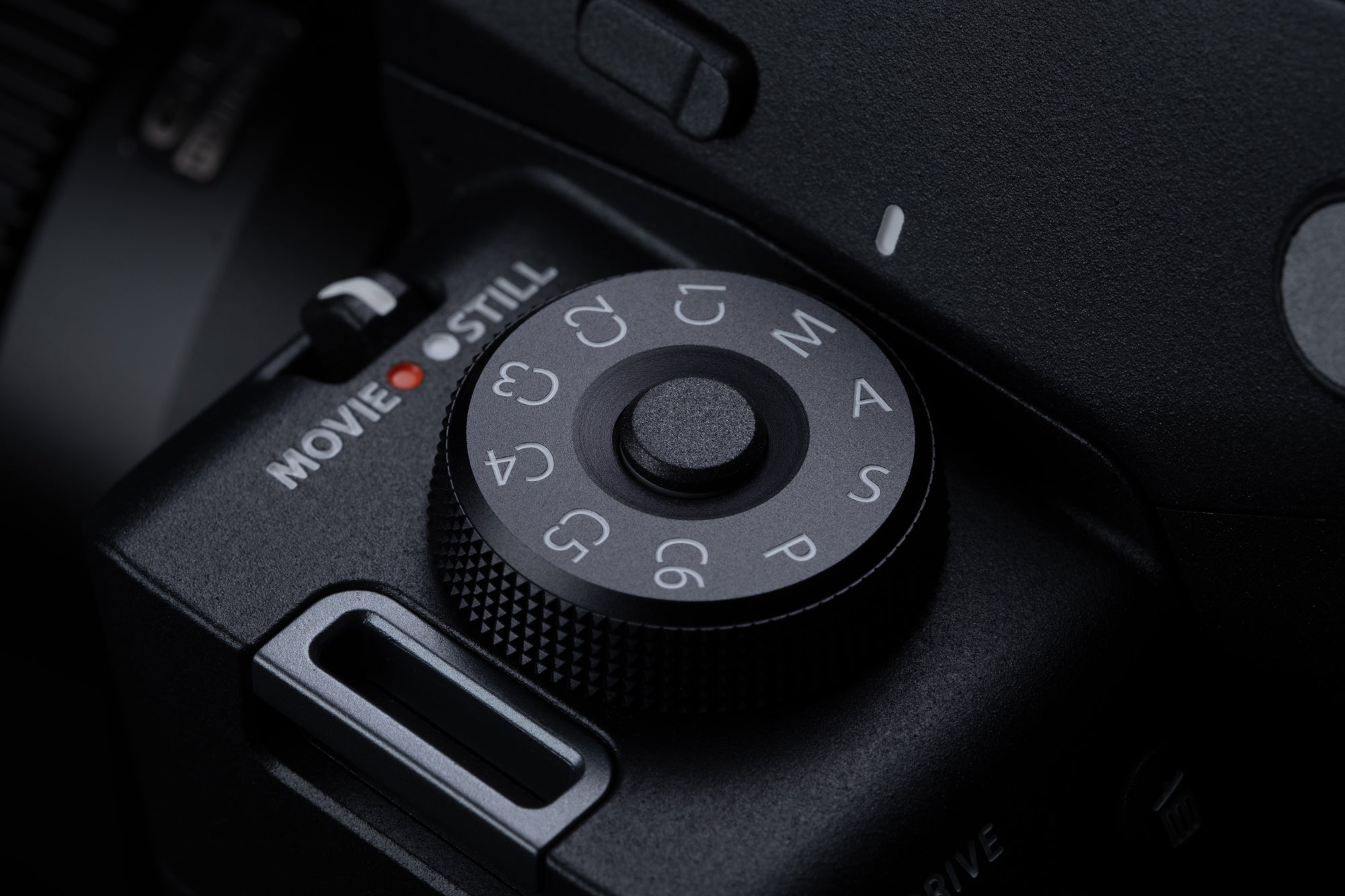 GFX100 II supports the HEIF format, a 10-bit image file with over a billion colors. It delivers higher image quality, but uses up to 30% less space than a JPEG.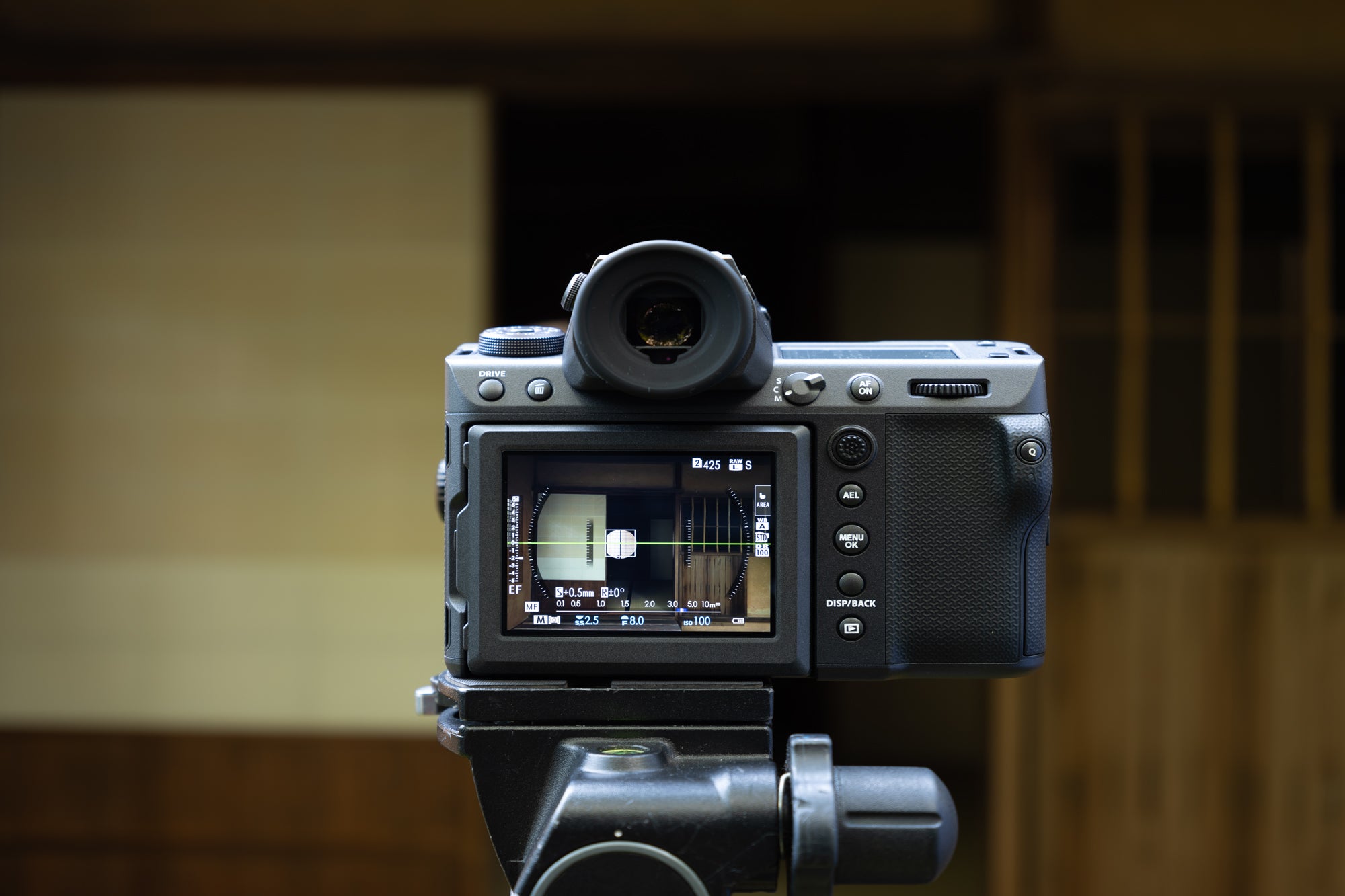 For the ultimate quality, GFX100 II can produce an ultra-high-resolution 400-megapixel image with a single press of the shutter release. Using in-body image stabilization to precisely shift the sensor by a half pixel between each frame, GFX100 II makes 20 frames in which every red, green, and blue pixel has the same information. The result is a detail-rich file with almost no false colors visible.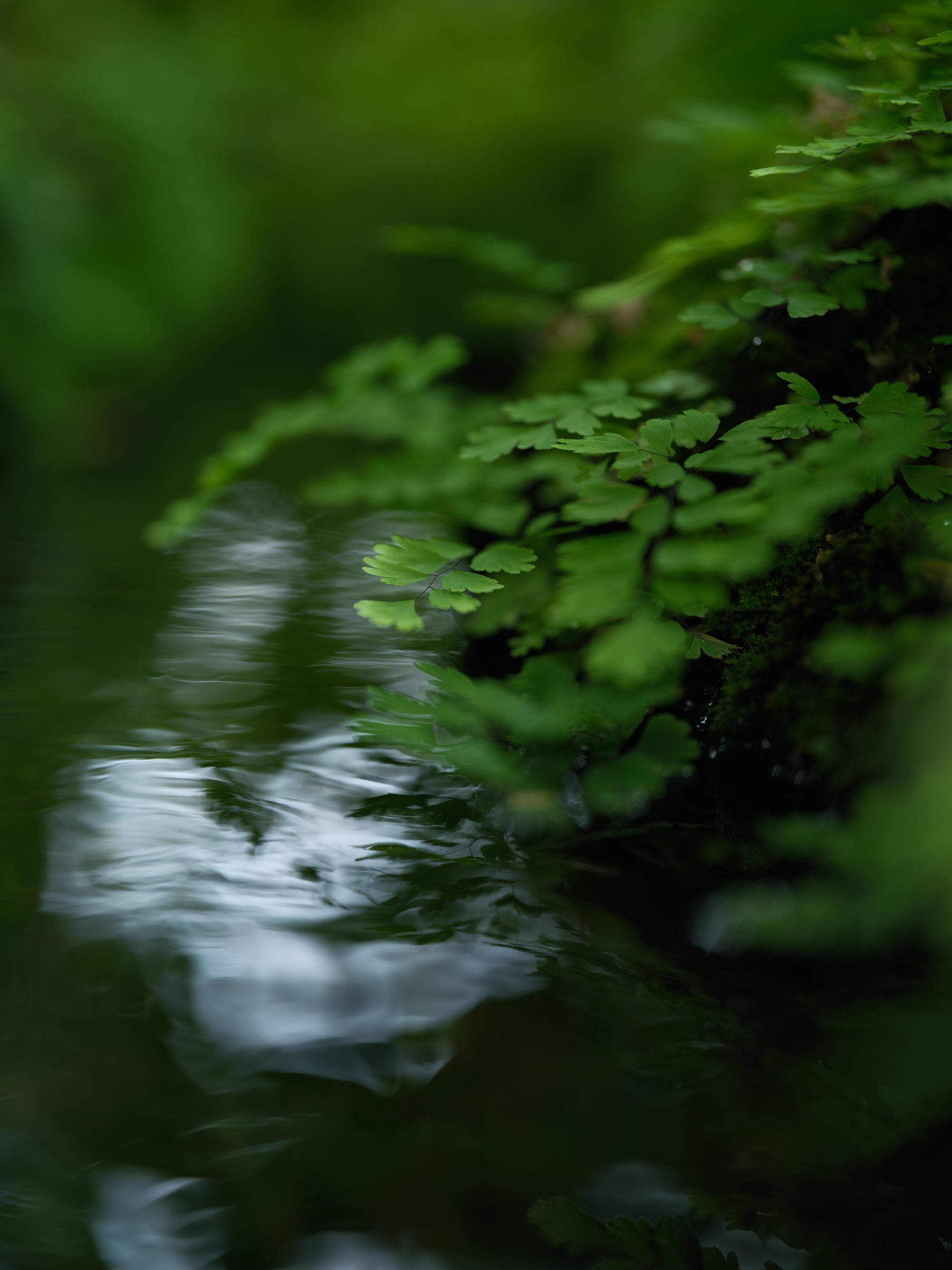 New Film Simulation Mode REALA ACE
Enjoy the latest iteration of Fujifilm's renowned color science - REALA ACE. Brand new for GFX100 II, this 20th Film Simulation combines faithful color reproduction with hard tonality, making it suitable for all subjects and situations.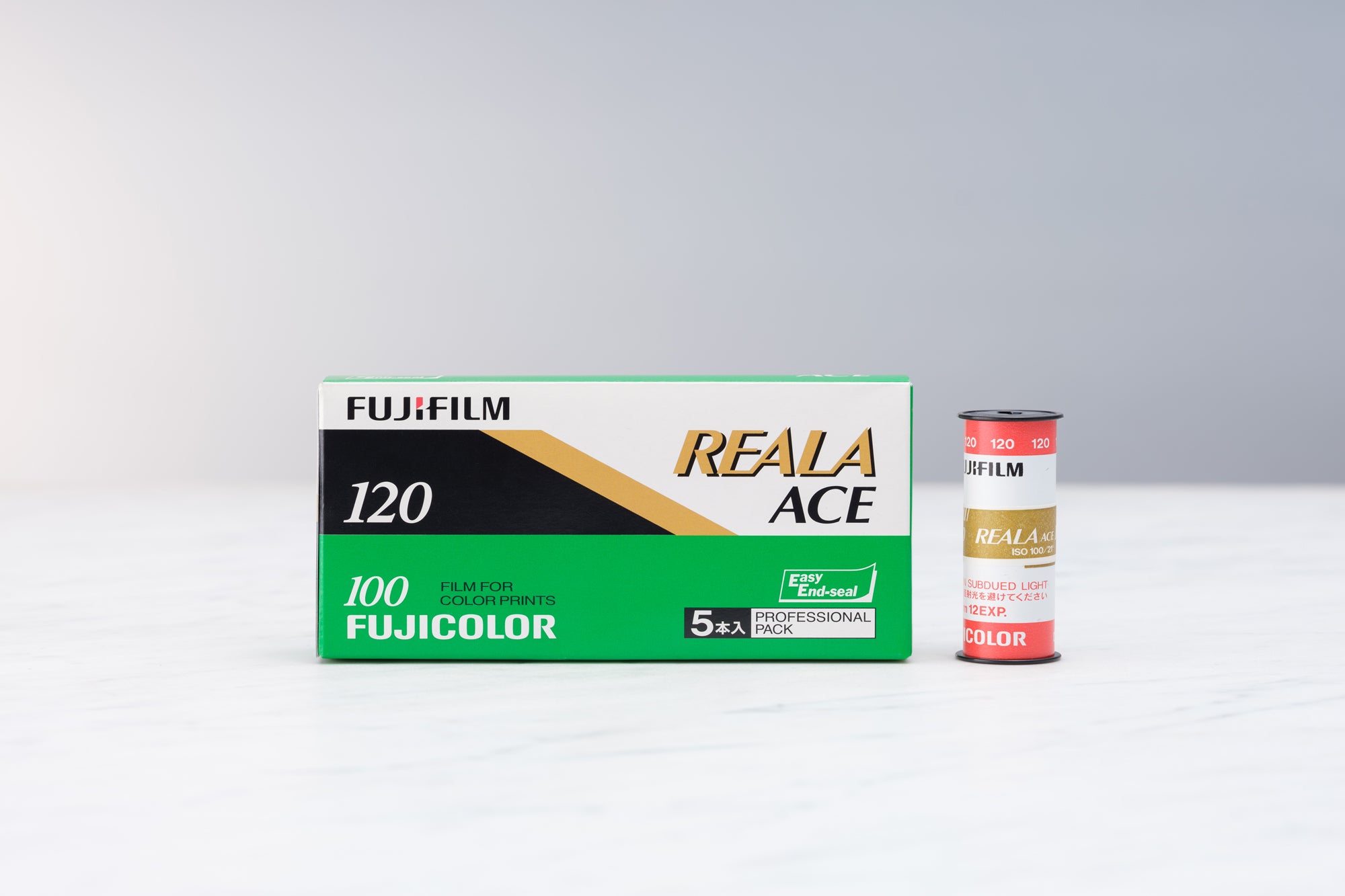 New Leather Pattern BISHAMON-TEX™
A technological tour de force, wrapped in outstanding ergonomics, GFX100 II combines functional beauty with effortless practicality. Swathed in BISHAMON-TEX leather, the body of GFX100 II is covered with a  traditional Japanese-inspired imprint that improves grip in all directions.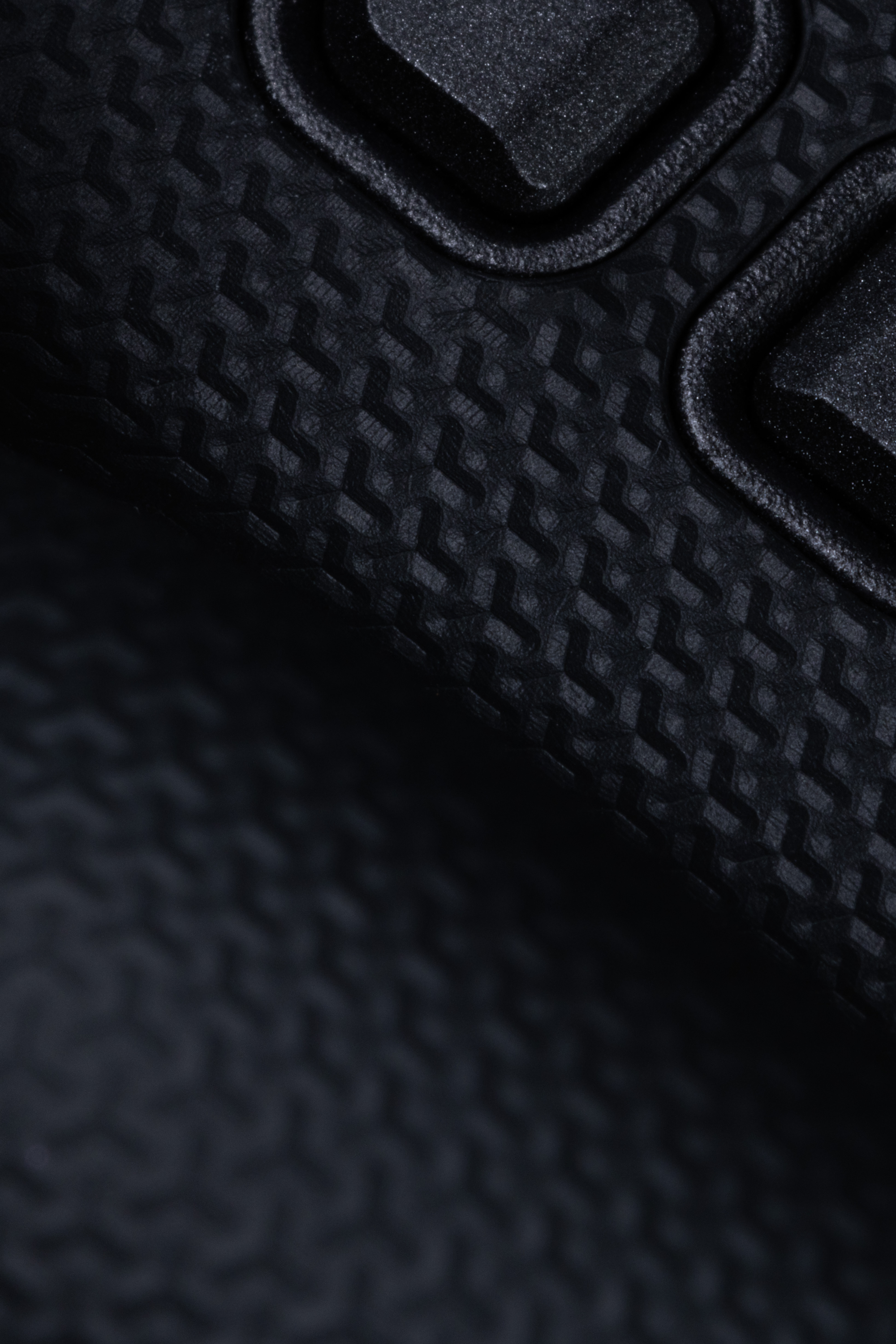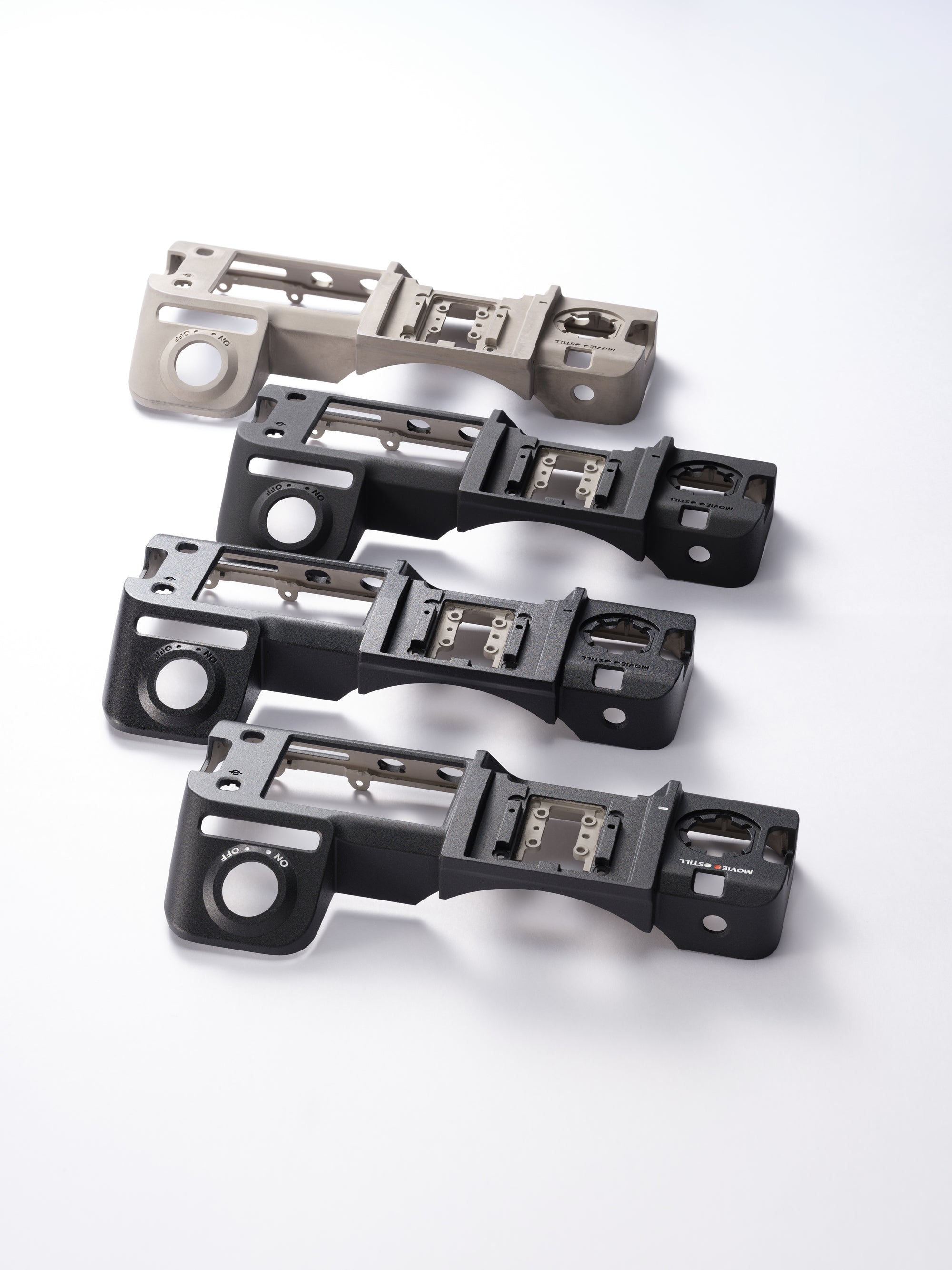 A more prominent top-plate sub-LCD on GFX100 II with a redesigned GUI for improved visibility enhances overall handling. Furthermore, the top-plate is tilted by 11°, allowing users to view information with minimal eye movement.
Three programmable Fn buttons on the top of the grip provide greater flexibility, allowing users to make changes on the fly, so opportunities are never missed.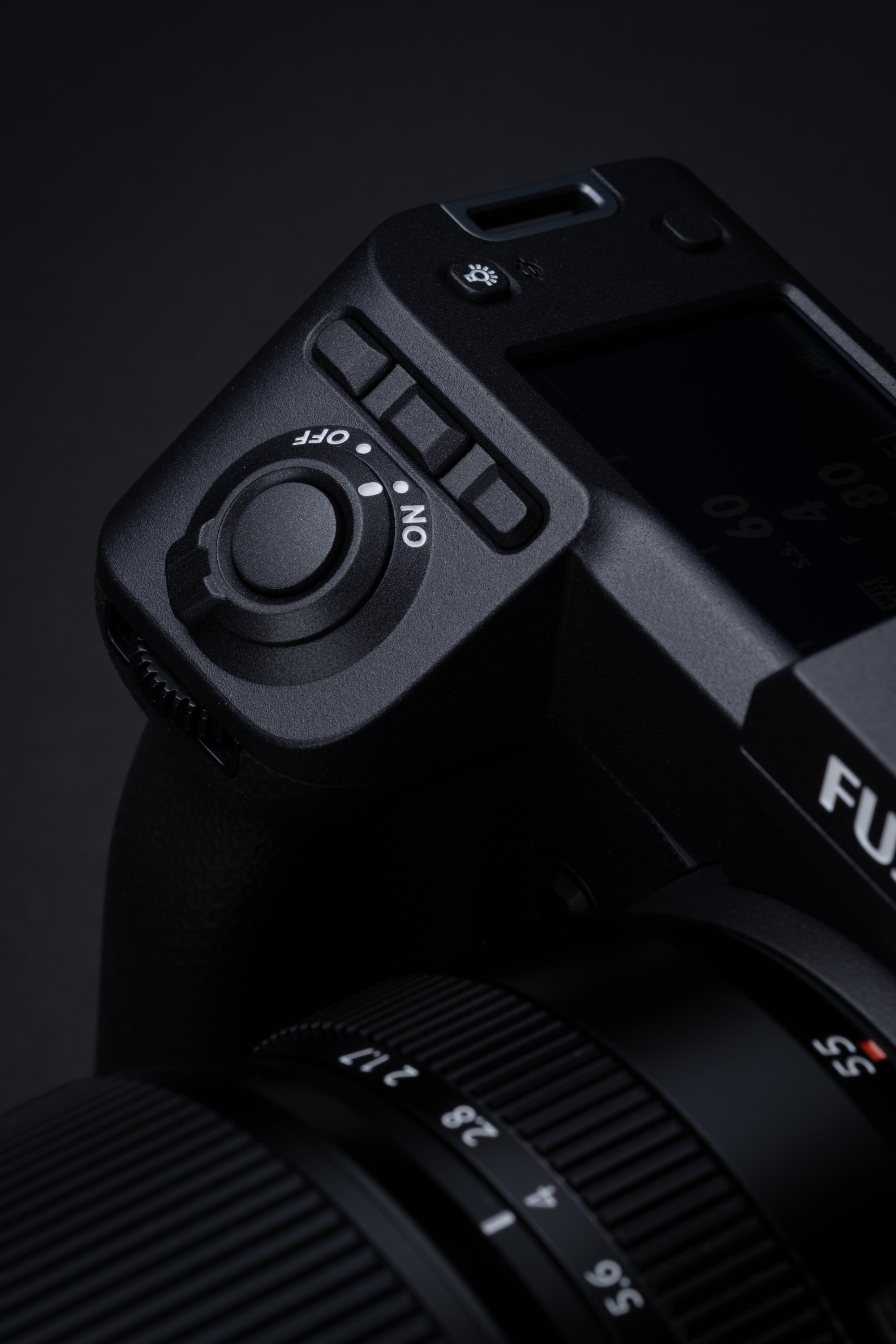 1. Set "SUBJECT DETECTION SETTING" to "BIRD" when you want to detect insects and to "AIRPLANE" when you want to detect drones.