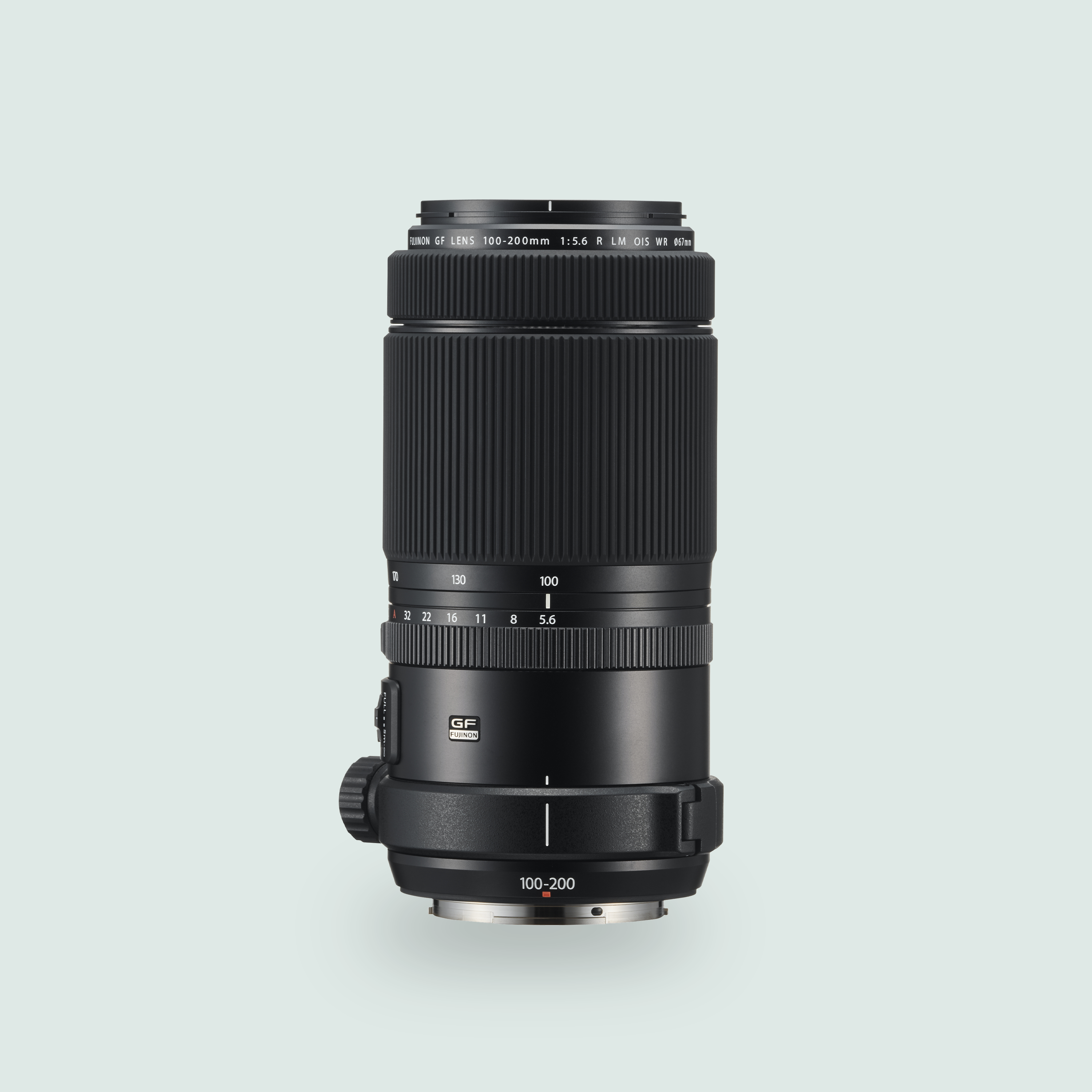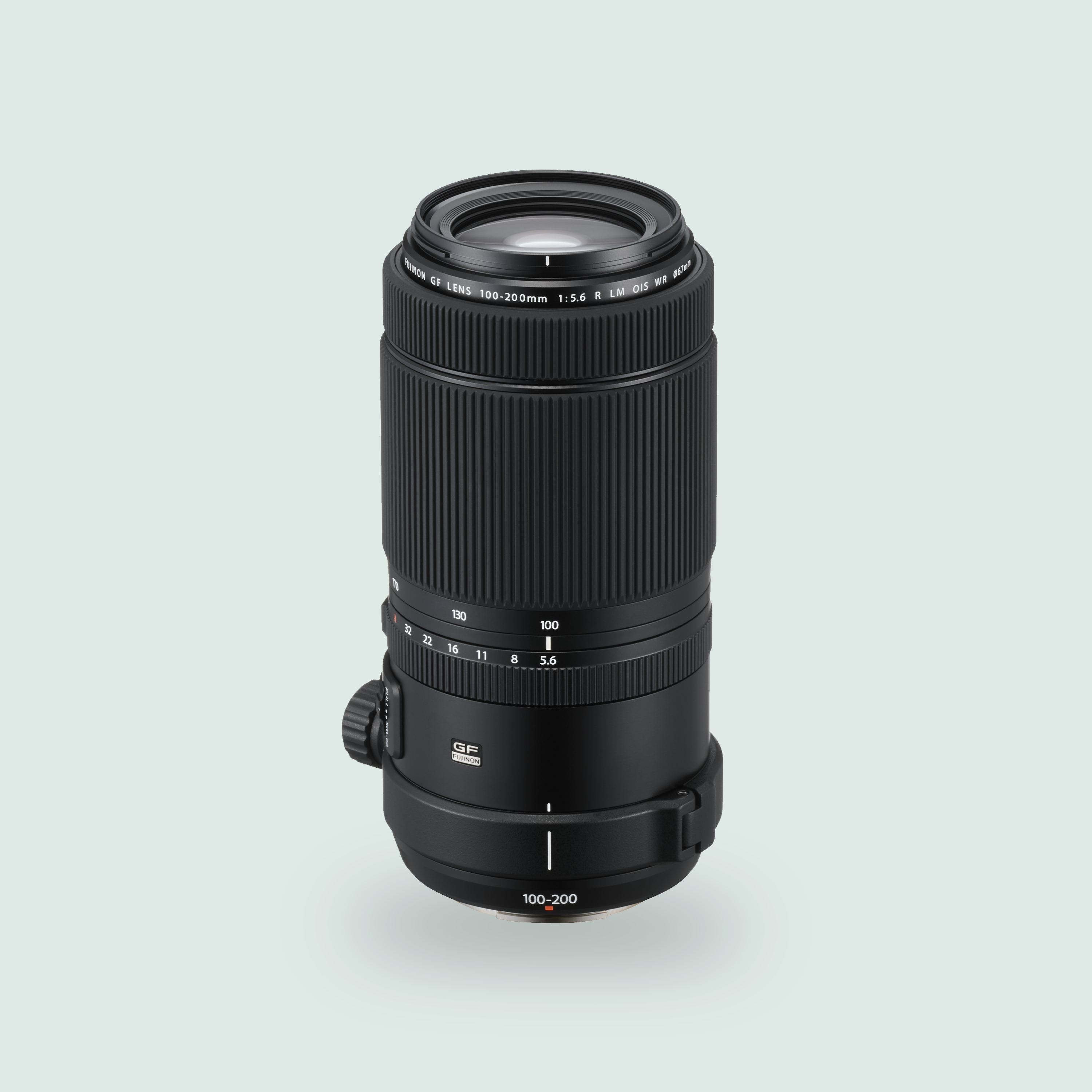 GF 100-200MM F5.6 R LM OIS WR
Sale price

$3,199.00
Regular price
(/)
See into the heart of any story with GF100-200mmF5.6 R LM OIS WR, a large format, optically stabilised telephoto zoom lens that will keep hand-held images steady and sharp, while you explore the moments that will take your creativity farther than its ever gone before.
Choose options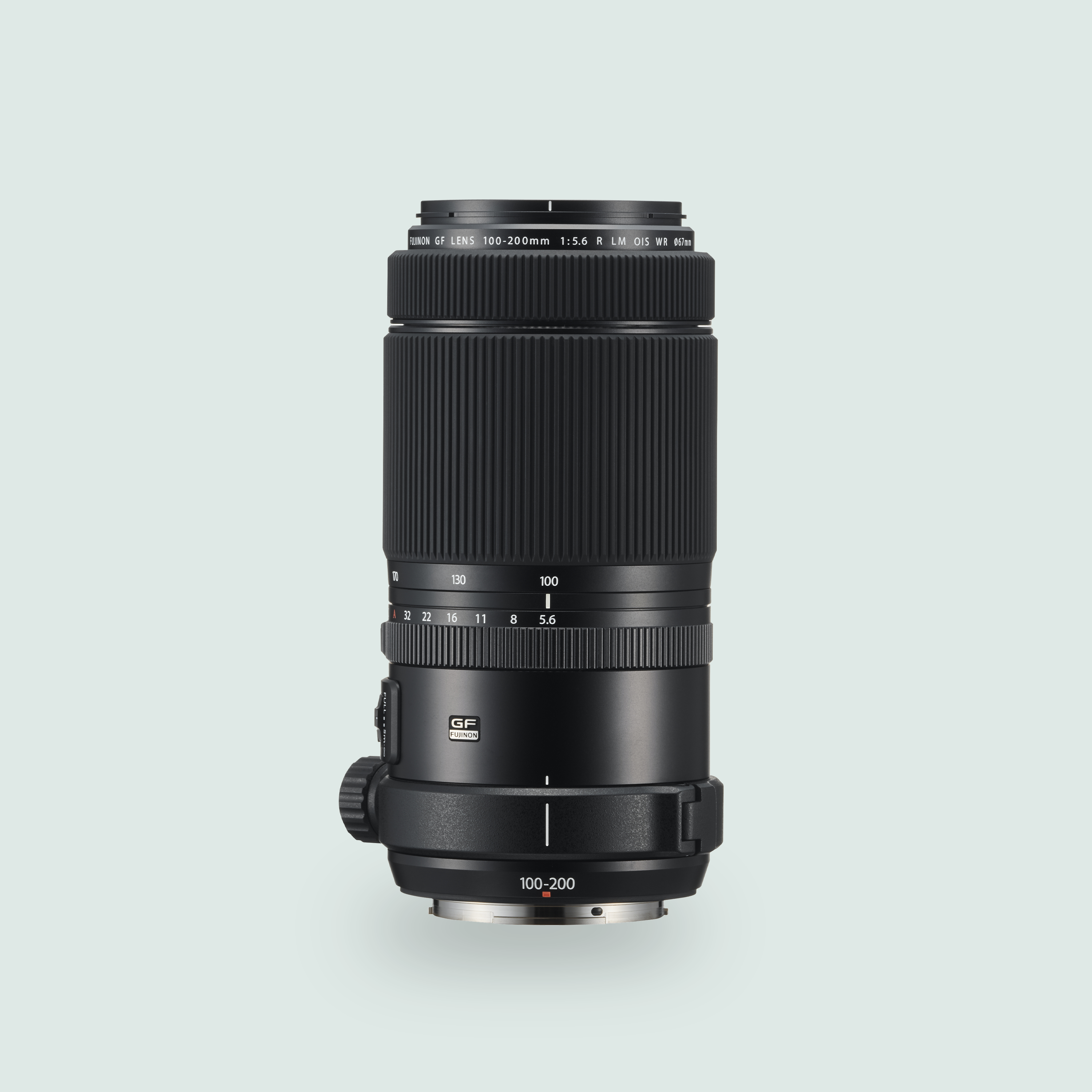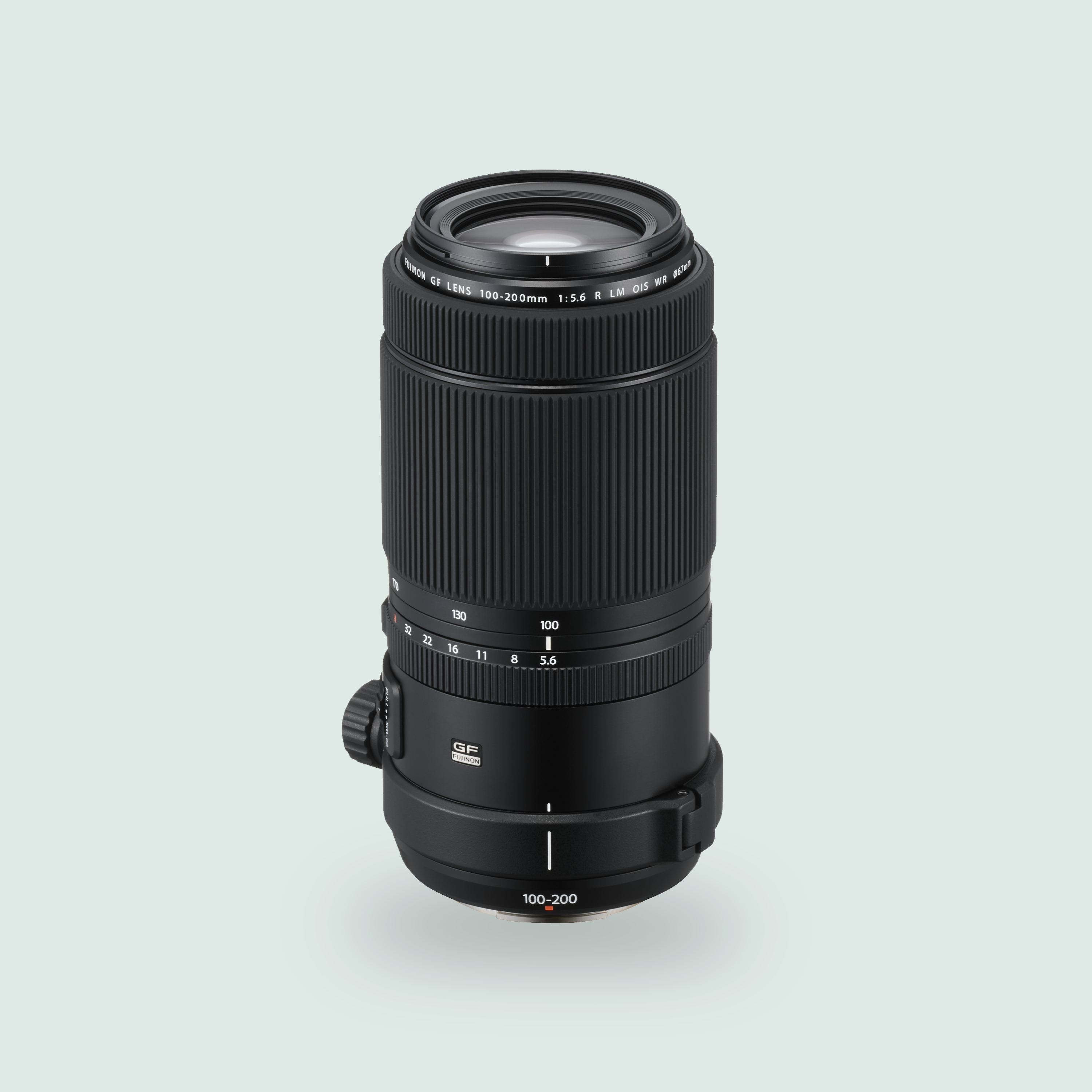 Tech Specs
Type
FUJINON GF100-200mmF5.6 R LM OIS WR
Lens configuration
20 elements 13 groups (includes 1 aspherical element and 2 Super ED element)
Focal length
f=100-200mm (79-158mm in 35mm format equivalent)
Angle of view
30.6° - 15.6°
Max. aperture
F5.6
Min. aperture
F32
Aperture control
Number of blades : 9(rounded diaphragm opening)
Step size: 1/3EV (16 steps)
Focus range
0.6m-∞ (Wide)
1.6m-∞ (Telephoto)
Max. magnification
0.2x (Wide)
External dimensions : Diameter x Length*1 (approx.)
ø89.5mm x 183mm
Weight*2 (approx.)
1,050g
Filter size
ø67mm
Accessories included
Lens cap FLCP-67II
Lens rear cap RLCP-002
Lens hood
Tripod collar foot
Lens pouch
Reviews
GF 100-200mm F5.6 R LM OIS WR
Having the right combination of focal lengths can unlock a world of creative possibilities for any image-maker. With a 35mm equivalent focal range of 79mm to 158mm, GF100-200mmF5.6 R LM OIS WR combines commonly used focal lengths into one lens, making it a wonderful tool to uncover new sagas around every corner. For the moments just beyond reach, using GF1.4X TC WR to extend the lens to a 35mm equivalent focal length of 221mm will make sure that you're in the center of the action no matter the distance.
Tommy Simonsen | GFX50S II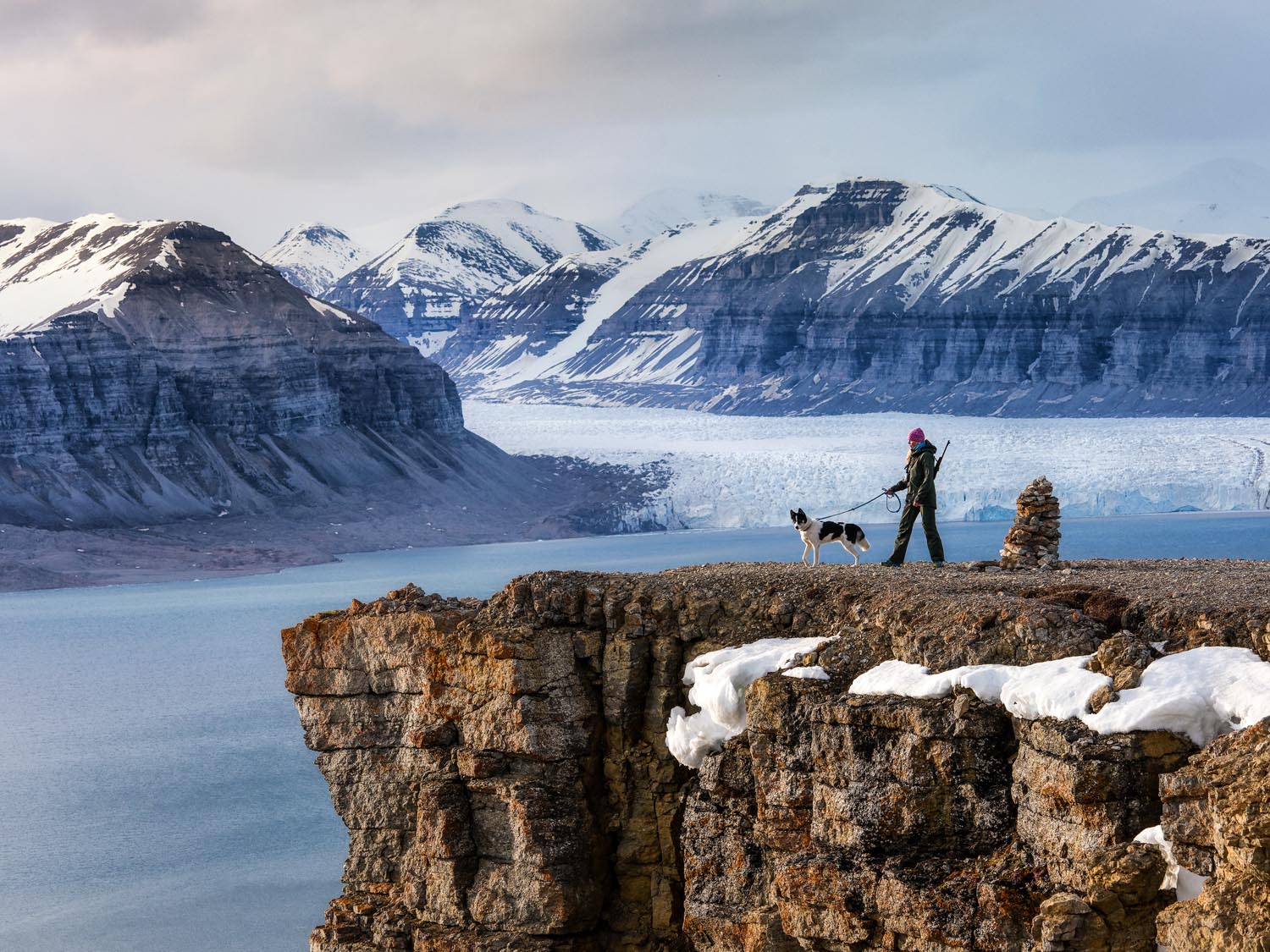 WHICH LENS IS RIGHT FOR YOU?
Select lenses to view their features, specifications and more in a convenient side-by-side view for comparison purposes.
Key Features
Lens Focal Range
Telephoto
Lens Mount
Fujifilm G Mount for GFX camera bodies
Lens Mount
Fujifilm G Mount for GFX camera bodies
Lens Mount
Fujifilm G Mount for GFX camera bodies
Lens Features
Aperture Ring (R), Weather Resistant (WR)
Lens Features
Weather Resistant (WR)
Lens Features
Aperture Ring (R), Linear Focus Motor (LM), Optical Image Stabilisation (OIS), Weather Resistant (WR)
Lens Focal Length
100-200mm
Lens Max Aperture
F1.7 max. aperture
Lens Max Aperture
F4.5-5.6 max. aperture
Lens Max Aperture
F5.6 max. aperture
Lens Min Aperture
F22 min. aperture
Lens Min Aperture
F32 min. aperture
Lens Min Aperture
F32 min. aperture