Sale price

$2,299.00
Regular price
(/)
Tech Specs
Model name
FUJIFILM X100V
Number of effective pixels
26.1 millions pixels
Image sensor
23.5mm×15.6mm (APS-C) X-Trans CMOS 4 with primary color filter.
Storage media
SD memory card (~2GB) /
SDHC memory card (~32GB) /
SDXC memory card (~512GB) UHS-I*1
File format of still image
Compliant with Design rule for Camera File system (DCF2.0)
JPEG: Exif Ver 2.3*2,
RAW: 14bit RAW (RAF original format) / RAW+JPEG
Number of recorded pixels
L: <3:2> 6240×4160 / <16:9> 6240×3512 / <1:1> 4160×4160
M: <3:2> 4416×2944 / <16:9> 4416×2488 / <1:1> 2944×2944
S: <3:2> 3120×2080 / <16:9> 3120×1760 / <1:1> 2080×2080

<Panorama>
L: 2160 x 9600 [Horizontal : 9600 x 1440]
M: 2160 x 6400 [Horizontal : 6400 x 1440]
Lens
Type
FUJINON single focal length lens
Focal length
f=23mm (35mm format equivalent : 35mm)
Max. aperture
F2.0
Lens configuration
8 elements in 6 groups (includes 2 aspherical elements)
ND filter
Yes (4 stops)
Aperture
F2 - F16 1/3EV step (controlled with 9-blade aperture diaphragm)
Focus range
Approx. 10cm to infinity / 3.9in. to infinity
Conversion lens
WIDE / TELE / OFF
Digital Tele-Converter
35mm*(Nomal), 50mm*, 70mm* *35mm fomat equivalent
Sensitivity
Standard Output
AUTO1 / AUTO2 / AUTO3 / ISO160~12800 (1/3EV step)
Extended Output
ISO80 / 100 / 125 / 25600 / 51200
Exposure control
TTL 256-zone metering, Multi / Spot / Average/ Center Weighted
Exposure mode
P (Program AE) / A (Aperture Priority AE) / S (Shutter Speed Priority AE) / M (Manual Exposure)
Exposure compensation
-5.0EV~+5.0EV 1/3EV step
(Movie: -2.0EV~+2.0EV)
Shutter type
Lens Shutter
Shutter speed
Mechanical Shutter
P mode: 4sec. to 1/4000sec.
A mode: 30sec. to 1/4000sec.
S/M mode: 15min. to 1/4000sec.
Bulb mode: up to 60min.
Electronic Shutter*3
P mode: 4sec. to 1/32000sec.
A mode: 30sec. to 1/32000sec.
S/M mode: 15min. to 1/32000sec.
Bulb mode: 1sec. Fixed
Mechanical + Electronic Shutter
P mode: 4sec. to 1/32000sec.
A mode: 30sec. to 1/32000sec.
S/M mode: 15min. to 1/32000sec.
Bulb mode: up to 60min.
Continuous shooting
Approx. 11fps (JPEG: 38 frames, Lossless compression RAW: 17 frames, Uncompressed RAW: 17 frames)
Approx. 8.0fps (JPEG: 76 frames, Lossless compression RAW: 18 frames, Uncompressed RAW: 18 frames)
Approx. 6.0fps (JPEG: 220 frames, Lossless compression RAW: 21 frames, Uncompressed RAW: 18 frames)
Approx. 5.0fps (JPEG: 458 frames, Lossless compression RAW: 24 frames, Uncompressed RAW: 19 frames)
Approx. 4.0fps (JPEG: endless, Lossless compression RAW: 28 frames, Uncompressed RAW: 20 frames)
Approx. 3.0fps (JPEG: endless, Lossless compression RAW: 34 frames, Uncompressed RAW: 21 frames)
Approx. 30fps [Only electronic shutter, 1.25 x Crop] (JPEG: 29 frames, Lossless compression RAW: 17 frames, Uncompressed RAW: 17 frames)
Approx. 20fps [Only electronic shutter, 1.25 x Crop ] (JPEG: 79 frames, Lossless compression RAW: 17 frames, Uncompressed RAW: 17 frames)
Approx. 20fps [Only electronic shutter] (JPEG: 32 frames, Lossless compression RAW: 17 frames, Uncompressed RAW: 17 frames)
Approx. 10fps [Only electronic shutter, 1.25 x Crop] (JPEG: 153 frames, Lossless compression RAW: 18 frames, Uncompressed RAW: 18 frames)
Approx. 10fps [Only electronic shutter] (JPEG: 81 frames, Lossless compression RAW: 18 frames, Uncompressed RAW: 18 frames)
Approx. 8.0fps [Only electronic shutter, 1.25 x Crop] (JPEG: 90 frames, Lossless compression RAW: 18 frames, Uncompressed RAW: 18 frames)

*Recordable frames depends on recording media
*Speed of continuous shooting depends on shooting environment and shooting frames
Auto bracketing
AE Bracketing (Frames: 2, 3, 5, 7, 9 Step: by 1/3EV step, up to ±3EV steps)
Filmsimulation bracketing (Any 3 types of film simulation selectable)
Dynamic Range Bracketing (100%, 200%, 400%)
ISO sensitivity Bracketing (±1/3EV, ±2/3EV, ±1EV)
White Balance Bracketing (±1, ±2, ±3)
Focus Bracketing (AUTO, MANUAL)
Focus
Mode
Single AF / Continuous AF / MF
Type
Intelligent Hybrid AF (TTL contrast AF / TTL phase detection AF)
Low-light Performance
Contrast: -2.0EV
Phase Detection: -5.0EV
AF frame selection
Single point AF: EVF / LCD: 13×9 / 25×17 (Changeable size of AF frame)
Zone AF: 3×3 / 5×5 / 7×7 from 117 areas on 13×9 grid
Wide/Tracking AF: (up to 18 area) *AF-S: Wide / AF-C: Tracking
All
White balance
Automatic Scene recognition / Custom1~3 / Color temperature selection (2500K~10000K) /
Preset: Daylight, Shade,
Fluorescent light (Daylight), Fluorescent light (Warm White), Fluorescent light (Cool White), Incandescent light,
Underwater
Self-timer
10sec. / 2sec.
Interval timer Shooting
Yes (Setting: Interval, Number of shots, Starting time)
Flash
Auto flash [Super Intelligent Flash]
Effective range: (ISO 1600) approx. 30cm - 7.4m/1.0ft. - 24.3ft.
Guide Number: approx. 4.4 (ISO100・m)
Mode
TTL MODE (Flash Auto, Standard, Slow Sync.), Manual, Commander, OFF
Sync. Mode
1st Curtain, 2nd Curtain
Red eye removal
FLASH + REMOVAL, FLASH, REMOVAL, OFF
Hot shoe
Yes (Dedicated TTL Flash compatible)
Viewfinder
(Hybrid viewfinder)
OVF
Reverse Galilean viewfinder with electronic bright frame display
Coverage of frame area v.s. capturing area: approx. 95%
Magnifications approx x0.52
EVF
0.5 inch approx. 3.69 millions dots OLED Color Viewfinder (4:3)
Coverage of viewing area vs. capturing area: approx. 100%
Eyepoint: approx. 16.8mm (from the eyepiece lens), Diopter adjustment: -4~+2m-1
Magnification: 0.66× with 50mm lens (35mm equivalent) at infinity and diopter set to -1m-1
Diagonal angle of view: approx. 32° (Horizontal angle of view: approx. 27°)
Built-in eye sensor
LCD monitor
3.0 inch, aspect ratio 3:2
approx.1.62 millions dots tilting touch screen color LCD monitor(approx. 100% coverage)
Movie recording
File format
File size
Frame rate
Recording time
Format: MOV, Compression: MPEG-4 AVC/H.264
Audio: Linear PCM / Stereo sound 2ch / 24bit / 48KHz sampling
[DCI 4K (4096×2160)] 29.97p/25p/24p/23.98p, 200Mbps/100Mbps, up to approx. 10min
[4K (3840×2160)] 29.97p/25p/24p/23.98p, 200Mbps/100Mbps, up to approx. 10min
[Full HD (2048×1080)] 59.94p/50p/29.97p/25p/24p/23.98p, 200Mbps/100Mbps/50Mbps, up to approx. 15min.
[Full HD (1920×1080)] 59.94p/50p/29.97p/25p/24p/23.98p, 200Mbps/100Mbps/50Mbps, up to approx. 15min.
[Full HD (1920×1080) High speed rec.] 120p/100p, 200Mbps(recording), up to approx. 6min.

*For recording movies, use a SD memory card with UHS Speed Class 3 or higher.
*Although movie recording will continue without interruption when the file size reaches 4GB, subsequent
Film Simulation mode
17 modes (PROVIA/Standard, Velvia/Vivid, ASTIA/Soft, Classic Chrome, PRO Neg.Hi, PRO Neg.Std, Black & White,
Black & White+Ye Filter, Black & White+R Filter, Black & White+G Filter, Sepia, ACROS, ACROS+Ye Filter, ACROS+R Filter, ACROS+G Filter, ETERNA/Cinema, Classic Neg)
Monochromatic Color
Clarity setting
±5 steps
HDR mode
AUTO, 200%, 400%, 800%, PLUS
Grain Effect
Roughness: STRONG, WEAK, OFF / Size: LARGE, SMALL
Color chrome effect
STRONG, WEAK, OFF
Color chrome Blue
STRONG, WEAK, OFF
Dynamic range setting
Still: AUTO, 100%, 200%, 400%
ISO restriction (DR100%: No limit, DR200%: ISO320 or more, DR400%: ISO640 or more)
Movie: 100%, 200%, 400%
ISO restriction (DR100%: No limit, DR200%: ISO320 or more, DR400%: ISO640 or more)
Advanced filter
Toy camera, Miniature, Pop color, High-key, Low-key, Dynamic tone, Soft focus,
Partial color (Red / Orange / Yellow / Green / Blue / Purple)
Wireless transmitter
Standard
IEEE802.11b/g/n (standard wireless protocol)
Encryption
WEP / WPA / WPA2 mixed mode
Access mode
Infrastructure
Bluetooth®
Standard
Bluetooth Ver 4.2 (Bluetooth low energy)
Operating frequency (Center frequency)
2402 - 2480MHz
Terminal
Digital interface
USB Type-C (USB3.1 Gen1)
HDMI output
HDMI Micro connector (Type D)
Other
Microphone / shutter release input: ø2.5mm
Power supply
NP-W126S Li-ion battery (included)
Battery life for still images*4
Approx. 350 / 420 frames (EVF / OVF Normal Mode)
Actual battery life of movie capture*4
※Face detection is set to OFF
[4K] approx. 45min. (29.97p)
[Full HD] approx. 50min. (59.94p)
Continuance battery life of
movie capture*4
※Face detection is set to OFF
[4K] approx. 55min. (29.97p)
[Full HD] approx. 75min. (59.94p)
Dimensions
(W) 128.0mm × (H) 74.8mm × (D) 53.3mm /
(W) 5.04in × (H) 2.94in × (D) 2.10in (minimum depth 32.7mm/1.29in)
Weight
Approx. 478g / 16.9oz (including battery and SD memory card)
Approx. 428g / 15.1oz (excluding battery and SD memory card)
Operation Environment
Operating Temperature
0°C~+40°C / 32°F~104°F
Operating Humidity
10%~80% (no condensation)
Starting up period
Approx. 0.5sec.
Accessories included
Li-ion battery NP-W126S, USB cable (type A to C), Lens cap, Hot shoe cover, Metal strap clip, Clip attaching tool,
Protective cover, Shoulder strap
Reviews
Simple actions that lead to making everyday moments remarkable. Rediscover photography in a new and exciting way with The One and Only, X100V.
With optional adaptor ring & filter
4:2:0 8-BIT
INTERNAL RECORDING
Elegant.
Classic.
Powerful.
At the heart of X100V is the state-of-the-art X-Trans CMOS 4 sensor and X-Processor 4 combination.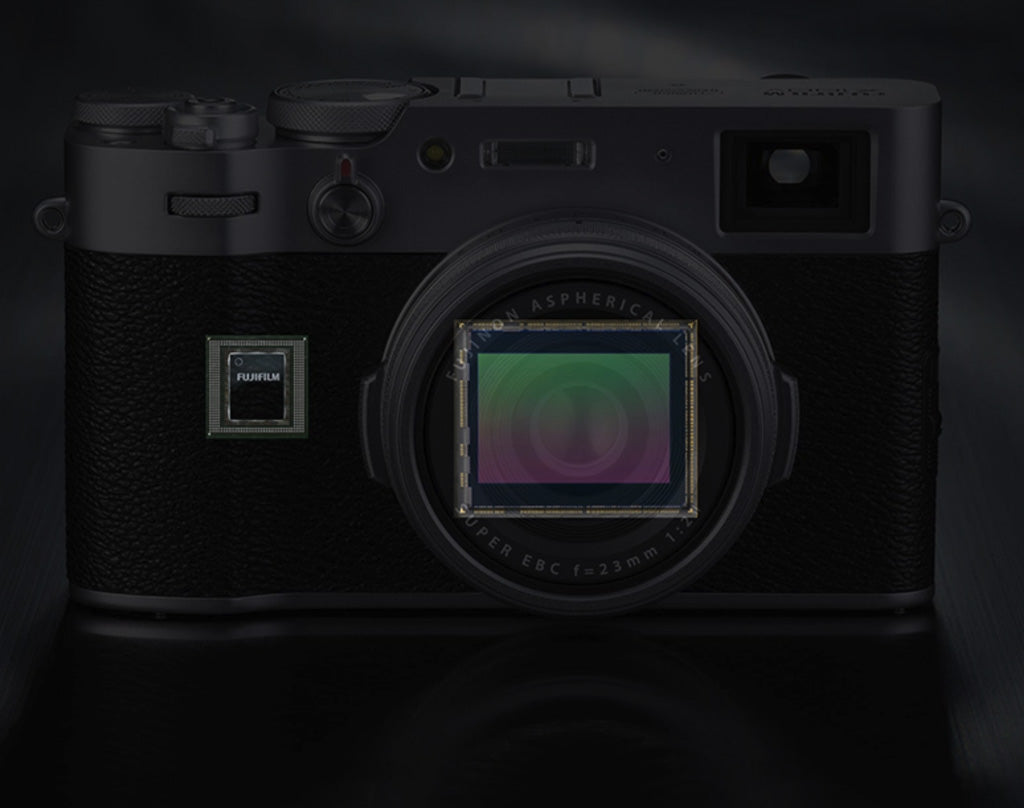 This exceptional 26.1MP sensor uses a back-illuminated design to maximise quality and dynamic range, while its unique colour filter array controls moiré and false colour without the need for an optical low pass filter.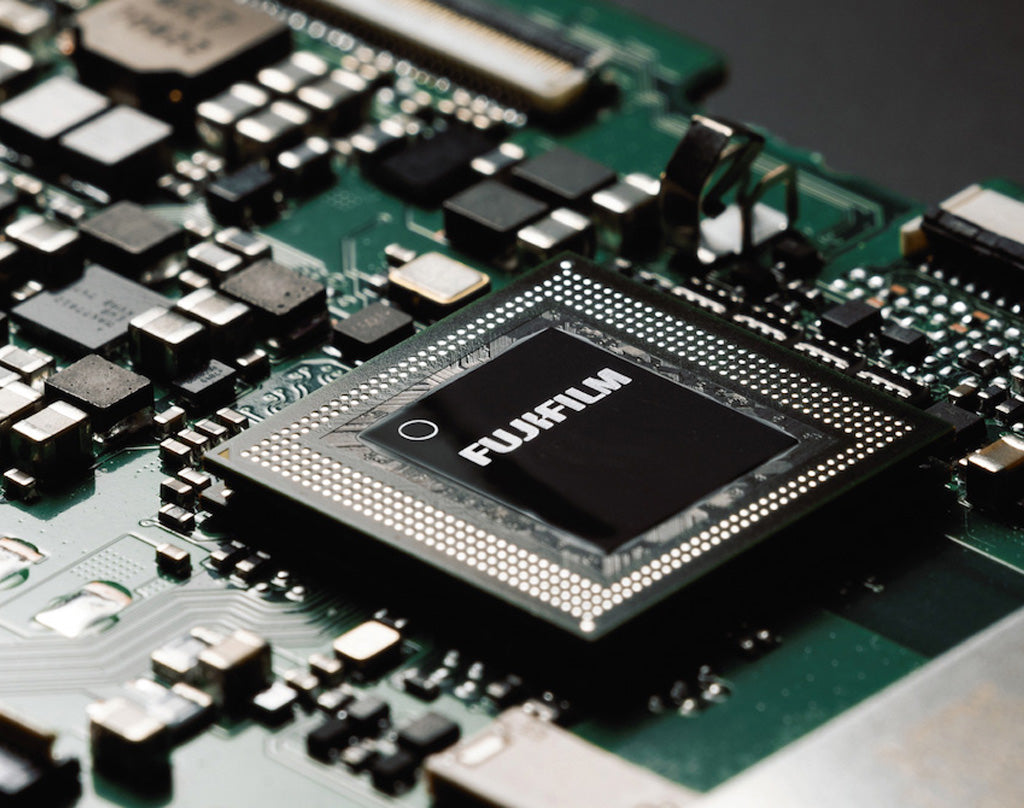 This powerful CPU not only ensures images are quickly and smoothly processed, but thanks to a new algorithm, boosts AF performance with precision face and eye detection right down to -5EV.
The X100V's timeless body has top and bottom plates milled from single pieces of aluminium, which results in a refined and classic camera body with clean, attractive edges. Finished with a beautiful satin coating, the X100V is a perfect combination of design and engineering that is sure to make photographers of any level joyful as they make their images.
Get the most out of any image
X100V features a 23mmF2.0 lens to ensure that every detail from its X-Trans CMOS 4 Sensor is resolved beautifully. The lens has been enhanced for better resolution, lower distortion and improved close focus performance. However, it still maintains the same overall size and compatibility with the optional WCL/TCL lens attachments, which gives image-makers additional angle of views equivalent to 35mm and 50mm on 35mm Format.
The analog inspired controls of the X100 Series are one of its most defining characteristics. The use of dials for exposure compensation and shutter speed provide a purely tactile experience and contribute considerably to making the image making process an immersive and enjoyable experience.
Rinzi Ruiz | X100V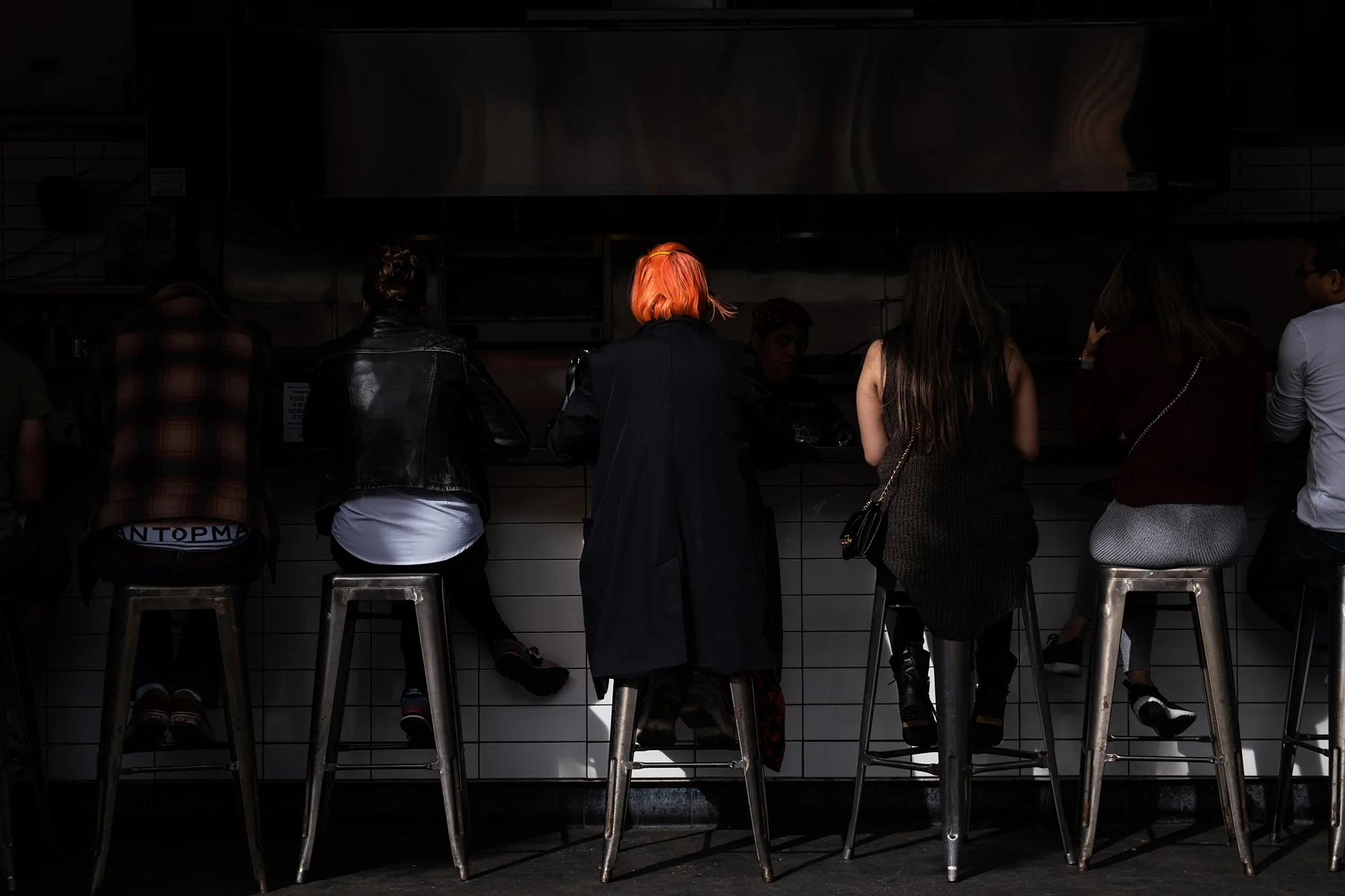 See the world differently
See the world differently
X100V has a vastly improved hybrid viewfinder which enables image-makers to quickly and easily choose between the 0.52x magnification optical viewfinder (OVF) or the 3.69M dot OLED electronic viewfinder. Offering 95% frame coverage, the OVF provides parallax-correcting frame lines to give an uninterrupted view of the world as it is, while the camera's EVF delivers a real-time representation of the image as it is being made.
The Electronic Range Finder (ERF) Function, blends the OVF and EVF are together to provide a unique experience. You can see an electronic preview of the scene in the bottom right corner, while still framing the image using the OVF. It maximises the full potential of X-Trans CMOS 4 sensor to deliver the highest performance in all aspects in the history of X Series.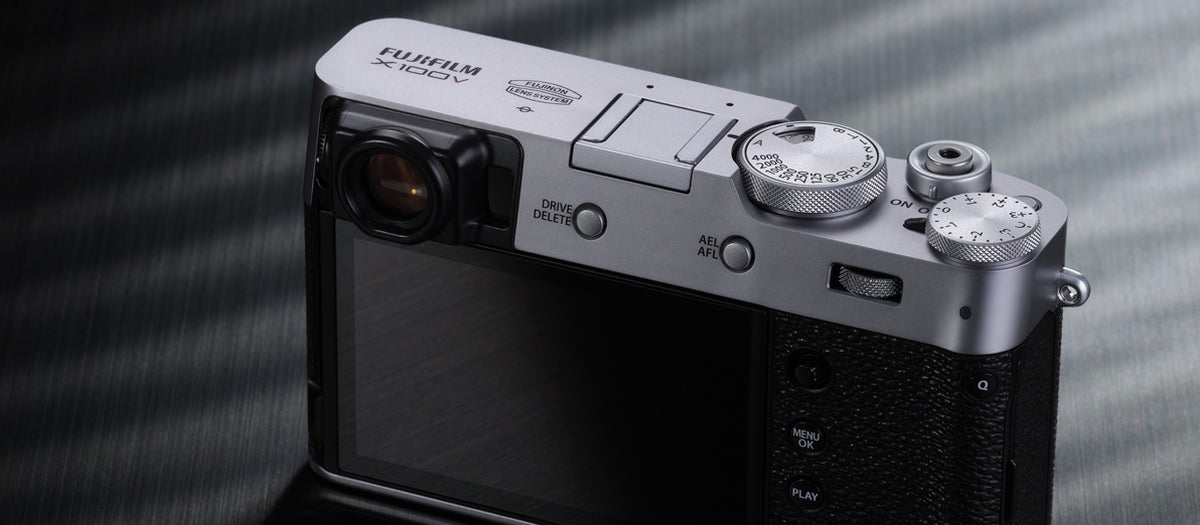 The EVF uses an extremely bright 1500cd/㎡ high-luminance panel, so images can be made easily even in bright conditions. Highlight and shadow details are more visible thanks to the EVFs higher resolution display, ensuring that images are made exactly as they are seen.
The two-way tilting LCD touchscreen hides in the back of the camera and adds another first for the X100 series as it provides intuitive touch controls, unlocking even more possibilities for image-makers to see, frame, and create.
Enhanced face and eye detection
Phase detection autofocus pixels are placed across the image sensor, and combined with X-Processor 4 and a new algorithm, to provide enhanced tracking functionality and precision face and eye detection. This dramatically improves AF performance on people moving within the frame and those that are facing sideways.
Alberto Buzzanca | X-100V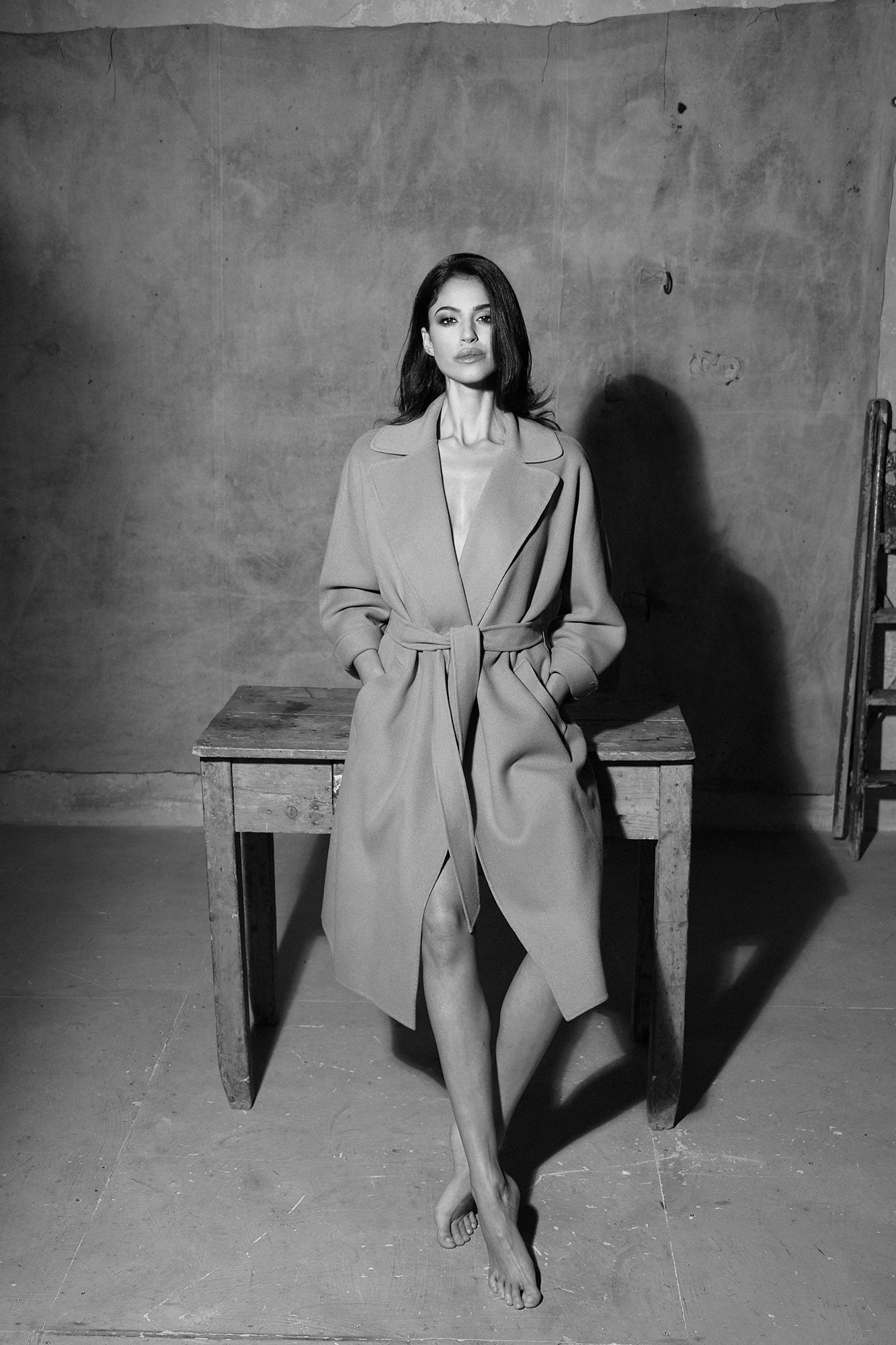 Great low-light performance
The quad-core X-Processor 4 is the X100V's powerful CPU that ensures images are quickly and smoothly processed. It also assists in boosting AF performance through a newly developed focusing algorithm. This allows the X100V to operate as low as -5EV, which allows for focus to be achieved easily and quickly in low-light conditions, so images can be made during any moment.
Alberto Buzzanca | X-100V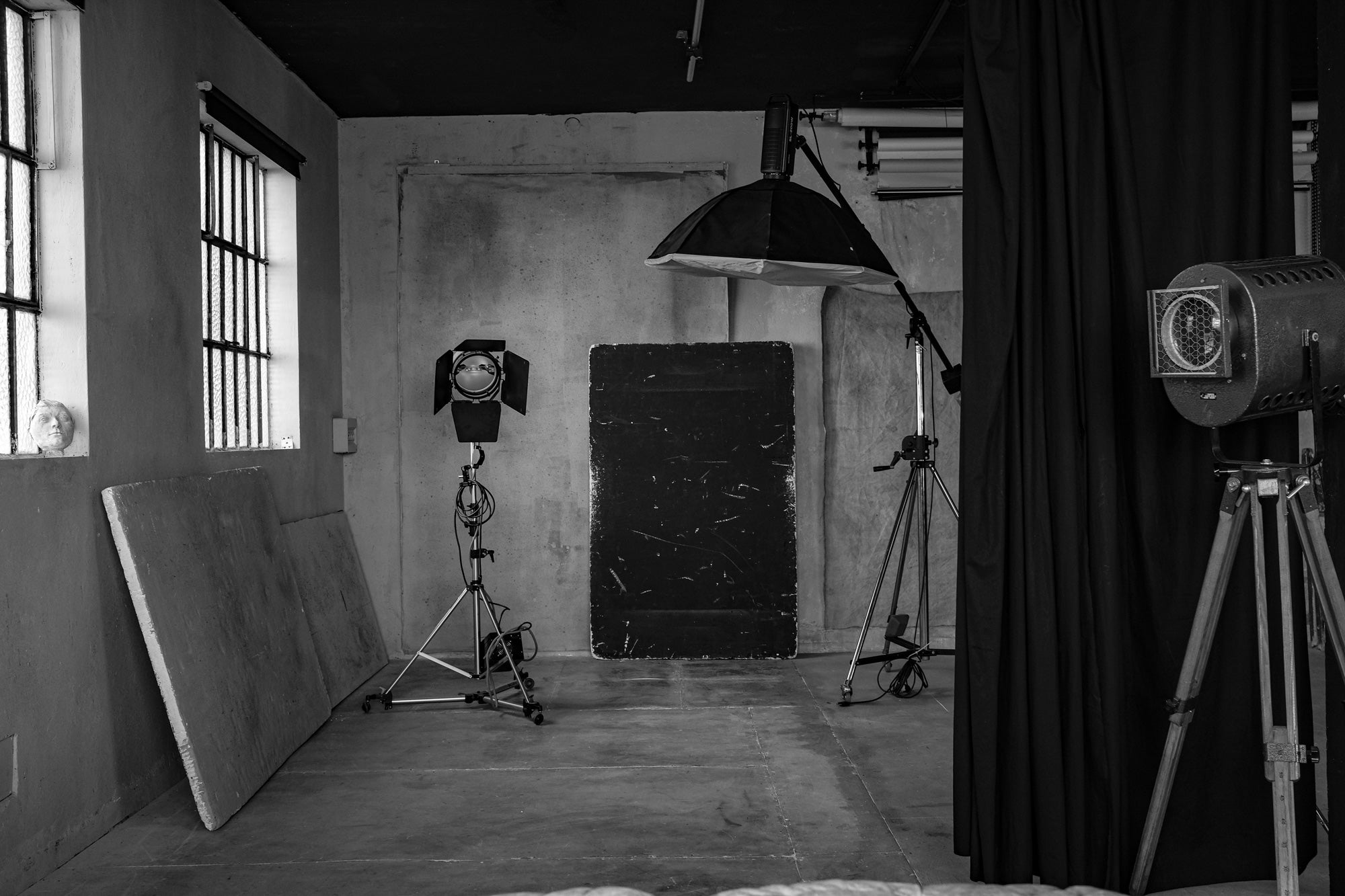 Film Simulations & Settings
A legacy in colour science
Fujifilm's heritage in colour science has given it legendary status among image-makers across the world. During its 85 years in the industry, Fujifilm has been responsible for some of the most iconic photographic films in history and this exceptional knowledge has been poured into its collection of 16 digital Film Simulations. Apply the look from classic films, such as PROVIA, Velvia, Astia, ACROS and Eterna, which are loved around the world, or use the new Classic Negative to rekindle a new sense of creativity.
Colour Chrome Effect adds additional contrast and saturation to colours in an image, while Colour Chrome Blue applies the same effects, but to just the colour blue.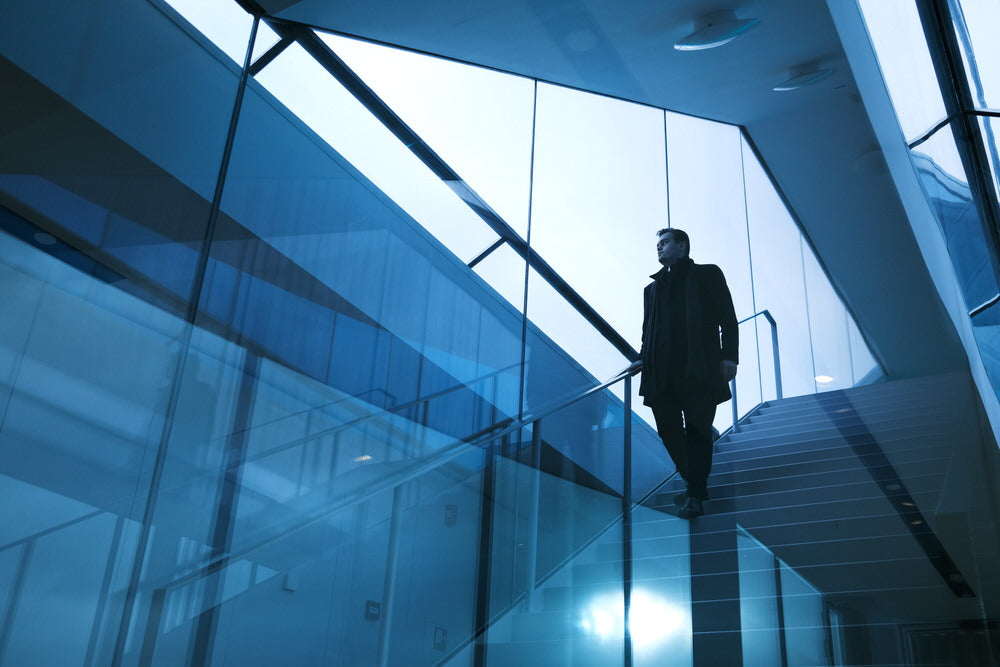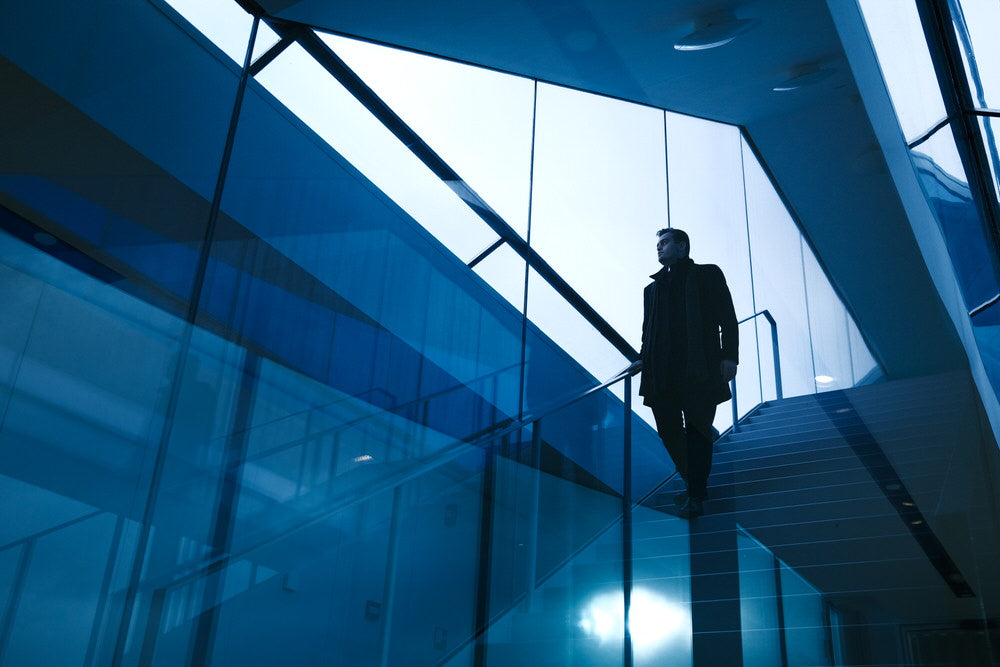 Jonas Dyhr Rask | X-100V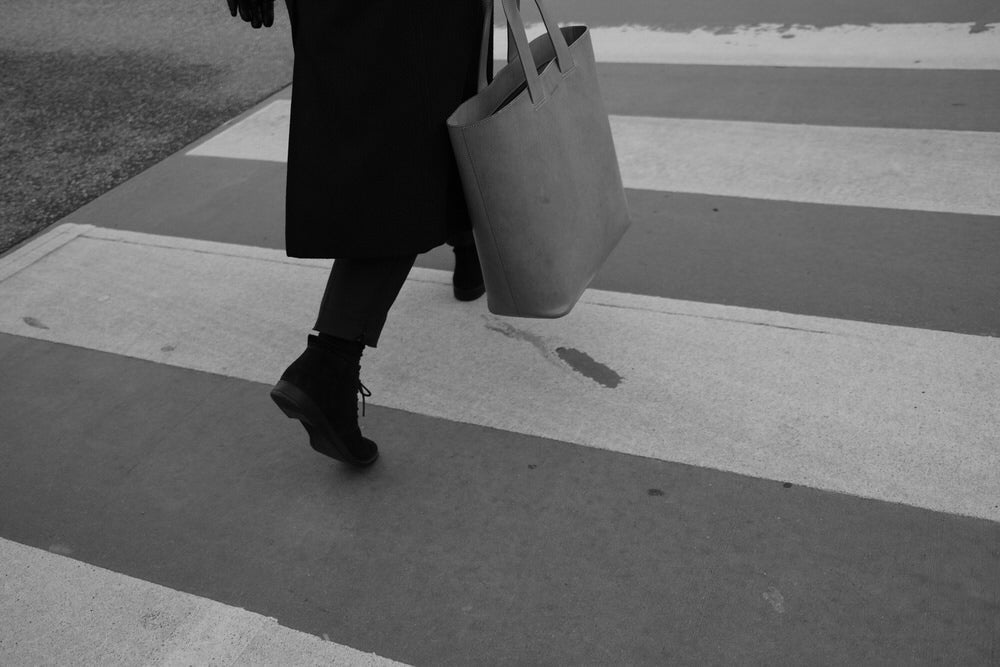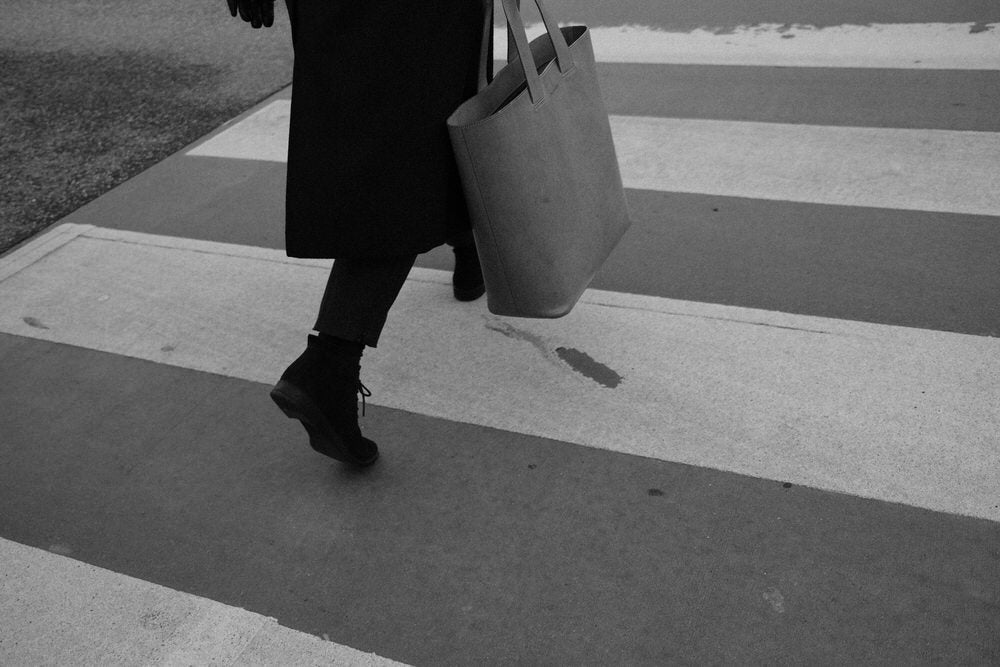 Natural film grain can be added to any image as an easy way of creating a "film-look" in -camera. This can be combined with the diverse range of Film Simulations to add texture individuality to any image.
Layer up to 9 images in Additive, Average, Comparative Bright or Comparative Dark modes to combine multiple perspectives or different points in time. Various settings, including Film Simulations, can be applied to each exposure to produce a unique creative expression completely in-camera. 1
Jonas Dyhr Rask | X100V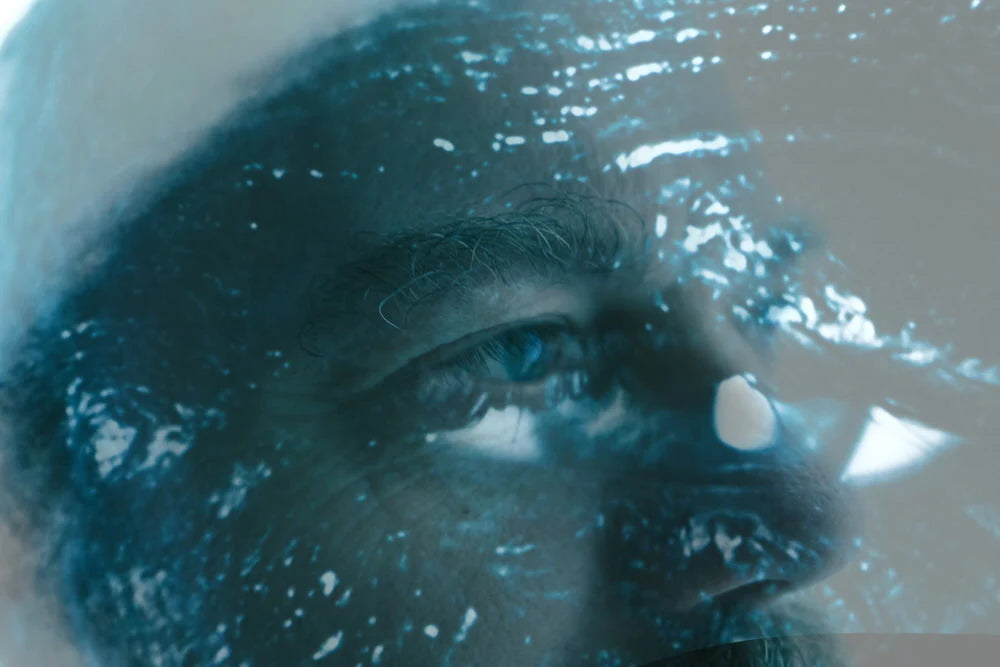 High Resolution Video Recording
X100V offers the ability to record 4K video up to 30 frames per second or capture 120 frames per second at 1080p to create super slow motion effects. Filmmakers needing extreme colour fidelity can record 10-bit, 4:2:2 colour externally via the HDMI port and leverage Fujifilm's advanced colour reproduction technology, to apply Film Simulations, like Eterna, to their video footage.

Additionally, image makers can also incorporate numerous shooting functions, such as "monochrome adjustments" and "Color Chrome" to extend their creative visions directly to the footage being recorded.