Sale price

$9,499.00
Regular price
(/)
Tech Specs
Model name
FUJIFILM GFX100S
Lens Mount
FUJIFILM G mount
Image sensor
43.8mm×32.9mm Bayer array with primary color filter
Number of effective pixels
102 million pixels
Sensor Cleaning System
Ultra Sonic Vibration
Image Processing Engine
X-Processor 4
Storage media
SD Card (-2GB) / SDHC Card (-32GB) / SDXC Card (-2TB) / UHS-I / UHS-II / Video Speed Class V90*1
File format of still image
DCF
Compliant with Design rule for Camera File system (DCF2.0)
JPEG
Exif Ver.2.32 *2
RAW
16bit / 14bit RAW (RAF original format)
TIFF
8bit / 16bit RGB (In-camera Raw Conversion Only)
Number of recorded pixels
[L]〈4:3〉 11648×8736 〈3:2〉 11648×7768 〈16:9〉 11648×6552 〈1:1〉 8736×8736
  〈65:24〉 11648×4304 〈5:4〉 10928×8736 〈7:6〉 10192×8736
[M]〈4:3〉 8256×6192 〈3:2〉 8256×5504 〈16:9〉 8256×4640 〈1:1〉 6192×6192
  〈65:24〉 8256×3048 〈5:4〉 7744×6192 〈7:6〉 7232×6192
[S]〈4:3〉 4000×3000 〈3:2〉 4000×2664 〈16:9〉 4000×2248 〈1:1〉 2992×2992
  〈65:24〉 4000×1480 〈5:4〉 3744×3000 〈7:6〉 3504×3000
Sensitivity
Still Image
Standard Output: AUTO1 / AUTO2 / AUTO3 / ISO100~12800 (1/3 step)
Extended Output: ISO50 / ISO25600 / ISO51200 / ISO102400
Movie
Standard Output: AUTO / ISO200~12800 (1/3 step)
Extended Output: ISO25600
Exposure control
TTL 256-zone metering / Multi / Spot / Average / Center Weighted
Exposure mode
P (Program AE) / A (Aperture Priority AE) / S (Shutter Speed Priority AE) / M (Manual Exposure)
Exposure compensation
Still
-5.0EV~+5.0EV 1/3EV step
Movie
-2.0EV~+2.0EV 1/3EV step
Image stabilizer
Mechanism
Image sensor shift mechanism with 5-axis compensation
Compensation Effect
6.0 stops
*based on CIPA standard
*Pitch/yaw shake only
*With GF63mmF2.8 R WR lens mounted
Digital Image Stabilization
Yes (movie mode only)
IS MODE BOOST
Yes (movie mode only)
Shutter type
Focal Plane Shutter
Shutter speed
Mechanical shutter
P mode: 4sec. to 1/4000sec. A mode: 30sec. to 1/4000sec.
S/M mode: 60min. to 1/4000sec. Bulb: up to 60min.
Electronic shutter
P mode: 4sec. to 1/16000sec. A mode: 30sec. to 1/16000sec.
S/M mode: 60min. to 1/16000sec. Bulb: up to 60min.
*The Electronic Shutter may not be suitable for fast-moving objects or handheld shooting. Flash can not be used.
Mechanical + Electronic shutter
P mode: 4sec. to 1/16000sec. A mode: 30sec. to 1/16000sec.
S/M mode: 60min. to 1/16000sec. Bulb: up to 60min.
*The Electronic Shutter may not be suitable for fast-moving objects or handheld shooting. Flash can not be used.

Electronic Front Curtain Shutter
P mode: 4sec. to 1/4000sec. A mode: 30sec. to 1/4000sec.
S/M mode: 60min. to 1/4000sec. Bulb: up to 60min.
*Electronic front curtain shutter works until 1/1250sec.
*When using the electronic front curtain shutter, the continuous shooting supports CL only

Electronic Front Curtain Shutter + Electronic Shutter
P mode: 4sec. to 1/16000sec. A mode: 30sec. to 1/16000sec.
S/M mode: 60min. to 1/16000sec. Bulb: up to 60min.
*Electronic front curtain shutter works until 1/1250sec, Mechanical shutter works until 1/4000sec.
*The Electronic Shutter may not be suitable for fast-moving objects or handheld shooting. Flash can not be used.
*When using the electronic front curtain shutter, the continuous shooting supports CL only
Movie
DCI4K/4K: 1/4000sec. - 1/4sec. FHD: 1/4000sec. - 1/4sec.
*Cannot choose slower shutter speed than framerate with LongGOP recording.
Synchronized shutter speed for flash
1/125sec. or slower
Continuous shooting
CH Electronic shutter 2.9fps (JPEG: 64 frames, Compressed RAW: 23frames, Lossless compressed RAW: 18 frames, Uncompressed RAW: 15 frames)
CH 5.0fps (JPEG: 42 frames, Compressed RAW: 16 frames, Lossless compressed RAW: 15 frames, Uncompressed RAW: 14 frames)
CL 2.0fps (JPEG: Endless, Compressed RAW: 45 frames, Lossless compressed RAW: 22 frames, Uncompressed RAW: 16 frames)
*Electronic Front Curtain Shutter support CL only.
*Recordable frames depends on recording media.
*Speed of continuous shooting depends on shooting environment and shooting frames.
Drive Mode
AE Bracketing
2 frames / 3 frames / 5 frames / 7 frames / 9 frames
*by 1/3EV step, up to ±3EV steps
Filmsimulation bracketing
Any 3 types of film simulation selectable
Dynamic Range Bracketing
100% / 200% / 400%
ISO sensitivity Bracketing
±1/3EV / ±2/3EV / ±1EV
White Balance Bracketing
±1 / ±2 / ±3
Focus Bracketing
AUTO / MANUAL
Multiple Exposure
Yes (Max. 9 frames) / Additive / Average / Bright / Dark
Pixel Shift Multi Shot
Yes
Focus
Mode
Single AF / Continuous AF / MF
Type
Intelligent Hybrid AF (TTL contrast AF / TTL phase detection AF)
Low-light Performance
Contrast: -2.5EV / GF80mmF1.7 attached
Phase Detection: -5.5EV / GF80mmF1.7 attached
AF frame selection
Single point AF: 13x9 / 25x17 (Changeable size of AF frame)
Zone AF: 3x3 / 5x5 / 7x7 from 117 areas on 13×9 grid
Wide/Tracking AF: Yes (AF-S: Wide / AF-C: Tracking)
All: Yes
Face/eye detection
Yes
Flash
Sync. Mode
1st Curtain / 2nd Curtain / AUTO FP (HSS)
When SHOE MOUNT FLASH is set
TTL (TTL AUTO / STANDARD / SLOW SYNC. ) / MANUAL / MULTI / OFF
Hot shoe
Yes (Dedicated TTL Flash compatible)
Viewfinder
EVF: 0.5 inch OLED Color Viewfinder, Approx. 3.69 million dots
Coverage of Viewing Area vs. Capturing Area: Approx. 100%
Eyepoint: Approx. 23mm (from the Rear End of the Camera's Eyepiece)
Diopter Adjustment: -4~+2m-1
Magnification: 0.77x with 50mm Lens (35mm Equivalent) at infinity and Diopter set to -1.0m-1
Diagonal Angle of View: approx. 38° (Horizontal angle of view: approx. 30° )
Built-In Eye Sensor
LCD monitor
3.2 inch Tilt-Type(Three Direction) Touch Screen Color LCD Monitor
Aspect Ratio: 4:3
Dots: Approx. 2.36 million dots
Touch Screen Mode
Shooting Mode
AF, Focus Area, OFF, Double Tap Setting, Touch Function Setting, EVF Touch Screen Area Setting
Playback Mode
Swipe, Pinch-in / Pinch-out, Double-tap, Drag
Sub LCD monitor
1.80 inch Monochrome LCD Monitor
Aspect Ratio: 4:3
Dots: 303x230-dot
Movie recording
File format
MOV:
HEVC/H.265, Linear PCM (Stereo sound 24bit / 48KHz sampling)
MPEG-4 AVC/H.264, Linear PCM (Stereo sound 24bit / 48KHz sampling)

MP4:
MPEG-4 AVC/H.264, AAC
Movie compression
All Intra / Long GOP
*All Intra can be used with following settings.
DCI4K/4K 29.97p/25p/24p/23.98p 400Mbps
Full HD(2048x1080) / Full HD(1920×1080) 59.94p/50p/29.97p/25p/24p/23.98p 200Mbps

File size
Frame rate
Bitrate
Recording time
[DCI4K(17:9)] 4096×2160 29.97p/25p/24p/23.98p 400Mbps/200Mbps/100Mbps Up to 120min.
[4K(16:9)] 3840×2160 29.97p/25p/24p/23.98p 400Mbps/200Mbps/100Mbps Up to 120min.
[Full HD(17:9)] 2048×1080 59.94p/50p/29.97p/25p/24p/23.98p 200Mbps/100Mbps/50Mbps Up to 120min.
[Full HD(16:9)] 1920×1080 59.94p/50p/29.97p/25p/24p/23.98p 200Mbps/100Mbps/50Mbps Up to 120min.
*For recording movies, use a SD memory card with UHS Speed Class 3 or higher.
*For recording movies in 400Mbps, use a SD memory card with Video Speed Class 60 or higher.
*Recording movies in 400Mbps can be done with DCI4K/4K 29.97p/25p/24p/23.98p.
*Recording time can become short depending on the temperature and/or shooting conditions.
Film simulation mode
19 modes (PROVIA/STANDARD, Velvia/VIVID, ASTIA/SOFT, CLASSIC CHROME, PRO Neg. Hi, PRO Neg. Std, CLASSIC Neg., NOSTALGIC Neg., ETERNA/CINEMA, ETERNA BLEACH BYPASS, ACROS, ACROS+Ye Filter, ACROS+R Filter, ACROS+G Filter, MONOCHROME, MONOCHROME+Ye Filter, MONOCHROME+R Filter, MONOCHROME+G Filter, SEPIA)
Monochromatic Color
Yes
Grain Effect
Roughness: STRONG, WEAK, OFF
Size: LARGE, SMALL
Color Chrome Effect
STRONG, WEAK, OFF
Color chrome Blue
STRONG, WEAK, OFF
Smooth Skin Effect
STRONG, WEAK, OFF
Dynamic range setting
Still
AUTO / 100% / 200% / 400%
ISO restriction: DR100%: No limit, DR200%: ISO200 or more, DR400%: ISO400 or more
Movie
100% / 200% / 400%
ISO restriction: DR100%: No limit, DR200%: ISO400 or more, DR400%: ISO800 or more
White balance
Auto
White Priority / Auto / Ambience Priority
Custom
Custom1 - 3
Color temperature selection
2500K~10000K
Preset
Fine / Shade / Fluorescent Light-1 / Fluorescent Light-2 / Fluorescent Light-3 / Incandescent Light / Underwater
Clarity setting
±5 steps
Self-timer
10sec. / 2sec.
Interval timer shooting
Yes (Setting : Interval, Number of shots, Starting time, Interval timer shooting exposure smoothing)
Wireless transmitter
Standard
IEEE802.11b/g/n (standard wireless protocol)
Encryption
WEP / WPA / WPA2 mixed mode
Access mode
Infrastructure
Bluetooth®
Standartd
Bluetooth Ver. 4.2 (Bluetooth low energy)
Operating frequency (Center frequency)
2402〜2480MHz
Terminal
Digital interface
USB Type-C (USB3.2 Gen1x1)
HDMI output
HDMI Micro connector (Type D)
Others
ø3.5mm, stereo mini connector (Microphone)
ø3.5mm, stereo mini connector (Headphone)
ø2.5mm, Remote Release Connector
Hot shoe
Synchronized terninal
Power supply
NP-W235 Li-ion battery (included)
Battery life for still images*3
Normal Mode: Approx. 460 frames
*When GF63mmF2.8 R WR is set
Actual battery life of movie capture*3
4K: Approx. 60min. (29.97p)
Full HD: Approx. 65min. (59.94p)
*Face detection is set to OFF
Continuance battery life of movie capture
*3
4K: Approx. 95min. (29.97p)
Full HD: Approx. 110min. (59.94p)
*Face detection is set to OFF
Dimensions
Width: 150.0mm
Height: 104.2mm
Depth: 87.2mm
(Minimum Depth) 44.0mm
Weight
including battery and SD memory card: Approx. 900g
excluding battery and SD memory card: Approx. 819g
Operation Environment
Operating Temperature
-10°C - +40°C
Operating Humidity
10% - 80% (no condensation)
Starting up period
Approx. 0.5sec.
Accessories included
Li-ion battery NP-W235
AC power adapter AC-5VJ
Plug adapter
USB cable
Shoulder strap
Body cap
Hot shoe cover
Cable protector
Reviews
As photographers, we strive for perfection, constantly searching for the highest image quality and optimum control in what we create. GFX100S combines these two invaluable attributes in one remarkably compact and lightweight body. It is an imaging tool like no other; a new generation of large format camera to suit a new generation of creatives.
4:2:0 10-BIT
INTERNAL RECORDING
Image quality.
Optimum control.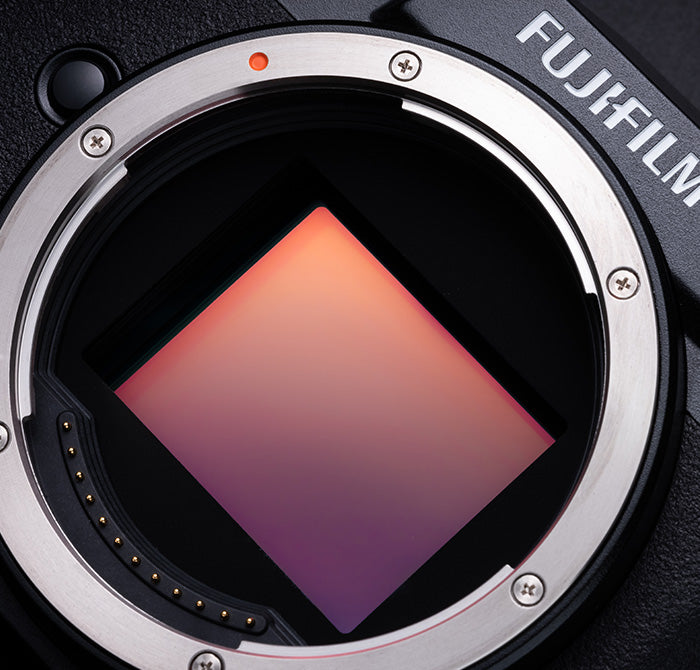 1.7x the size of full frame 2
102MP resolution capability is packed in the imaging sensor, making the Fujifilm GFX100S an ultra-high resolution camera, able to capture outstanding detail. The combination of Fujifilm's optics and sensor technology are the perfect combination that will set your images apart. From the eyelashes in a portrait to the delicate blades of grass in landscape photography, the GFX100S will help you frame every detail.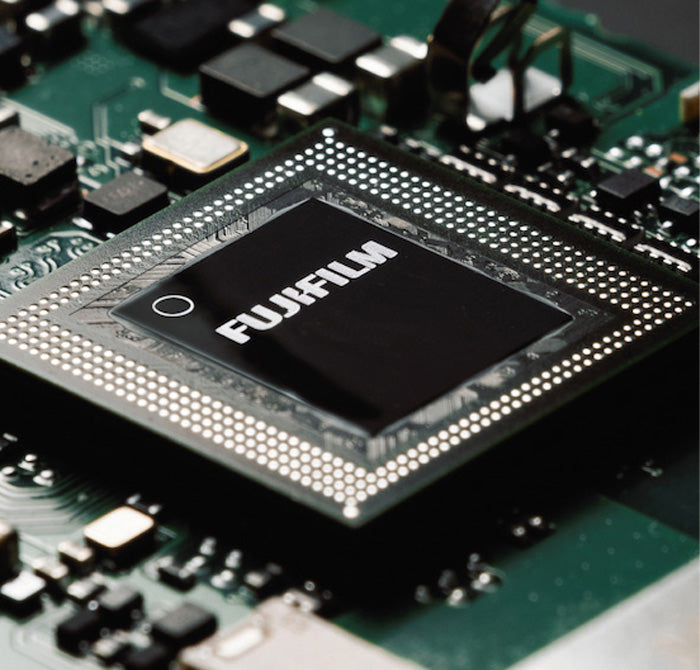 Powerful Processing Engine
Reliable Processor = Reliable Performance. Powered by an X-Processor 4, the Fujifilm GFX100S has a resolving power to deliver stunning, high-quality images. The main features of the processor are 'SPEED' AND 'COLOUR REPRODUCTION' which ultimately help photographers excel in the creative process.
Xiaoyi Zhang | GFX100S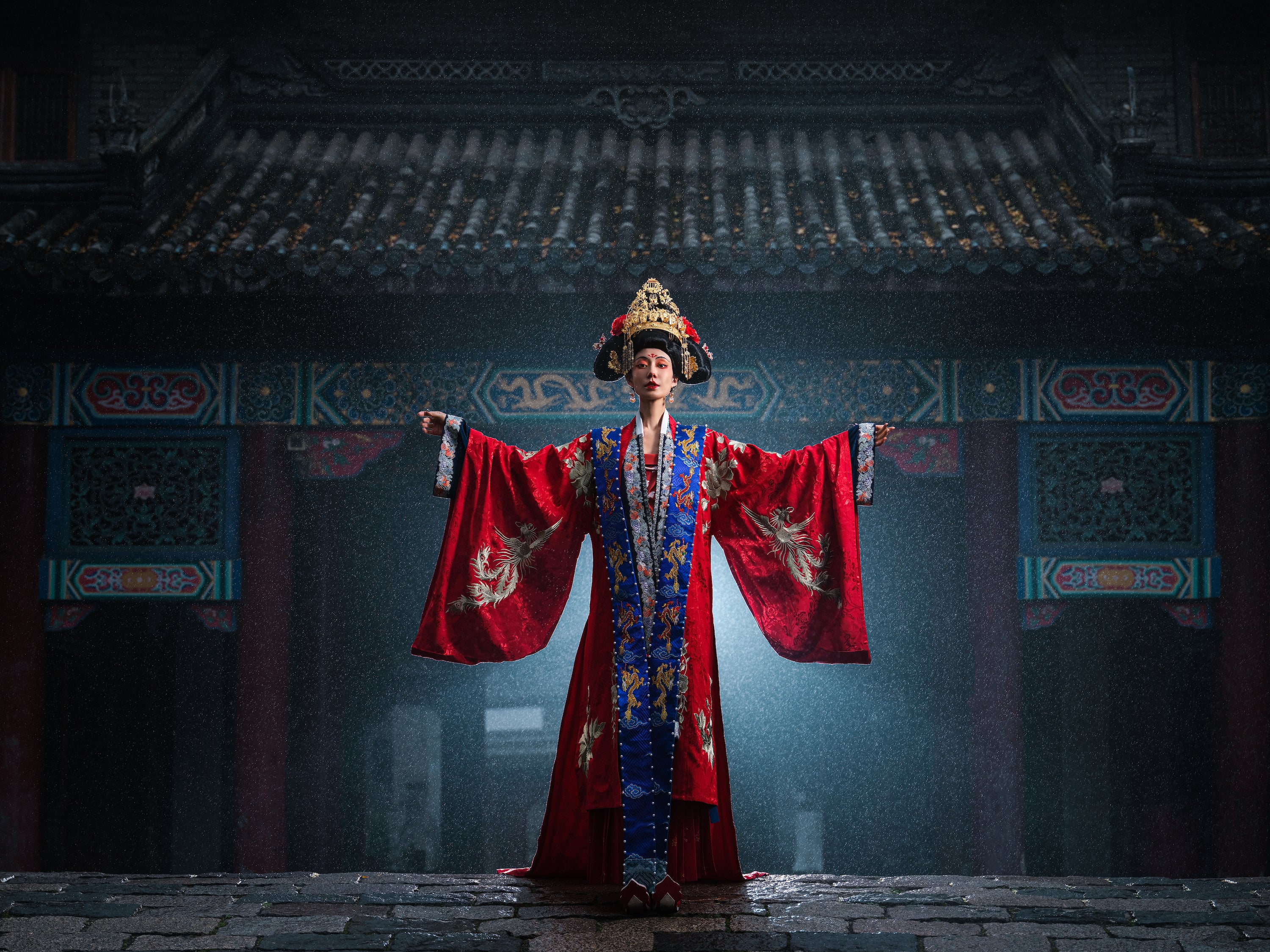 Ready when you are
One camera, flexible uses
Whether you are scrambling after a couple to frame their perfect moment or trekking through the wilderness to document nature's biggest secrets, rest assured that GFX100S has your back when you get there. Its compact size and powerful in-body image stabilisation (IBIS) will help make handheld images pin-sharp, while a cutting-edge focus algorithm and phase detection autofocus (PDAF) pixels across the entire frame deliver fast and accurate autofocus. Be confident that you'll never miss the moment, no matter how fleeting it may be.
Incredibly light, yet impressively durable, the camera body is made from magnesium alloy and designed to meet the demands of day to day use. It is also thicker by 1mm around the lens mount to provide additional rigidity and support, which is essential when using larger G Mount prime and zoom lenses. Thanks to a camera body that is sealed in 60 different places, GFX100S can easily shrug off the most challenging weather and environments. It can operate in temperatures as low as -10°C (14°F) and is both dust- and moisture-resistant.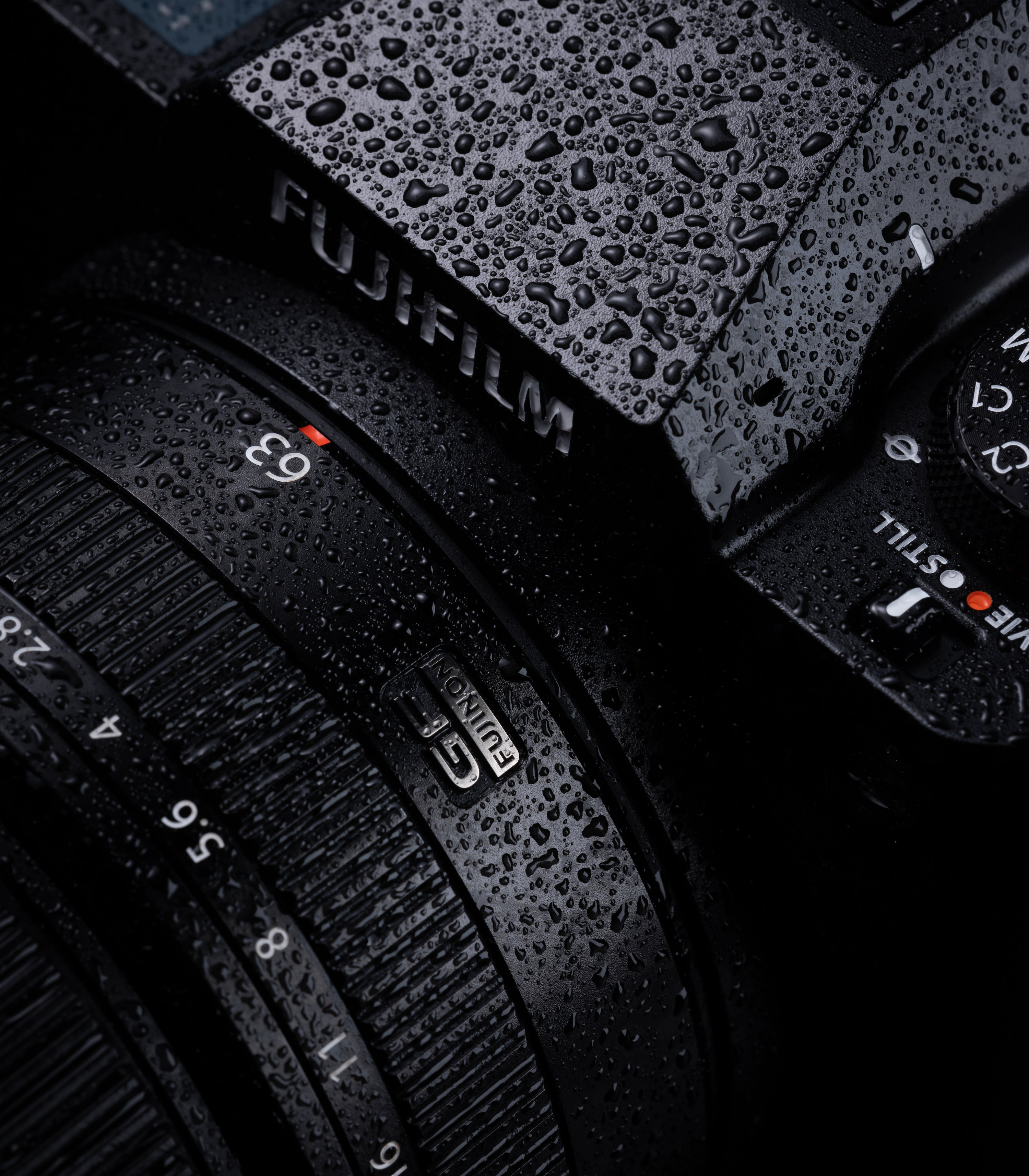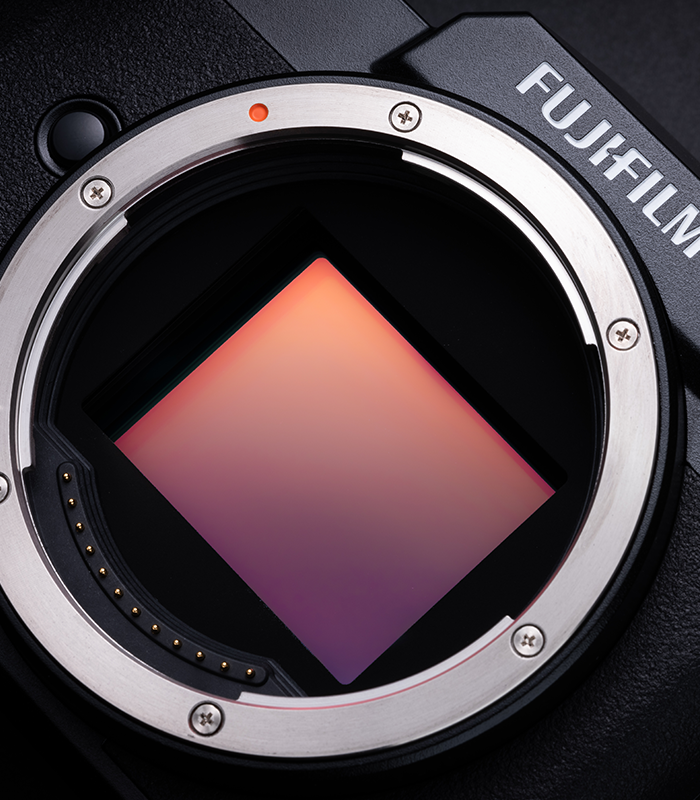 With GFX100S, there are no compromises, not even with weight. At just 900g, it's compact enough to carry with you wherever you go and with its secure grip and ergonomic button and dial layout, comfortable in-hand to let you focus on making your best images.
Achieve Sharp ultra-high quality photos without a tripod
Despite it being almost twice the physical size of any full-frame imaging sensor, GFX100S houses its 102MP Bayer array inside of a compact, weather-resistant camera body that is smaller in size than some Full Frame cameras. It also somehow does this with enough room left over to pack in a five-axis image stabilisation system that provides up to six stops of vibration compensation 3. It's time to move away from the tripod, have the confidence to work handheld in large format, and be safe in the knowledge that the results will be as sharp and detailed as they would be if the camera were locked and stationary on a support.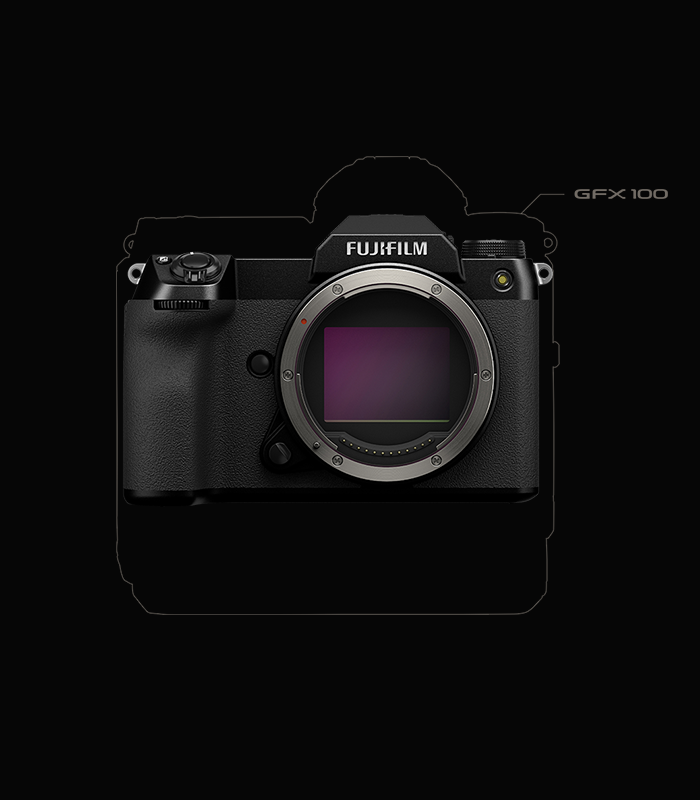 Michael Clark | GFX100S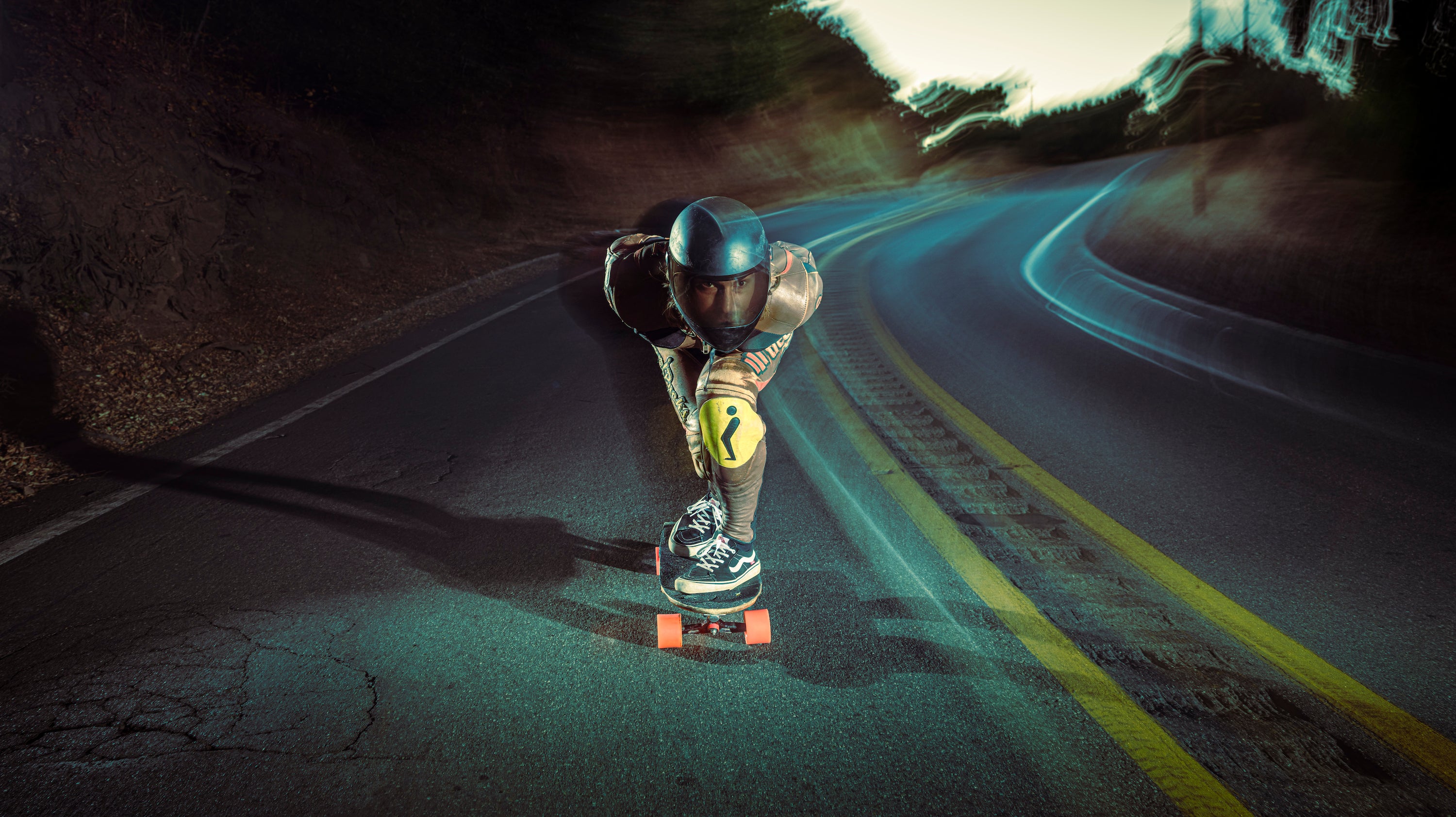 CUTTING-EDGE TECHNOLOGIES
GFX100S redefines what is possible in terms of autofocus speed and accuracy for large format cameras. With highly accurate phase detection pixels across approximately 100% of the frame, reliable Face/Eye detection, responsive subject tracking for moving subjects, and incredible low-light focusing capabilities, this is truly a camera for any focusing occasion.
More bokeh than full frame 5
Set your portrait photography apart from full-frame users by making the move to large format digital and combining GFX100S with GF80mmF1.7 R WR or GF110mmF2 R LM WR to produce images that have a unique look. See how these combinations separate their subjects from their backgrounds and create an almost three-dimensional quality to the image, full-frame users will be hard-pressed to create images of the same aesthetic quality.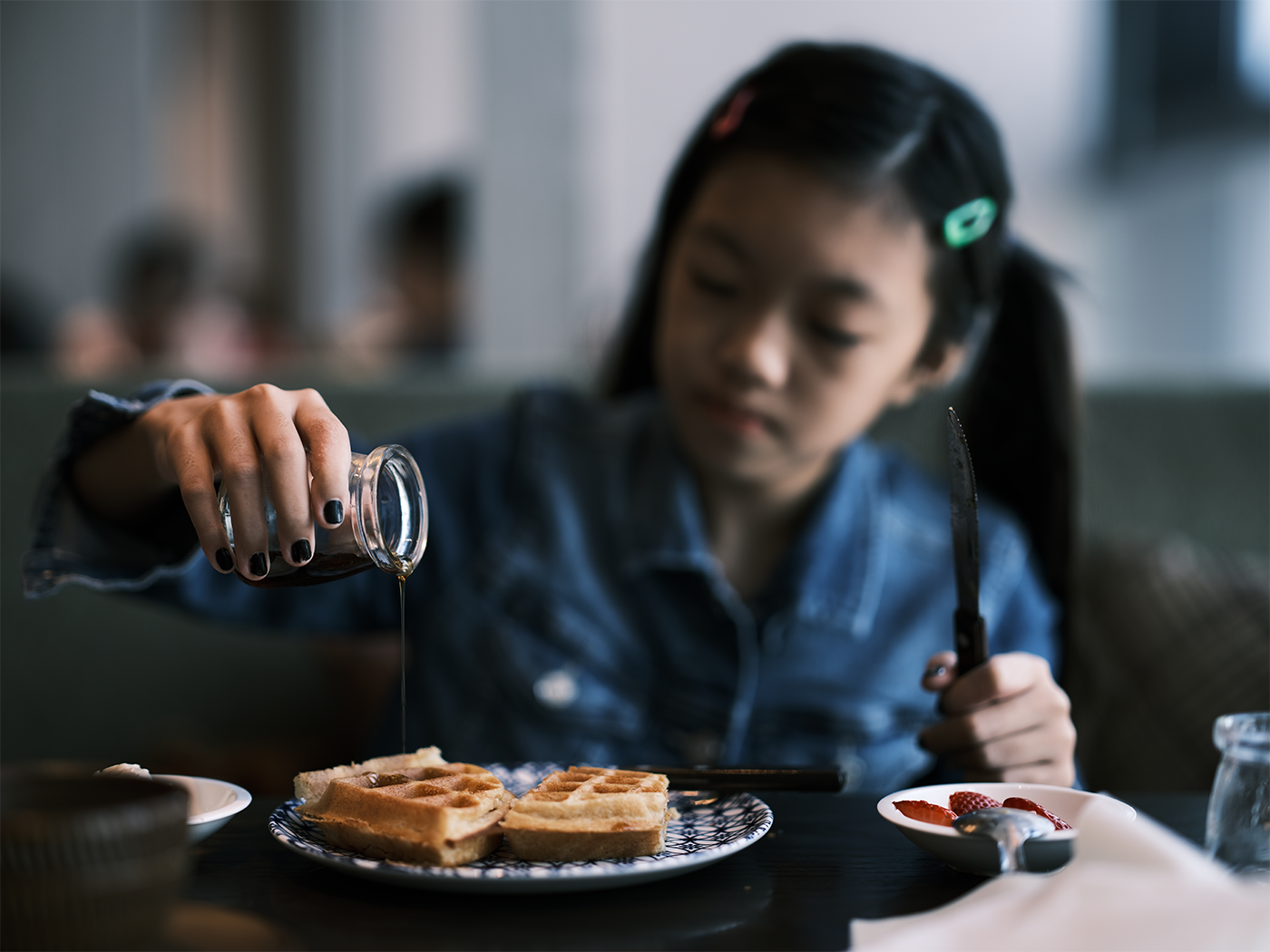 GFX100S isn't just a remarkable camera for stills photographers, it offers broadcast-quality video capture, too, making it a truly multifaceted marvel. Record up to 4K/30p footage in 10-bit F-Log or 12-bit Apple ProRes RAW, with an incredibly beautiful depth-of-field, for a look that is made for the silver screen. Switched to movie mode, filmmakers can create naturally cinematic footage and record richly detailed 4K/30p movies with a shallow depth-of-field, wide tonal gradation, and impressive ISO sensitivity in either 10-bit F-log or 12-bit ProRes RAW.
Fujifilm's expertise in colour science is legendary among image makers. For more than 85 years, it has been responsible for some of the world's most iconic photographs and movies. GFX100S gives you access to this wealth of experience at the touch of a button, powered by one of the world's most widely acclaimed digital colour processing engines. With a choice of 19 exclusive Fujifilm Film Simulation modes, it is easy to achieve fantastic colour, instantly, straight out of camera.
Ivan Joshua Loh | GFX100S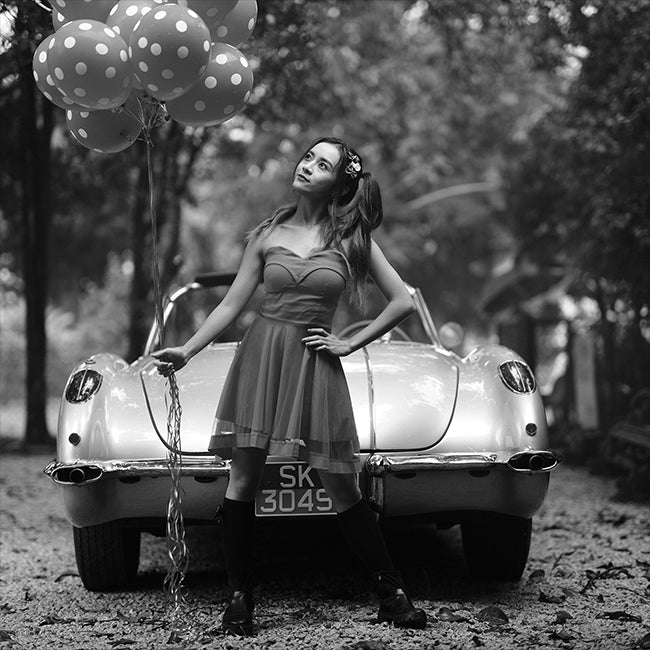 Based on ACROS, a monochrome film renowned for super fine grain, this Film Simulation mode delivers rich shadow details and excellent sharpness, while still adding grain at high ISOs, and recreating the stunning textural feel of monochrome.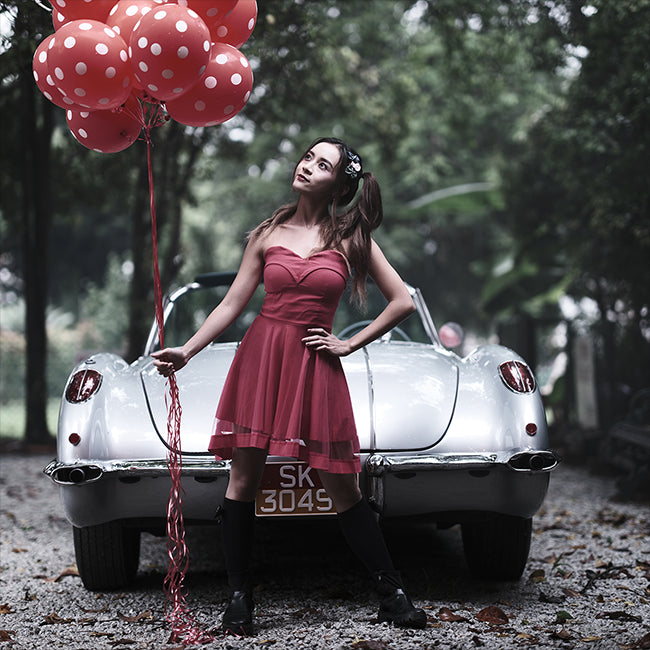 This Film Simulation mode applies a Bleach Bypass effect to the ETERNA/CINEMA mode. It produces a high-contrast, low-saturation look, creating a touch of depth loved by many filmmakers. Perfect for a more dramatic edit.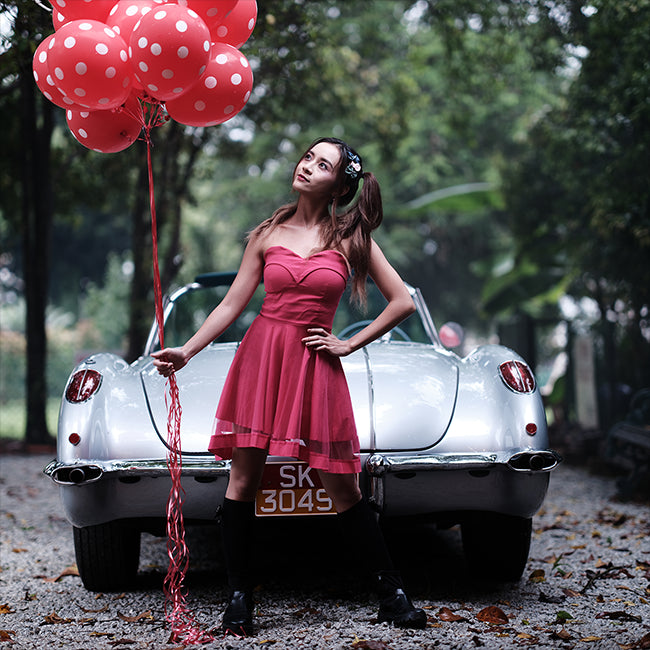 This Film Simulation mode is designed to reproduce a look that is similar to documentary magazines of the 20th century. Its low-saturation and hard tonal gradation in shadows make it a perfect choice for documentary photography with a touch of realism.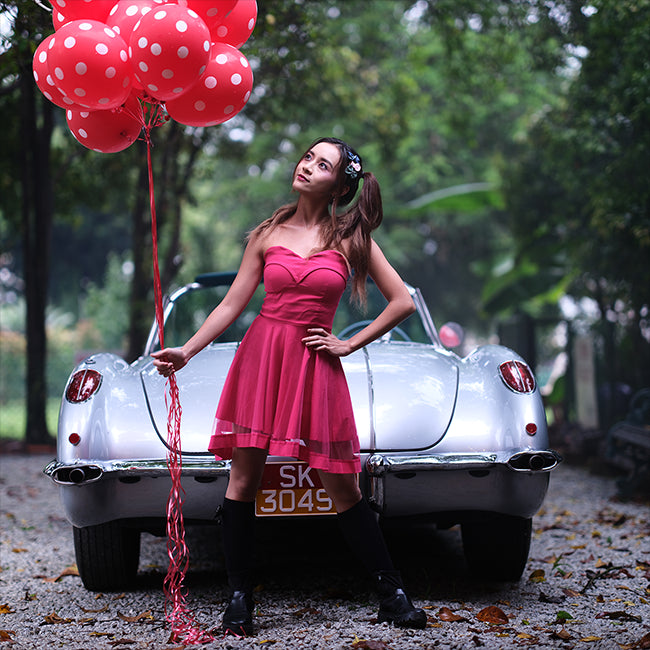 Based on FUJICHROME PROVIA, a reversal film designed for professional use, this Film Simulation mode caters for all subject types, offering a neutral colour reproduction.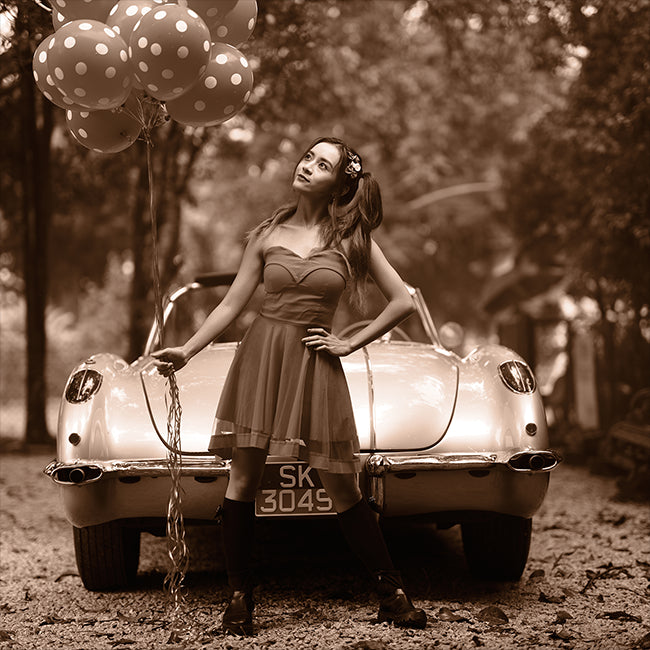 This mode adds a warm tone across the frame for a vintage look. When applied to a retro subject, it creates a fittingly nostalgic finish.
GFX100S has been designed to make the large format photography experience easier and more intuitive for both new and existing GFX system users.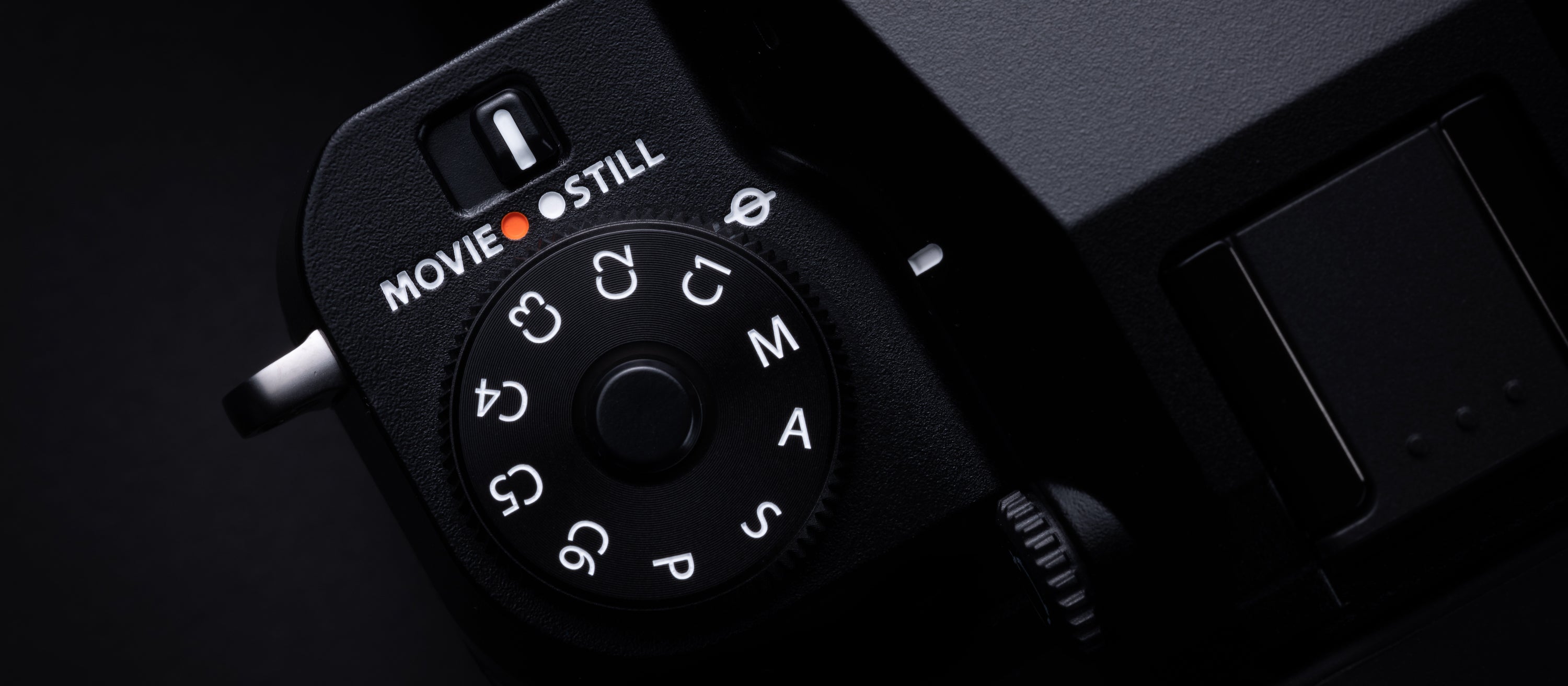 GFX100S features a universally familiar PASM control dial, which also features six custom positions, which can be assigned to frequently used settings, ready to be switched between in an instant.
Switching from still to movie mode is also made incredibly simple by way of a lever that is located next to the mode dial. This makes it easy to switch functions effortlessly and keep creating.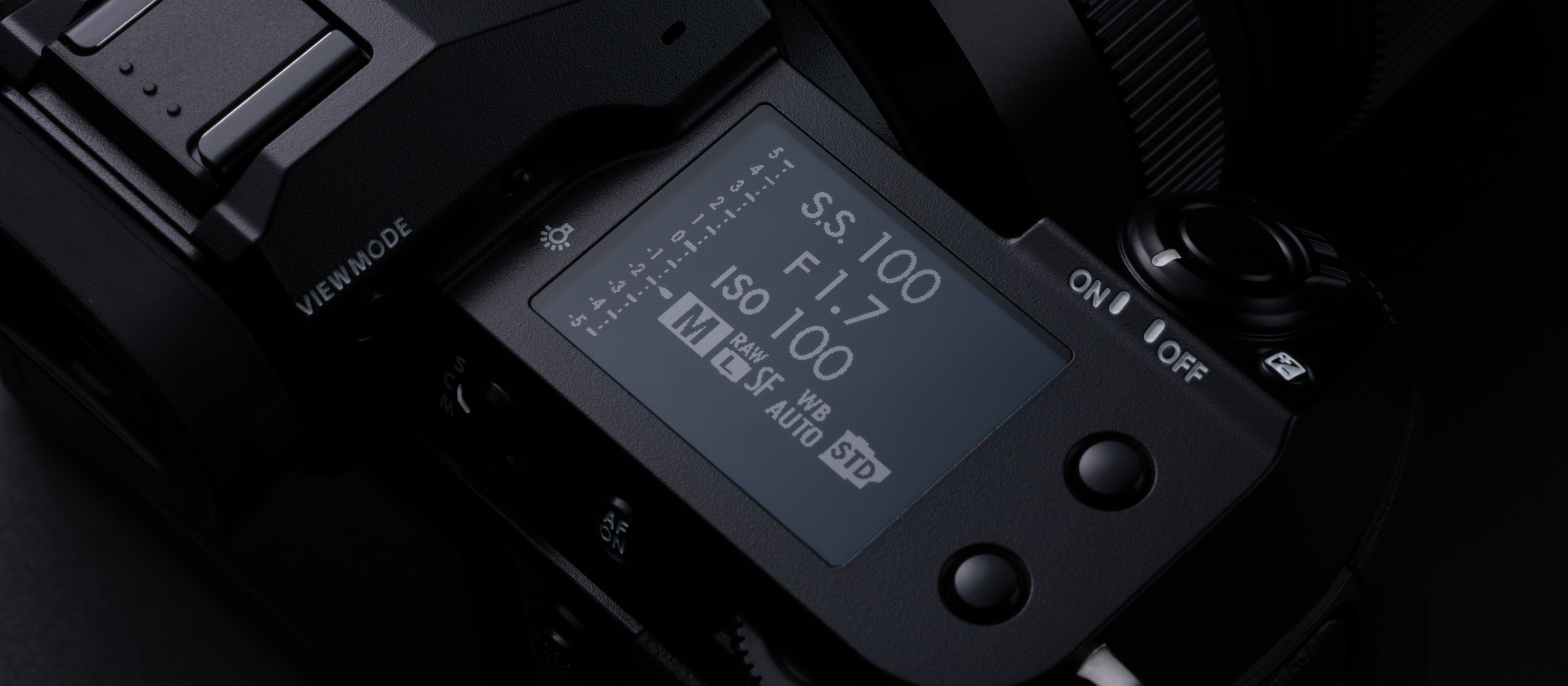 Instantly check the status of key camera functions with the top-plate LCD monitor on GFX100S. The 1.8in black & white monitor is crystal clear and displays the all-important information, including shutter speed, aperture, ISO sensitivity, and remaining frames. The display is also fully programmable, so you can choose what information you have to hand at all times.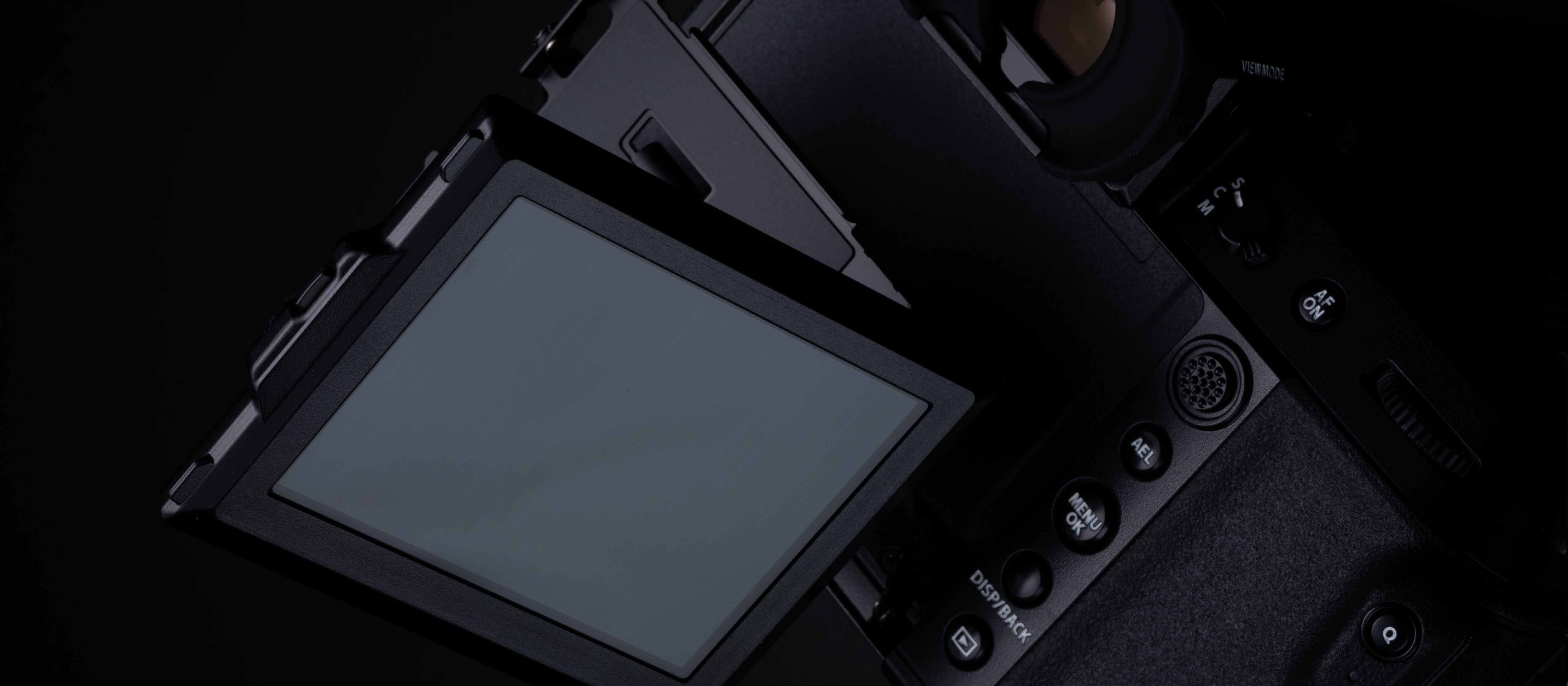 Some of the greatest images are made when a camera is positioned at a dramatic or unusual angle. The rear 3.2in, 2.36 million dot LCD panel on GFX100S encourages you to explore different viewpoints with its 100% coverage and three tilting directions: 90° upward, 45° downward, and 60° to the right. Use this flexibility with touchscreen control to push your compositions to the next level.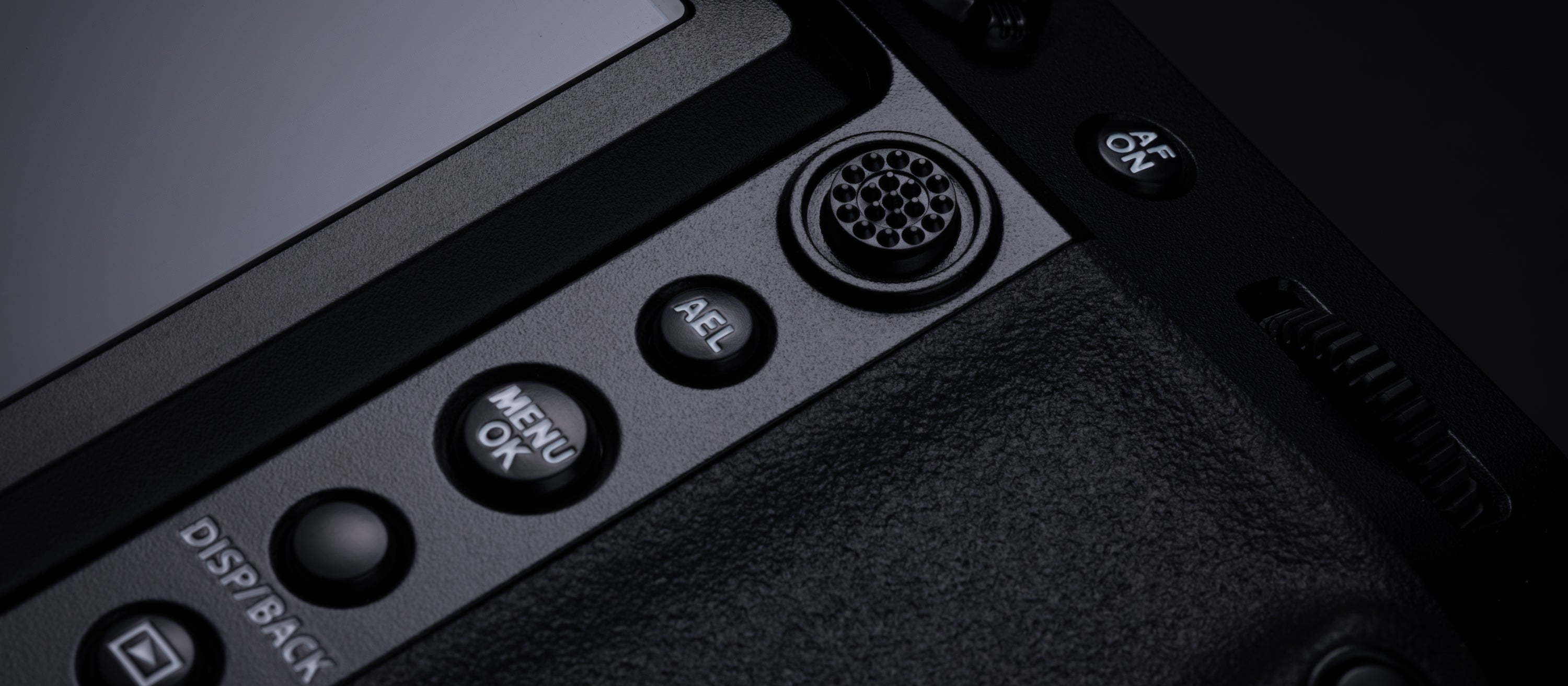 GFX100S features a newly designed Focus Lever, which is flatter and more comfortable to control. But it's not only the shape of the lever that has been enhanced, the firmware has been upgraded making it easier to select the right focusing point.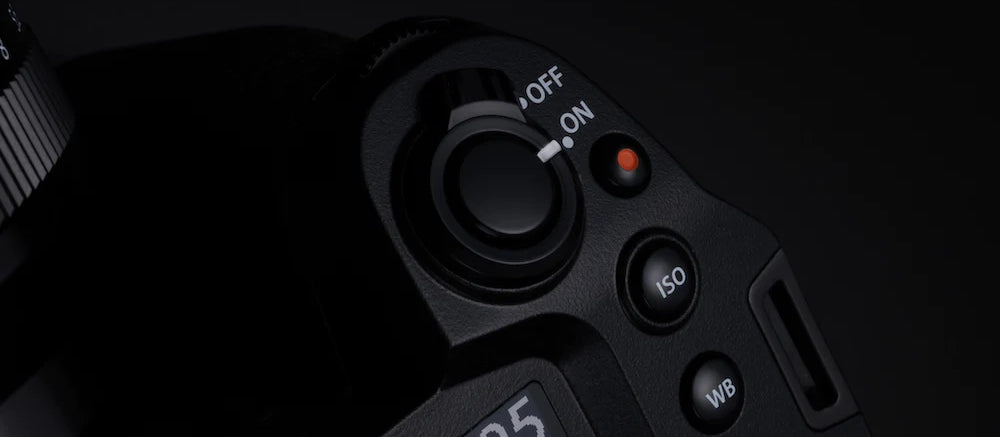 GFX100S may be designed for rugged environments, but it is definitely made for a delicate touch. Its feather-touch shutter release reacts to subtle movements and responds instantaneously in either portrait or landscape orientations. For more precision and quicker response, switch to the electronic front curtain shutter to minimise shutter lag and get exactly the right moment with every frame.
1. Based on CIPA standard
2. GFX100S's image sensor measures 55mm diagonally (43.8mm x 32.9mm), providing approx. 1.7 times the area of the 35mm full-frame sensor.
3. Based on CIPA standard
4. Equipped with GF80mmF1.7 R WR
5. When compared to full-frame imaging sensors and their aggregate performance regarding the features.